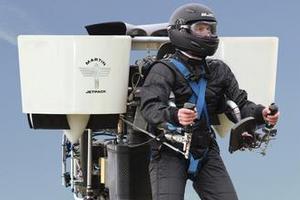 Adventure tourists could get a chance to fly slow versions of Martin Aircraft's jetpacks. Photo / Supplied
Christchurch-based Martin Aircraft Co is looking for an experienced tourism sector operator to help set up a venture providing the public with jetpack test flights.
Martin Aircraft is aiming to have the Jetpack Experience business operating next year, with three sites up and running within two years.
Capital costs were relatively small, the company said today.
The Martin Jetpack has excited interest around the world, and the company is hoping to fill its first customer orders next year.
The model it aims to allow the public to fly through its tourism venture will be a "low, slow" version of the jetpack being readied for sale.
In the tourism venture people will be able to fly a jetpack about a metre above the ground at no more than 10km/h in a carefully controlled outdoor area.
Company founder Glenn Martin said many people had asked when they could have a flight when the jetpack featured at last year's annual EAA air show in the United States.
He returned to this country and decided the company could make a version for people to be able to learn to fly in a few minutes.
The control and training system was rebuilt from the ground up, and a wide range of people were brought in to try it out, ranging from military-qualified pilots to complete novices, Mr Martin said.
"The result is a flight system where we can bring almost anybody in and with just a small amount of training they can be flying the Martin Jetpack with high levels of confidence and safety."
Martin Aircraft chief executive Richard Lauder said the development of the training system based on computer control and stabilisation of the Martin Jetpack created the opportunity to provide test flights of the jetpack for anyone.
"These flights will be true unassisted flying, but the on board computer will limit the Jetpack's performance to keep pilots safe."
- NZPA