Jim Eagles learns from the pros at the beach where surfing began.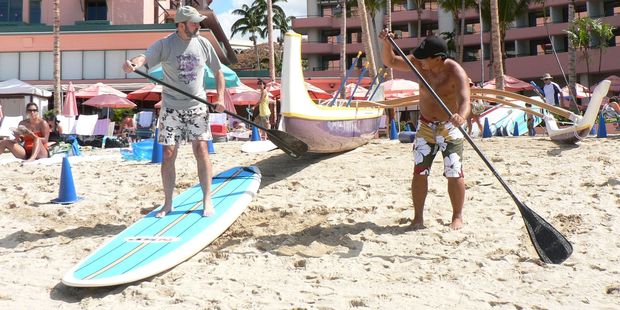 To surfers you could say this is holy water I'm riding across on my surfboard. This is Waikiki Beach in Hawaii: the bay where modern surfing had its origins in the country where the sport was invented.
I have tried to learn to surf before. An old mate managed to get me to stand up for a nanosecond during a trip to Bateman's Bay on the New South Wales Coast. A man on the beach witnessed this triumph and shook my hand by way of confirmation, but I'm not sure it really qualified as surfing.
So where better to finish the job than Hawaii, where it all began? And who better to lead me through the process than Don Fujiyama of the famous Waikiki Beach Boys?
These days surfing is taken for granted, but there was widespread amazement and disbelief when the wider world first learned of people riding the waves in a description written in 1779 by James King, first Lieutenant of the Discovery, after witnessing the pastime at Kealakekua Bay on Hawaii's Big Island: "But a diversion the most common is upon the water, where there is a very great sea, and surf breaking on the shore.
The men, sometimes 20 or 30, go without the swell of the surf and lay themselves flat upon an oval piece of plank about their size and breadth ...
"They wait the time of the greatest swell that sets on shore, and altogether push forward with their arms to keep on its top. It sends them in with a most astonishing velocity, and the great art is to guide the plank so as always to keep it in a proper direction on the top of the swell, and as it alters its direct[ion] ...
"The above diversion is only intended as an amusement, not a tryal of skill, & in a gentle swell ... must, I conceive, be very pleasant. At least they seem to feel a great pleasure in the motion which this exercise gives."
In the Bishop Museum, not too far from Waikiki Beach, they've got samples of the traditional surfboards known as papa he'e nalu. They were of two basic types: long, thin and fairly lightweight, and thick, heavy boards up to 6m long which were mainly used by chiefs.
They look a far cry from the sleek, light, modern fibreglass boards with their aerodynamic shape and stabilising fins, but they obviously worked.
Contrary to what Lieutenant King wrote, surfing was not just a sport but a key part of Hawaiian culture, among other things providing a way for chiefs to prove their skill and bravery. But it diminished in importance after 1820 when the islands converted to Christianity and the missionaries discouraged such uncivilised behaviour. Fortunately for surfers like me, some locals did continue to ride the waves and the sport began to revive during the reign of King David Kalakaua - one of Hawaii's last monarchs - who encouraged such traditional skills.
Around 100 years ago locals could again be seen surfing the waves at Waikiki Beach and many visitors were inspired to join them.
One of those locals, Duke Kahanamoku, an Olympic gold medallist at swimming, is credited with making surfing a global phenomenon. In 1915 he famously demonstrated his wave-riding skills at Freshwater Beach, just north of Manly, in Sydney, and the world rushed to follow. Today there's a statue of the Duke, draped with leis from admirers, standing beside the beach he loved so much.
As you'd imagine, Waikiki draws huge numbers of surfers, attracted by its surfing history, warm waters and consistent if mostly unspectacular waves. And Don, who has spent "pretty much my whole life" on the beach, is well used to dealing with clumsy beginners like me.
When I explained that my arms were even more feeble than usual following open-heart surgery last year, he quickly decided I should stand or kneel on the board and use a paddle, and this proved to be a master stroke. It made it much easier to get out beyond the breakers and then to build up the speed to catch a wave and ride it in.
Well, okay, I was kneeling when I used the paddle to catch the first wave, I only managed to stand for a few seconds, and it took two more waves to actually reach the beach.
But I did it, I hung 10, my wife managed to get a photo of of me standing, and I've got a certificate from Don as further proof.
It was fantastic, exciting, exhilarating ... in fact so exhilarating that I paddled back out to do it again ... and when I wandered past the Duke's statue later, I thought he gave an approving smile.
Getting there: Air New Zealand flies direct to Honolulu up to three times a week.
Where to stay: The Royal Hawaiian Hotel, known as the pink palace, is the second oldest hotel in Waikiki and sits right on the beach.
What to do: Waikiki Beach Services provide surfing lessons, outrigger canoe rides and surfboard rentals.
Further information: See discoverhawaii.co.nz.
Jim Eagles visited Hawaii as a guest of Air New Zealand and Hawaii Tourism Oceania.