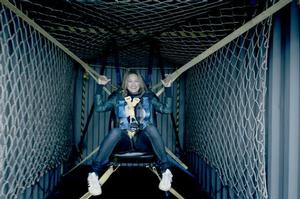 It's really great that Annah Stretton can use her mobile phone in Andorra (a destination that is hardly what I'd call the ends of the earth) and should I ever find myself marooned on top of a shipping container at sea what a relief I can call for takeaways (fish and chips maybe?).
But as always, there's much less publicity about how much it's going to cost me to roam globally with Telecom's new XT service when I go overseas.
I spend several months travelling every year, and staying in touch with New Zealand and with friends elsewhere, is one of my few luxuries.
When speaking of using my mobile phone for such things, I use the word "luxury" deliberately - 80-cent texts anybody?
Or my personal favourite - the $10 a minute non-connecting phone call.
OK, so I'm not a technogeek and I do have trouble comparing all the plans. I never really know if I'm comparing apples with apples as my longsuffering algebra teacher used to put it, or apples with diamond encrusted pears that are going to bankrupt me.
I know the technology's brilliant and it's wonderful to be able to phone home from the Iranian- Azeri border or get rugby scores in the middle of the Bhutanese Himalayas (eat your heart out Annah) but gee does it cost.
Last year, while in Dubai airport, I urgently needed to phone a friend in Iran. My cellphone was my only option.
I keyed in the number but nothing happened - no dial or engaged tone, not even a crackle. Certainly no sound of any connection. So I tried again... and again, as past experience from home had taught me that with calls to Iran sometimes several attempts are necessary
So imagine my horror when I returned home to discover each fruitless call had cost me $10. Still reeling from the shock I rang Telecom. I was told that I'd been charged $10 because as far as Telecom was concerned I'd made a connection.
My explanation that not once did my phone indicate any such thing was to no avail. So be warned.
And now, suddenly, incoming texts from Jordan have stopped arriving and so far the help desk at Telcom has proved remarkably unhelpful.
Their point is that because these are incoming texts it's not their fault. My point is that I am now only receiving half a service whereas before I was receiving as well as sending.
I'd like to at least know what has happened and what I can do about it, especially as according to Telecom's own website I should be able to receive incoming texts from Jordan.
I think I deserve a little help as I do more than my bit to keep Telecom in business.
Many of my overseas contacts don't realise that it's me paying for their incoming calls.
So, when a Bedouin friend from Wadi Rum calls me from the shade of his camel at 3am in the morning (and I'm not making that up) I probably don't always sound as delighted to hear from him as I might! Along with the grumbling of his camel's stomach (at least I hope it's the camel's) I am haunted by the ka-ching of the dolllar signs.
So, do I sign up for the new XT mobile network or not (and do I get the spaceage overalls with it and, more importantly, is Richard Hammond in them?).
Actually I think I should get the suit - I suspect all those non-connected phone calls to Iran probably paid for the entire advertising campaign.
But seriously, I'd be interested to know what other regular travellers who are not on generous telecommunications expense accounts do.
Two things that have at least kept me from entirely bankrupting myself while overseas are:
1. Taking my oldest, almost fossilised, Nokia phone with me overseas and buying a local sim card wherever possible.
2. Taking my wonderful tiny wifi-enabled notebook with me and using Skype. (This is very handy in hotels too where usually an internet charge, if there is one, is a fraction of what it would cost to use their landlines).
But that doesn't solve the odd emergency situation en route when a cell call is unavoidable or help the fact that all incoming texts from Jordan seem to have suddenly started disappearing into the ether.
Can anyone out there help... just don't call me on my cellphone if you live overseas...
- Jill Worrall
Pictured above: New Zealand stuntwoman Zoe Bell in a campaign for Telecom's mobile XT Network. Photo / Supplied