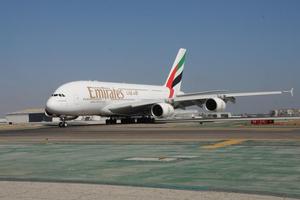 If you're planning to fly with your children, choose your airline carefully, tell the airports and airlines in advance if you'll need help and think deeply about what you take with you on the plane. That pretty much sums up the advice of readers who've taken the plunge themselves.
The consensus seems to be that most airlines bend over backwards to smooth things for families. Responding to an earlier article on the topic (Travel, June 23), readers offered special praise for the help provided by Emirates, Air New Zealand, Spanair and Singapore Airlines.
For instance, Kathryn Evaroa said, "Emirates are by far the best airline to travel with giving toys and books and fantastic kids meals." In fact, she added, "All hotels in Dubai, Jordan and throughout the Middle East love children and you will often find the staff playing with your child or sneaking them a gift."
Beth Banks said, "Air NZ is, overall, the most child friendly carrier we have flown." And Carolyn Baker said, "Spanair Munich just loved the kids (and) wouldn't leave us alone."
But there was a big thumbs down for Lufthansa, all US airlines and Ryanair as far as flying with children is concerned. After taking her children on two flights with Lufthansa, Carolyn Baker said "they were terrible ... they were very rude the whole way." And Banks reported, "Air travel within the US is abysmal. Regardless of which airline, they are rude, unhelpful, almost always delayed and cannot seem to honour seat assignments (is it really too much to ask to be able to sit next to my preschooler?)."
When it comes to airports, Banks said, "Hong Kong International Airport was memorable as staff made multiple extra efforts for us to travel smoothly". Baker found Los Angeles Airport "so helpful, especially when I was very pregnant, pushed our luggage and everything for us". And Phil McKenna rated Singapore-Changi "helpful ... in an efficient if slightly chilly way."
When it comes to Heathrow, which can be a problem, McKenna reckons the key is to notify them via your airline that you'll need assistance.
"We were met by no less than three cheery Heathrow ground staff who not only picked up and carried all our baggage, but whisked us through the priority channel at Customs and Immigration."
Evaroa's top tip for travelling with kids is to invest in a Sit n Stroll. "This amazing invention is a car seat that turns into a stroller, so from the taxi to the airport to the plane and back again all with one hand."
Baker, on the other hand, says, "If you can get away without prams, do it. Frontpacks for babies and backpacks for older ones are much easier, especially when you are trying to move little ones and luggage at the same time."
Next week: Is it fair to other passengers to take youngsters flying?
- Jim Eagles