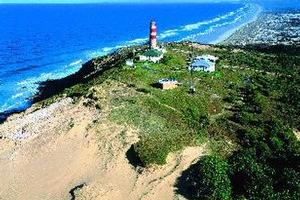 There's something terrifying yet exhilarating about screaming down a 90m mountain at 60km/h with your nose just 5cm away from the ground. The wind whips through your hair as you hurtle towards certain doom.
Oh, yes, we survived well enough, but sand tobogganing down some of the world's tallest stabilised sand dunes on Queensland's Moreton Island is thrilling stuff.
Sand tobogganing sees participants lie, sit or stand on specially made sand boards before sliding themselves down a sheer drop.
Despite the gruelling climb that caused our muscles to ache for days, it was impossible not to continue to climb up two, three, four, or, as one man did, 14 times to relive the rush.
Moreton Island is the world's third largest sand island and, just a 75-minute boat ride from Brisbane, it's a great place for adventure. Moreton Bay Escapes and Bushwacker Ecotours do day and overnight tours showing outsiders the best sights, picnic spots, swimming holes and the highest sand tobogganing hills.
There is an established camp site, complete with a kitchen and camp fire so you needn't worry about wrestling with a tent, or dragging chilly bins and camping supplies across on the barge.
Our first stop was the island's iconic lighthouse where our guide, Haydn, pointed out turtles swimming in the shallows and told us the heartbreaking story of the old lighthouse master, Thomas Griffin.
After two of his children died only days old, his wife Mary Ann died in childbirth delivering their son, then the son died at age 8 after being kicked by a horse.
Tormented by his grief, Thomas left the island. Mary Ann now lies buried at the base of the lighthouse after her remains were found at a Queensland museum having initially been mistaken for Aboriginal bones.
After trekking back down the hill we found an isolated picnic spot where our group's three Aussies gave a crash course in beach cricket to our international friends whose over-arm bowling attempts provided much amusement. A nearby fresh waterhole was a perfect place to cool down before heading back to camp.
As we drove, there was something about the way the beach seemed to be shifting that attracted our attention.
Tens of thousands of soldier crabs scurried across the sands - and our feet - before disappearing in downward tunnels.
The island is also famous for its ship wrecks which are a popular spot for snorkellers.
Fifteen vessels sit around 100m off the coast, sunk 40 years ago to provide a safe haven for fishing boats.
CHECKLIST
Getting there: Moreton Bay Escapes and Bushwacker Ecotours organise day and overnight trips to Moreton Island from Brisbane or Surfers Paradise. See moretonbayescapes.com.au.
Further information: To find out more about Moreton Island, see experience brisbane.com.au.
- AAP