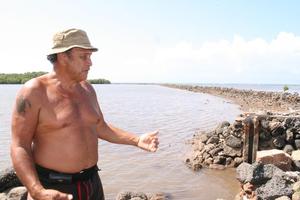 A large fish broke the surface of the giant rock pool and returned to the water with a splash. "That," said Mervyn Dudoit, "is a Hawaiian mullet. They're very good eating. The other fish we have in here is the ava. They're good too. We haven't harvested any yet but they're starting to get to the right size. It won't be long now."
The fish are being raised in an ancient rock-walled fishpond - probably 600-700 years old - on the Hawaiian island of Molokai.
There were once about 60 such ponds round the coast but over the centuries most have fallen into disrepair. However, five to six remained intact and in recent years four to five others, including the Ali'i pond we were being shown, have been restored.
Molokai takes a pride in being the most Hawaiian of the islands in the group - not least because 40 per cent of the population is of native Hawaiian extraction - and there are frequent campaigns to block the development of luxury holiday homes or large resorts and keep the island the way it is.
Wander along the peaceful coast road, lined with coconut palms and modest houses, with old men sitting in the shade repairing fishing nets and young men offshore fishing from canoes, and you could easily imagine yourself in another century.
And then there are the fishponds, which must have been tremendous undertakings when they were built, which give a further taste of ancient Hawaii.
"The wall of this one is 2710ft (826m) long," said Mervyn, "and all the rocks were brought here from the other side of the island. That was a big job. Look at the size of some of the rocks here. I don't know how those Hawaiians carried them."
The ancients also sited the ponds very cleverly. When he started his restoration project Mervyn discovered that for fishponds to work properly they needed a freshwater source, so a particular freshwater weed could grow, providing food for the fish.
"We dug some holes here to check and look" - he pointed out a couple of holes on the edge of the pond - "there was freshwater springing from the ground."
Getting the fishpond back into useable condition after centuries of neglect was a huge job. Much of the old wall was still in place but several sections had to be restored and an entrance grille built that would let seawater in but stop the fish from escaping.
Then the pond itself had to be cleaned. "We took 500 truckloads of rubbish out," Mervyn said. "It was a very big job. It took us a year. But we were very lucky because a lot of people helped." Then remembering where I come from he suddenly became animated. "We had a lot of help from New Zealanders."
Now it's just a matter of maintaining the pond with monthly community working bees and waiting for the fish to grow big enough to harvest.
When that happens - probably next year - it will represent another step in the revival of Molokai's ancient traditions. "We'll give the fish to the old people and the community," said Mervyn. "Just like they did in the old days."
CHECKLIST
GETTING THERE
Air New Zealand flies direct to Honolulu up to three times per week. Long-term airfares in Pacific Economy class are available from $1500 per person return plus airport and government costs.
WHERE TO STAY
The only hotel on the island is Hotel Molokai which has fairly basic rooms but a great bar and a nice restaurant. See www.hotelmolokai.com
WHAT TO DO
The Molokai Visitors Association is a good source of information about things to do including fishponds. See www.molokai-hawaii.com
FURTHER INFORMATION
For general information about visiting Hawaii see www.discoverhawaii.co.nz/
Jim Eagles visited Hawaii as guest of Air New Zealand and Hawaii Tourism Oceania.
Win a trip to Hawaii
How would you like to win a $10,000 holiday for two in Hawaii? If the idea of a break in the sun appeals, it's an extra reason to read this story and others in a series of 12 unique Hawaiian experiences which will be running in Travel over the next few weeks. To be in with a chance to win you'll have to choose which of the experiences on offer is your favourite. The full details of how to enter will be provided towards the end of the series.