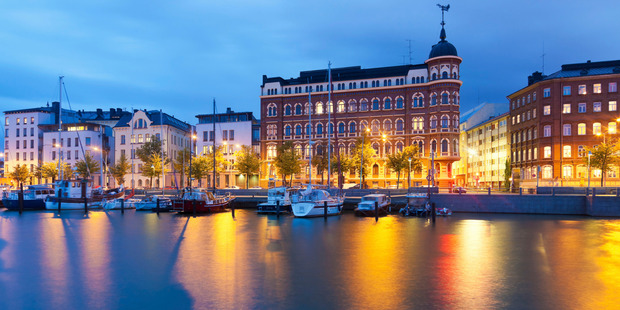 Last weekend we celebrated the summer solstice in Finland. Like most Finns, my friends and I escaped to a summer cottage in the countryside for a party.
Midsummer is one of the most important dates on the Finnish calendar. According to legend, many Finns owe their very existence to it (this legend is based on the high number of people who celebrate their birthdays in nine months).
But it is not for this reason that it is an eye opening experience. While sleeping with other people might come a little easier at this time of year, actually falling asleep does not.
This is because in this part of the world, during the weeks around midsummer it barely gets dark at night. In Helsinki, in the south of the country, the sun sets about 11pm. Just as it feels like it is about to get properly dark a few hours later, the sky starts getting light again.
The far north of Finland, in the Arctic Circle, is even more extreme. There, the sun does not set at all for 73 consecutive days, endlessly rotating around the sky instead.
Such long days provide ample opportunity for all sorts of activities, but sleep is not one of them.
Regardless of what my watch says, at 11pm it looks and feels like it is 6pm. Even at around midnight, it feels unnatural climbing into bed. Once under the covers, no matter how little sleep I have had, I find myself wide awake.
The reason is that like other organisms, our bodies are programmed to react to daylight. When the sun rises, for example, our bodies stop producing sleep-inducing melatonin. Despite the fact that I know it is time for bed, my body disagrees.
Under normal circumstances I fall asleep as soon as my head hits the pillow, so this insomnia is a new experience for me.
Getting up or picking up a book would disturb Sanna next to me, so for the last few nights I have used this time to ponder some of life's greater mysteries.
Occupying much of my time is the question of how it is possible that the strips of white linen that serve as our curtains actually seem to make my room lighter than it is outside. Just as inexplicable is why anyone who lives in Finland would buy them.
I have also given some thought to what the effect of a major reduction in sleep has on the human body. During winter I probably averaged nine hours of deep sleep a night, whereas at the moment I am getting more like five.
A good way to answer this question would be to make a case study of a group of Finns.
This is because - based on my observations at least - although almost everyone else has more experience with the long days than I do, this does not mean that they are getting any more sleep.
There is no need to peep into other people's rooms to make this assessment. The proof is everywhere.
Last night, for example, along with hundreds of other people, we were in the park enjoying the sun until it set at about 11pm.
On the way home we passed people walking their dogs, a man cleaning his car and the angry old man who lives next door to us digging a deep hole in his garden.
Elsewhere in the city people were enjoying a wide variety of seasonal activities from music festivals to art exhibitions. In contrast to the cold and dark winters when the streets of Helsinki are often deserted, at the moment it feels like a city that never sleeps.
But although the streets are now full of talkative and smiling people, at least for some not everything is as sunny as it seems.
While all of my Finnish friends say that it is their favourite time of year, many of them also say that they find the long days at times tiring and a bit of an emotional rollercoaster. It is fun but also a little disturbing.
For example, there is evidence that all this daylight may exaggerate psychological problems including bipolar disorder. Possibly supporting this contention, studies show that suicide rates here peak in spring, while homicide rates are slightly higher in summer than the rest of the year.
On the other hand, perhaps these statistics are simply a result of people having more time on their hands. Staying up for an extra three or four hours a day allows more time for socialising and therefore confrontation.
It also affords greater opportunity to think about how much you hate your noisy neighbour, and to dig a deep hole in your back yard to stuff his corpse into.
Or perhaps I have just been lying in bed over analysing this subject recently.
Either way, I think I will try to keep my stereo down in the future.