Determined not to worry too much about the croc warning signs, Scott Kara and family enjoy the wildlife in tropical Port Douglas.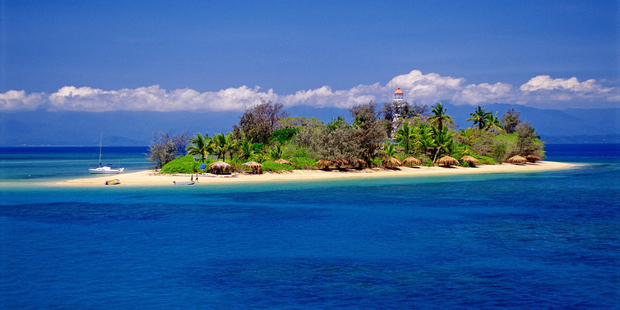 Bonnie the mischievous wallaby and little Honey Lamb - that's our fawning nickname for our girl Mia - hit it off straight away.
The sheer delight Mia had feeding her new Aussie mate was the highlight of her week-long holiday if the beaming smile, shivers of excitement, and shrieks of joy were anything to go by.
We met Bonnie as she waited by the gate to her enclosure at The Rainforest Habitat, a rowdy and lively wildlife sanctuary in Port Douglas. Bonnie's renowned for sneaking out the gate. She never goes far, she just likes giving her keepers the runaround, reckons Claire, the sanctuary's wildlife team leader (a rather bland title considering she knows all there is to know about the endless number of species to be seen here).
Start the day early at Habitat - it's too hot later in the day after all - with breakfast with the birds. As the birds squawk and carry on around you, chow down on a lavish buffet with everything from fresh fruit to bacon and eggs.
While getting pooped on is always a risk - although one of the first things you notice is an incredible lack of bird poo on the ground - it's the cheeky cattle egret, an unhinged-looking bird with a crazy orange mohawk, that you're most at risk from. They like to nick bacon off plates and they're not deterred by the waiters batting them away, either.
Visiting a place like Habitat - a kind of hands-on zoo divided into wetland, rainforest and grassland areas - makes you realise how much more wildlife Australia has compared to New Zealand. It's a wonderland for kids.
Many of the birds and animals that find salvation here have had their natural habitats destroyed by floods and fire, or overrun by predators.
Of course, being Australia, there are many deadly varieties of animals which can be seen up close at Habitat, including snakes and the somewhat docile crocodiles in the far reaches of the sanctuary.
At 4.5m long and 600kg, the male saltwater croc is impressive, with his beady eyes ebbing just above the surface of the water, opening and shutting eerily as we watch him.
"They haven't got much of a personality," says Claire. "Instinct prevails. Breed. Eat. Sleep," she smiles.
It's comforting to know there's a fence, a deep trench, and some electric fencing (although what resistance that offers to a thick-skinned creature like this is debatable) between him and us.
You can't help but notice the croc warning signs around Port Douglas and the Daintree Rainforest area. "Crocodiles inhabit this area. Attacks can cause death or injury," proclaimed one of them flippantly.
That particular sign just happened to be beside Mia's favourite swing in a playground on the shores of the port's busy inlet.
While in Port Douglas we had planned on going on a trip up the Daintree River with Daintree Rainforest River Trains to experience the real wildlife of Australia. Sadly though, earlier this year the 5-year-old son of the family who run the business was snatched by a crocodile. Because the river trips are their livelihood they planned to keep trading, but then decided to sell up.
Croc attacks are rare in Australia with only one or two fatalities reported every year. However, with that sad story in mind, and keeping a firm hold of little Honey Lamb, we're more than happy to hang out with the lovely Bonnie, her bigger, more docile kangaroo mate who gladly nibbles pellets out of our hands, and snoozy old Jake, the tree kangaroo.
Then there's the greedy, food-obsessed emu we nickname Mad Max. Out in the grasslands area, Mia marvels at the over-sized joeys stuffing themselves into their mum's pouch. And then there's the thousands of birds, the most striking of which is the stocky southern cassowary. He's a relative of the kiwi, only bigger and more brash with his helmet head and shock of bright red colour down his neck.
Once we'd said hello to the animals, it was time to cool off and swim with the fishes at the mighty Great Barrier Reef. And besides, a break from lugging the little one around is in order.
The thing about Port Douglas is that, despite the heat and humidity, and the nasty stingers in the sea which mean you can't swim on beautiful Four Mile Beach for part of the year, it's an ideal family getaway. It's laidback, if a little expensive, and is a jump-off point for day trips galore, including the Daintree National Park and Rainforest for walks, river cruises, and wildlife spotting.
But the reef - Australia's, and one of the world's greatest natural treasures - is something else. It's a diving mecca and best of all, about an hour's boat ride from Port Douglas are the Low Isles, which are not as far out as the outer reef.
Sitting like a couple of pancakes on top of the water, the smaller main island is like a calm, sheltered beach on the mainland making it perfect for toddlers and younger children. There are a number of boats that take people out to the Low Isles, with Quicksilver's Wavedancer one of the most popular, and the mad dash made by Reef Sprinter gets you there within 15 minutes without - so they say - getting sea sick.
A bit of a breeze while we are there doesn't worry the beautiful, bright reef fish and the cute, gormless turtles who pop their heads up occasionally while taking a breather on the surface. I even catch a fleeting glimpse of a small, sleek shark.
The beauty of the Low Isles is you can take turns snorkelling while the other half watches the kid(s) on the beach. And when you're done snorkelling, sit back and relax and soak up some rays while the little one(s) paddle safely in the shallows, and leg it up and down the beach wearing themselves out ready for a nice, early bedtime.
Ah yes, that cold Coopers Ale, or a nice drop of Australian vino, will go down even better when little Honey Lamb is tucked up in bed having sweet dreams about her new friend Bonnie.
CHECKLIST
Getting there: Air New Zealand flies direct to Cairns. From Cairns it's a 45-60 minute drive to Port Douglas.
Where to stay Coconut Grove offers luxury apartments.
Sheraton Mirage Port Douglas provides resort accommodation
with rooms and villa options available.
What to do: Rainforest Habitat Wildlife Sanctuary open daily 8am-5pm on Port Douglas Rd.
For boats to Low Isles and outer reef see quicksilver-cruises.com.
Further information: See pddt.com.au.
Scott Kara travelled courtesy of Port Douglas Daintree Tourism.