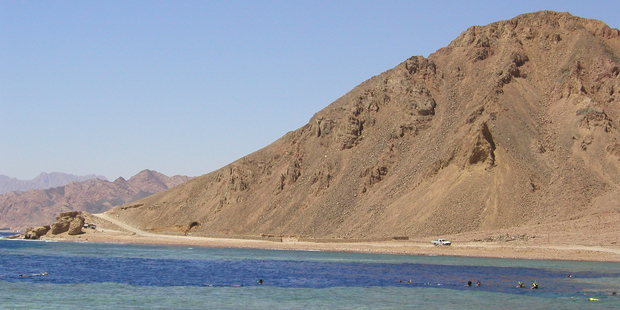 A fatal attraction: that is one dimension of the Blue Hole, a 100m-deep underwater pothole just off the shore of the Sinai Peninsula. This fissure has claimed many divers' lives, as becomes clear as you approach it; small shrines and memorials to lost loved ones line the route to the sea.
But despite its notoriety, for the snorkeller who intends to descend only a few metres it is (weather-permitting) a relatively tame swim that gives you an amazing insight into what can exist just below the surface of the water.
The drop to the seabed is sheer: a vertical, seemingly bottomless, wall of rock and coral. Here is an underwater garden of shapes, swirls and subtle shades of coral populated by brilliantly coloured tropical fish.
All of which is contained in the most vivid of turquoise seas lit by a bright, hot, Middle Eastern sun giving you the ultimate in high-definition visibility. It was the most stunning experience I have had in a long time.
Egypt's Sinai Peninsula is, according to British Airways, one up from New York: the airline has reassigned its Gatwick-JFK departure to Sharm El Sheikh, the peninsula's main airport, from October.
Thomas Cook says the region is the success story of the summer. In a generally declining market, the company has sold 70 per cent more packages this year than last. And one of them was to us, through Thomas Cook's adventure holiday subsidiary, Neilson.
Plenty of anecdotal evidence, too, suggests Egypt has become the place to be. Next door's builder was going to "Sharm", as Sharm El Sheikh is invariably known. A friend was taking a Nile cruise, and a teacher at my children's school was off to explore Luxor and Cairo.
Few seem deterred from visiting the "Red Sea Riviera" by the history of terrorist attacks on tourist targets - including Dahab, where we were staying.
Our hotel was the Hilton, not the sort of place normally within our price range, but which was on offer as part of a good-value package. The service was great, the food good.
An hour's moderately smooth ride north from Sharm El Sheikh, Dahab is on the eastern side of the Sinai Peninsula, on the Gulf of Aqaba.
The town is located at a dramatic meeting of land and sea, the red and gold Sinai Mountains descending dramatically into the Red Sea, leaving barely any space for land or beast.
Across that sea, a mere 16 kilometres away and clearly visible most days, is the coast of Saudi Arabia - a land where a very different set of rules applies about suitable clothing and behaviour.
It's what lies beneath this sea that has traditionally been the main attraction to visitors.
This warm and surprisingly salty body of water is part of the Indian Ocean. It's a calm, relatively still offshoot, with no significant rivers flowing into it nor major ocean currents influencing its ebb and flow.
The result is a sea that provides the perfect habitat for coral and tropical fish to thrive in, attracting scuba divers from all over the world, which has in turn helped Dahab itself to thrive.
If you're not a diver - or, like me, reluctant to invest a significant chunk of your holiday time in learning to become one n the low-tech alternative is by no means second-rate. Much of what there is to see is near the shore and happens in the first 10 metres underwater at the Blue Hole.
A substantial contingent were more concerned with skimming on the surface than exploring beneath it; the windsurfers had been easy to spot at check-in at Gatwick. They had that that windswept, hardy look. Each morning, they looked up at the skies and stared out to sea, judging conditions for the day ahead. Several told me there are few places better to learn or improve the art of planing the waters than Dahab.
The wind speed is above force four on five days out of every six; there is a naturally sheltered lagoon in front of the resort hotels to practise on; beginners and more experienced windsurfers can get tuition from the friendly and experienced Neilson team; and you may walk away with a Royal Yachting Association national windsurfing qualification at the end of the week.
Those for whom windsurfing was too, well, pedestrian, could experiment with the devilishly difficult art of kite-surfing; if you prefer to harness wind energy sitting down, sailing was also on offer.
There are also a fair few activities to enjoy on land; I chose several of the late-afternoon mountain-biking sessions. My guide was a charming and informative Egyptian named Isaac.
I met Izzy, as he preferred to be called, each day on the beach in front of our hotel, which was in the southern, newer side of town.
A short bike ride north along the gently curving seafront and we came to the older part of Dahab. This is Assalah, a place that started out as an isolated Bedouin fishing village, became a favourite destination for backpackers in the Seventies, and is now a mellow tourist town.
Much of its original hippie chic remains, with jewellery and bead shops, plus henna-tattoo and braiding stalls. At canopied cafes and restaurants, you can sip tea as you sit on low sofas, cushions and scattered kelim rugs.
To venture beyond Dahab you need more than a mountain bike. Here lie the Sinai Mountains and desert: a relentless terrain of granite rocks and red-gold sand, in which only the traditional Bedouin successfully survive in.
We witnessed a little of this as we drove through the area in our erratically air-conditioned coach to St Catherine's Monastery. This structure has been attracting pilgrims since the fourth century, and is still home to Greek Orthodox monks. Its main claim to fame is that it is built on the site where many believe Moses was addressed by the burning bush.
In the confines of the monastery, that bush - or, strictly speaking, its descendant of two millennia - is still flourishing. The monastery, with its impressive collection of icons, is mobbed daily by coachloads of the ubiquitous 21st-century pilgrims, tourists; some of them descend from nearby Mount Sinai, having climbed it at night to watch the sun rise from the top.
The crowds mean there is barely enough room to move, let alone stand back and appreciate, the ornate interior of this ancient place of worship.
This was a family holiday that worked: the kids' clubs were well run by energetic nannies - there were boat trips, water polo games and rounders matches available. And, such is the proximity of everything in Dahab that, in the confines of your resort hotel, you don't feel cut off from what surrounds you: I was gently woken each morning by the mosque - which stood just metres from the entrance of the hotel - and one night we were all woken by a sandstorm that I was told had come over the sea from Saudi Arabia.
In the calm of the morning we were left to see its impact: a fine, red sand that had seeped in everywhere, under doors, through keyholes, between shutters, that tinged the manicured lawns and lagoons surrounding the hotel, that covered every surfboard, mountain bike and sail, that reminded you where exactly this oasis was situated: on the edge of the Sinai.
- INDEPENDENT