Jim Eagles heads to the French countryside to see for himself the sights that inspired some of van Gogh's most famous paintings.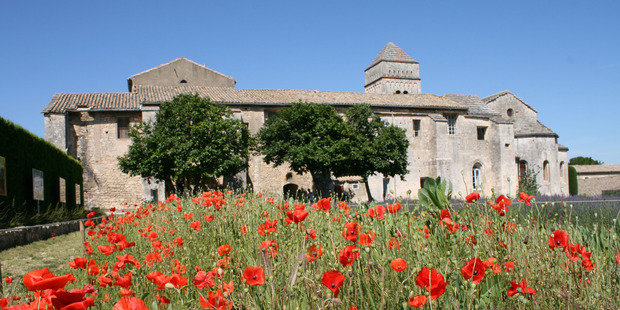 The cell in the thousand- year-old monastery of St Paul de Mausole may be spartan but the view through its barred window is stunning: scarlet poppies, rows of lavender, elegant blue irises, clusters of not-quite-blossomed sunflowers and a field of waving wheat, framed by an ancient stone wall and presided over by the white limestone peaks and green cypresses of the Chaine des Alpilles.
It was all so visually seductive that my wife and I, visiting St Paul's and the nearby town of St Remy de Provence as part of a cycling tour of Provence, couldn't stop taking photos.
Small wonder that when the brilliant but troubled artist Vincent van Gogh came to the monastery hospital as a voluntary mental patient in 1889 he found the setting inspirational.
In the 53 weeks he was here van Gogh produced 143 paintings - including many of his most famous works, like Irises, Starry Night, Roadmenders, Wheat Field with Cypress and The Olive Orchard - as well as more than 100 sketches.
The gentle care he received - remarkably advanced for the times - also saw his mental health improve to the point where he felt able to return to the outside world ... though tragically the respite did not last long and just two months later he shot himself.
For reasons which I can't explain I've always found van Gogh's paintings strangely compelling: his use of streaks of colour to build his pictures like mosaics, those seething landscapes looking ready to explode off the canvas, and the incredibly intense portraits staring challengingly out at the world.
A copy of his Street Cafe At Night, which I bought at the Louvre in Paris 40 years ago, still hangs on the wall of our home, and I've got a spectacular book of his paintings and a biography on my shelves.
So a visit to the place where he spent probably the most productive year of his short life was like a pilgrimage to an artistic shrine.
Fortunately for us, and all the other van Gogh pilgrims, St Remy has done a fine job of making it easy to pay homage to its favourite temporary son.
There is even a 21-stop van Gogh trail with copies of his pictures and explanatory comments at the sites where they may have been painted.
It's a remarkable experience to stroll along a peaceful lane, look over a low stone wall and realise that the lush meadow, graceful cypress trees and curved hills are very much as they were when they inspired this tortured genius to produce his timeless works of art.
We walked the route twice - in different directions - because it was so delightful.
It starts in the heart of St Remy, outside the Centre d'Art Presence van Gogh, a beautifully restored 18th-century townhouse with displays explaining the artist's life and work, plus exhibitions by other Impressionists.
During our visit the centre was showing an excellent documentary about his portraits - an often overlooked aspect of his art - accompanied by a display of the portraits themselves (copies of course).
Although few of the painting sites are in the actual town centre we spent some time wandering there anyway, enjoying its charming narrow lanes, ancient stonework, inviting cafes, welcoming bars, interesting craft shops and lovely old townhouses, many of them serving as galleries for an annual festival of work by local artists in van Gogh's honour and one noted as the birthplace of the seer Nostradamus.
Then we made our way out into the countryside, enjoying some of the scenes he captured on canvas, like a stream gurgling under an old stone bridge, gnarled olive trees posing in clusters and the green curves of the Alpilles resting seductively, all begging to be painted.
We didn't see any roadmenders asleep under the hedge, such as van Gogh painted, but we did see a group of old men playing petanque in a church yard, a gaggle of children climbing a fountain and giggling as they flicked the water about, and a teddy bear maker carefully arranging her animals on the windowsills of a house.
Naturally enough the landscape has changed over the years, especially at one stopping place on the van Gogh trail where the disgruntled landowner has sought to keep out prying eyes by erecting a large bamboo screen, through which we could see what was apparently once a grove of cypress trees now serves as the backyard of a somewhat scruffy house and grazing for a sad-looking pony.
But on the whole this is a land which still shows its ancient roots, as illustrated by a glimpse through the trees of the ruins of the old Greco-Roman settlement of Glanum, including a giant arch and a massive mausoleum.
The end of the painting trail is St Paul's, a stately Romanesque cluster of buildings set in open countryside, which is still a working psychiatric institution but is partially open to the public in recognition of the huge interest in its most famous patient.
We walked through the monastery's high gates and down the long driveway, and suddenly there ahead was van Gogh, striding as though to meet us, holding a sunflower in his right hand, mouth set grimly and eyes staring penetratingly ahead, looking in bronze much as he seems to have done in life.
On the garden walls on either side were replicas of several of his works, some of the hospital, showing how little it has changed, others depicting the landscape he painted, which the monastery has done its best to recreate through judicious plantings of irises and sunflowers, olives and lavender.
In one of the old hospital rooms is a shop selling van Gogh reproductions and, touchingly, works by current patients, some of them to my untutored eye quite impressive.
Upstairs is a display on 19th-century psychiatry and a replica of van Gogh's simple cell - the real one is part of the working hospital - along with a copy of the painting he did confirming that this is pretty much what it actually looked like. And out the window, through the bars, is that magnificent view of the hospital garden, its colours and patterns providing a continuing source of inspiration, to travel writers as well as artists.
Later in our trip, at the Musee D'Orsay in Paris, we were able to see some of van Gogh's original works, now admired by the world and worth vast sums of money. It was interesting to think back to that spartan room where many of these masterpieces were produced, and to remember that in his lifetime he only sold one painting.
I now have a bit more van Gogh hanging on my walls: a poster, done for the St Remy art festival held in his honour, showing the grim-faced artist from one of his self-portraits gazing out over a Provencal landscape of wildflowers, golden wheat, swaying cypress trees and curved hills. It's a moving reminder of this extraordinary artist and of the landscape which inspired him.
Getting there: Air New Zealand flies daily to London, via both Hong Kong and Los Angeles, with connections to the rest of Europe through its Star Alliance partners.
Cycling Provence: World Expeditions are the New Zealand agents for Utracks who offer self-guided cycling tours of Provence including St Remy de Provence.
Further information: See saintremy-de-provence.com.
Jim Eagles travelled to Europe with help from Air New Zealand.