Susan Buckland takes a shopping tour with a retro twist.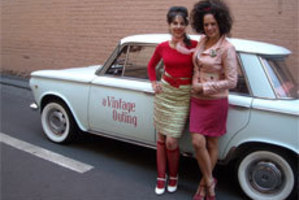 For a novel look at Melbourne, step out with Miss Betty and Miss Shirley.
These gorgeously garbed gals rock up to your hotel in a confection of clothing inspired by the vintage shopping tour they are about to take you on.
Men in the hotel lobby look on with envy as the divine pair sweep their tour party out of the doors and into two lovingly rehabilitated 1960s cars.
The retro-attired drivers (chaps) reach for the gear stick and we all set off on what promises to be a jaunty alternative to the usual Melbourne sightseeing tour.
Vintage and retro styles are enjoying a renaissance. Second-hand prices for these goods add to the pleasure. And Miss Betty and Miss Shirley (known off duty as Danielle Pumo and Lyn Gardener) have packed their knowledge of interesting shops into their colourful Vintage Outing.
The 10 shops they have chosen take us off the main tourist tracks. And the shops include not only clothes but curios, industrial knick-knacks and children's toys.
And to top off the afternoon, there are refreshments at a retro roof-garden restaurant and bar.
We move from shop to shop in the leathered comfort of our aged motorcars. Gigi a la Maison in South Melbourne sets the scene. The shop sells vintage home goods and kitchen wear. There is everything from enamel water jugs to decorative bags. The polka-dot shopping bags we were given at the beginning of the tour are filling up fast.
After the half-hour rummage at Gigi's the cafes across the road look tempting. But the gals have some more shop calls in mind before we stop at their chosen cafe, a retro-infused place called Meet Me at Mikes. So it's off to the next shop in the leafy suburb of Albert Square. Empire Vintage is housed in a Victorian shop with the original signage still visible. It is an Aladdin's Cave of jewellery, clothes and furniture. There are wooden framed mirrors to view oneself in feathered headgear and slinky 50s gowns.
Then we set off to North Melbourne and dive into Arthur's Circus, a shop which sells vintage toys, collectibles and lighting. Next we're off to the funky suburb of Brunswick to Izzi & Popo - vendors of European retro.
Nearby is vintage clothing specialist, Circa, and then Industria, on Fitzroy St in Brunswick, which sells everything from out-of-date surgical equipment to obsolete commercial objects reborn as art works. Finally to Thread Den Sewing Lounge where I lust after a 1950s style bathing suit but decide it looks best on the mannequin.
It is all a blast. And for second- and third-time-round Melbourne visitors, definitely a lively way of getting to know the city.
The poking around and parting with mostly modest sums for venerable treasures culminates in a roof terrace lunch at Mme Brussels. Decked in 1950s style furniture and named after a 19th-century brothel keeper whose talents included an eye for property, Mme Brussels is a favourite with the locals.
In the entertaining company of the manager, Miss Pearl, we dip into cucumber sandwiches and sip Pimms - all suitably vintage, darling.
Under the Melbourne sun we drink to the past and to the enticing possibility of another weekend in Melbourne, lifted out of the been-there-done-that by Miss Betty and Miss Shirley.

Getting There
Fly there with Air New Zealand Book now
Find out more at Australia.com