Braving storms and prowling predators, Penny Gardner camps her way around the awe-inspiring terrains of Tanzania.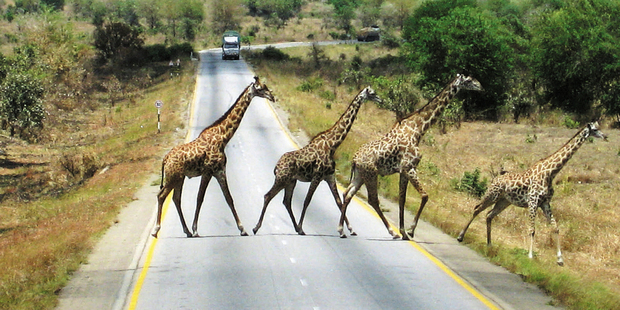 "Musti, Musti, come in Musti", whispered our guide, Makinda into the radio handset, his calm voice belying the urgency of the situation. Our Land Rover Defender was moving through an absolute whiteout, intermittently disturbed by violent flashes of lightning, revealing plenty of slashing rain and flooded terrain, but very little of the road we were meant to be following.
It occurred to me that we could be in trouble, as the road had now become a river, one on which we had no alternative but to slither and slide along. Again and again the now-urgent tones of our intrepid guide beseeched the invisible "Musti" to make contact.
What had started as a brilliant, peerless day in the Serengeti, had turned into a nightmare of pounding rain, terrifying thunder and lightning. What had been a reasonable track had become a sliding, slippery mass of floodwater.
The usual banter in the back of the vehicle all but ceased as we gradually came to grips with our position. I say "all but ceased" as nothing could completely faze our stalwart companions from Texas who had teased us unmercifully throughout the trip.
A father and son team with brilliant repartee, peppered with "Texanisms" that had to be heard to be believed, starting with their assertion that they had shot two 'coons, an armadillo and a skunk the day before they left.
They seemed pretty comfortable with the idea of spending the night in the Defender with my sister and me, something we were prepared to swim the crocodile-infested river ahead rather than endure.
Up to this point, our eight-day safari through Tanzania had been exciting for all the right reasons: elephant, lion, buffalo, rhino and leopard, all up close and personal, surrounded by great swathes of bush inhabited by herds of zebra, wildebeest and giraffe.
Just to be in the bush was a humbling experience, the enormity of the game park's horizons so alien to our New Zealand eyes.
We were on a luxury tented safari so we literally slept in the bush every night, albeit with our own bathrooms and carpeted floors, but with the addition of - at no extra charge - lions roaring, leopards growling (a sound not unlike a large tent being unzipped) and hyenas coughing.
The first night we barely slept from excitement (and terror), every sound giving rise to intense speculations as to what beast was about to tear into our fragile tent and devour us. We awoke to an amazing chorus of birdsong and, snug in my delicious linen-sheeted bed, I persuaded my sister to go looking for tea.
She had barely exited the tent when she screamed "elephants!" as a large herd of mothers and babies passed right in front of us, 10 yards away, swishing quite quickly through the camp.
"Swishing" does not really adequately describe the awesome sound a herd of elephant makes, it is a huge, ground-trembling one, interspersed with small and large trees being ripped from the earth and a gentle snorting kind of breathing as they literally tear up the ground as they advance.
We were mesmerised, standing there in our pyjamas. Equally amazed were our two Texans, awakened by our stifled screams, at the sight of two half-naked females. Tea was forgotten as we rushed for our cameras. We needn't have panicked because we had plenty more opportunities to photograph elephants at very close range.
We saw lots of amazing sights of African residents of every kind during our safari trip through Africa. Perhaps the most unexpected was at the Flamingo Salon in Dar es Salaam, an amazing place which was strangely reminiscent of the Tea Time bar at the Great Wall of China, except the gins were only US$5 ($9) instead of US$15. The lovely ladies in the bar reminded me of flamingos - and there are a lot of those in Tanzania too - lean and elegant dressed
in the Masai red robes, beads and earrings all over the place, delicately sipping on Pepsi but, in a most un-flamingo-like way, giggling.
In fact, all of Africa seemed to be reddish while we were there, the land being covered in a reddish haze, the by-product of one of the largest movements of wildlife on the planet, the Great Migration, listed as one of the Seven Wonders of the Natural World.
Every year about 1.5 million wildebeest and zebra complete a clockwise, 700 mile route through the Serengeti and down through southern Tanzania in search of food and water, creating an amazing viewing opportunity.
I was totally prepared to be overawed by the animals I encountered on this trip. But what I was not prepared for was the beauty of the bush.
We spent two nights in Tarangire Park in the south, two nights on the rim of the Ngorogoro crater (where we discovered bush babies in our beds at night, fat hot-water bottles), and four nights in the Serengeti.
We were in Africa in the dry season (September), and the south in particular was distressingly desert-like. Once-massive rivers had become slender streams, barely servicing the huge herds of wildebeest and zebra, let alone the elephants.
Water is precious and at a premium, so waterholes become killing fields, as the lion and leopard lie in wait. It was fascinating to watch the shy and delicate wildebeest approach a small oasis towards which they had been travelling all day. Wildebeest are usually accompanied by zebra, and the zebra are actually smart enough to make the poor old wildebeest go first, an African version of the canary in the mine. This works well for the zebra.
Apart from two nights at Kigongoni Lodge and one at beautiful Gibb's Farm Lodge we slept in luxuriously appointed tents in camps in the middle of the bush.
At night our camps were patrolled by Masai guards with long, heavy spears or bows and arrows, very reassuring, except they are not allowed to kill the animals (ie, marauding lions, leopards, etc).
We were forbidden to leave the camp or the Land Rover at any time, which made sense when you saw the amount of kills, usually wildebeest, all over the place.
As we travelled further north, on unbelievably rutted tracks, the arid countryside, dotted with the ubiquitous acacia trees, turned into lush rainforest around Ngorogoro Crater.
My favourite piece of Africa was the Serengeti - Masai for "land that flows on forever". These huge plains stretch for thousands of miles right up to the Kenyan border where we glimpsed the famous flat-topped mountains of the Masai Mara.
We had our photos taken at a spot in the middle of nowhere that turned out to be the Tanzanian/Kenyan border. The animals didn't seem to realise, nor did we. It just seemed like Africa - a land to be treasured and remembered for a timeless beauty that extends far beyond national borders.
Oh and, by the way, our guide, Makinda, finally made contact with Musti (Mustafa, another guide) and we were saved from the flooded river and the dubious attraction of a night in the vehicle with those Texans.
CHECKLIST
Getting there: To reach Tanzania you can fly Qantas to Johannesburg then Tanzanian Air to Arusha.
On safari: Thomson Safaris are based in Boston, USA. Phone 0800 235 0289