Steve Deane survives schoolies week and his first spa treatment.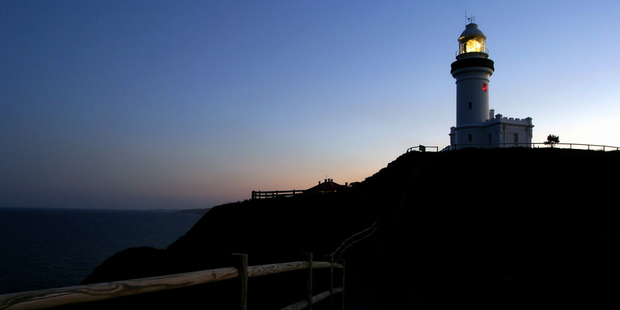 As far as awkward moments go, this one is right up there. Draped in a kimono designed for a midget, I'm standing in the changing rooms of the spa at the five-star Byron at Byron Resort and Spa, pondering my options.
During the lead-up to my hot stone massage and facial, I'd been feeling a bit anxious, something I'd put down to the fact that I haven't actually had a spa treatment before.
Now, however, the true reason for my unease has, er, revealed itself. I'm a fairly broad-shouldered type and the kimono is designed for someone a little smaller. It covers everything from my navel up and not a lot else.
Faced with a choice between disobeying instructions or parading through the (very public) pool area with my crown jewels swinging in the breeze, I decide to ignore the strict instructions on dress and put on my swimming togs.
Fortunately, after listening to my nervous explanation of the kimono problem, my therapist proves understanding. I'm soon lying face down in a treatment room being massaged into a lifeless, oily stupor, the exquisite sensations rippling through my body from the piping hot and freezing cold stones that are being rubbed into every molecule the only thing keeping me conscious.
It takes about 30 seconds to realise that I've never really had any true appreciation of what the word "pamper" means. Needless to say, my earlier anxieties are quickly forgotten.
And so they should be. Byron Bay is not a place where anxiety tends to reside. With its eclectic, melting-pot mix of hippies, surfies, celebrities, hospitality workers and tourists, the Northern New South Wales holiday spot is one cool destination. Geared for tourists with activities such as dolphin watching by kayak, hot-air ballooning and surf schools, it somehow manages to avoid feeling over-commercialised.
Locals, for instance, are fiercely proud that there is no McDonald's or KFC to be found in the town. Instead, the shopping precinct boasts surf stores, art galleries, cafes, restaurants and pubs.
The biggest (and in my opinion the best) bar in town is The Beach. Once owned by Paul Hogan (he of Crocodile Dundee fame), this sprawling establishment is fittingly located opposite Byron's main swimming beach. A great spot for a refreshing ale, it fires up late afternoon, particularly on a Sunday when local reggae band Fyah Walk ease in the transition to night-time party mode.
My trip to Byron in November coincides with what Australians call schoolies week (actually a fortnight) when teenagers commemorate the end of their school days by converging on beach towns, like Surfers Paradise 73km up the coast, and getting drunk.
Schoolies doesn't always run smoothly. Sometimes the schoolies riot. But in keeping with its hippyish reputation, Byron's version seems fairly tame. Locals mutter about the extra rubbish on the streets and beaches deposited by the tanned, buff young things, but that's about the extent of the hassle.
It's all part of Byron's pleasantly un-Australian - or at least un-Queensland - feel.
Beautiful one day, perfect the next Queensland may be, but a home of tolerance and enlightenment it is not. A cab driver who gave me a ride shortly before I headed to Byron managed to convey his strong dislike of Pakistanis, Chinese, Kiwis, young people and other motorists in a trip that lasted about eight minutes. Sadly, from my experience, meatheads like that cabbie aren't all that hard to find in the Lucky Country.
Byron, by contrast, seems to be a haven for free-thinkers.
True, it hasn't always been like that. Following the displacement of the local aboriginal populace, the town - originally called Cavenbah - became a centre of industrial production. Whaling, butchering and dairy production were the major industries.
"Given its history as a place of slaughter it's quite ironic how this place has turned out," says Sonny, my guide on a dolphin-spotting kayaking trip, one of many successful eco-tourism ventures in the town.
Kayaking is a great way to get a feel for Byron's geography. The weather was perfect on the day I went, allowing us to head around a peninsula that is the eastern-most point of the Australian mainland. The dolphins and whales avoided us but I was happy just to get close to the many giant turtles.
Our kayak trip also took us past the main surf break, The Pass, and across Wategos Bay, a millionaires' row where the hideaway homes of the likes of Tom and Nicole (pre-Tomkat days obviously), Val Kilmer, Elle McPherson and Pink dot the hills above the bay.
When sections in the bay were first put up for sale in the 1960s, many were turned in at A$10,000 ($12,840), but since its discovery by the celebrity set, property values have sky-rocketed. A landmark property, Arnotts House, changed hands for A$12 million and was re-sold for A$16 million less than two years later.
"The guy that lived there made $4 million dollars just sitting on his balcony watching chicks in bikinis," says Sonny as we paddle by.
Byron has recently begun catering for the top end of the tourism market. The resort I stayed at, the Byron at Byron, is set in a 45-acre rainforest with private access to nearby Tallow Beach. It is a unique resort that, in my experience at least, is unrivalled in the serenity stakes.
The surprisingly private rooms are built on raised platforms and are open at both ends, allowing a cooling breeze to drift through, and wooden walkways criss-cross the rejuvenating rainforest.
The restaurant, under the guidance of Scottish chef Gavin Hughes, offers first-class cuisine and the spa treatments - kimono issues aside - are incredible.
Whether you're looking for five-star pampering or a zero-star beach blob, Byron has it. The only thing you need to take is a chilled-out attitude.
CHECKLIST
Getting there: Pacific Blue offers up to five direct services a week from Auckland to the Gold Coast.
Where to stay:
The Byron at Byron Resort and Spa offers 5-star luxury suites.
Bangalow Studio has self-contained studios.
At Main Beach Backpackers you can get dorm beds and double rooms.
Things to do in Byron:
Take a walk: The coastal path to the iconic lighthouse provides the perfect chance to combine a bit of exercise with a history lesson. The folk from the historical society based in the lighthouse cottages can tell you all you want to know about the area, while the views are breathtaking.
Learn to surf: Byron Bay Surf School offers lessons daily.
Kayak with the dolphins: Don't be put off by being asked to sign a "shark indemnity waiver" and keep an eye out for the turtles. See capebyronkayaks.com.
Drift over the hinterland in a hot air balloon: Take your head for heights and be prepared to get up early. See byronbayballooning.com.
Visit the local markets: See bangalowmarket.com.au.
Check out the local surf shops: My favourite was Byron Street
Wear 2FOUR8ONE.
Steve Deane travelled as guest of Byron at Byron Resort and Spa and Pacific Blue.