When it comes to pubs, nobody does it better than Britain. Jim Eagles tours England's finest ale establishments in search of the perfect pint.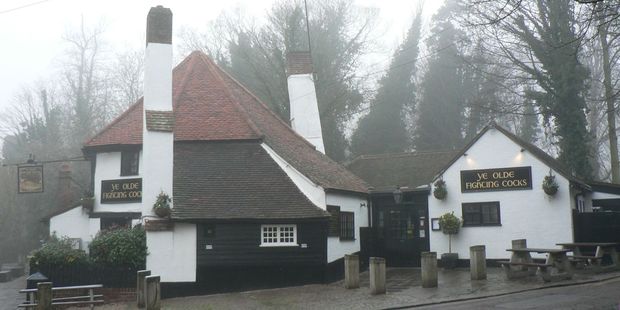 It's bitterly cold outside - on the way here I saw a puzzled moorhen trying to get its beak through the frozen surface of a lake - but I'm nice and cosy, sipping a fine pint of ale in what is possibly the oldest pub in England.
One of the things I really like about visiting this part of the world is the wonderful pub culture with its (mostly) amiable landlords, rich ales, roaring winter fires, good food and fascinating old buildings, many dating back several centuries.
In this case the barman says proudly that there has been a pub on the site of Ye Old Fighting Cocks, in the grand old town of St Albans, since 795 and parts of the present building date to that time.
Licensing records not having been kept meticulously back in the Dark Ages, there are actually half a dozen pubs which could be the oldest.
But, as attested by a newspaper clipping posted inside the front door, when a writer from The Times newspaper investigated the various claims a few years ago he opted for Ye Olde Fighting Cocks Inn as most likely to be the oldest.
It's certainly a fine place for a visiting Kiwi to shelter from the winter chill, admire the old prints of fighting cocks, chat to the friendly barman, study the excellent menu and sup on a pint of best bitter from the Black Sheep Brewery in Ripon, North Yorkshire.
I selected this particular ale because a sign on the pump handle proclaimed that the Campaign for Real Ale - Camra - chose Black Sheep as its brewery of the year for 2006.
And Camra, which is based right here in St Albans, knows what it is talking about because for 35 years it has been leading the battle to preserve Britain's pub culture, promote traditional ales and raise the standards of service.
The organisation had its beginnings in 1971 when a boozy trip to Dublin by three English journalists and a brewery worker gradually morphed from a grizzle session about the poor quality of the beer into a determination to do something about it.
Today Camra has 80,000 members who are mobilised in support of consumer campaigns, runs national competitions to find the finest beers and pubs, organises the annual Great British Beer festival and publishes a range of books about pubs and beer.
But, as its research and information manager Iain Loe acknowledges, it has had only mixed success in its mission to revive the consumption of traditional ales in the face of the relentless march of mass-produced lagers and alcopops.
"On the positive side," he says, "we've seen a huge increase in the number of small, local breweries producing distinctive ales by traditional methods, with 80 starting up in the past 12 months alone. We've also had some success in getting the big supermarkets chains to stock real ales and that will help a lot.
"On the downside, the market share of real ales in Britain has dropped from around 17 per cent in the 90s to only 6 to 7 per cent today, partly because changing drinking habits have seen a frightening number of the good old traditional local pubs closing.
"I think that's on the turn. Consumers are starting to fight back. People want to support locally made products. There's increasing recognition of the importance of the local pub as a community centre. I believe the ale consumption curve will start to go up over the next few years as people take advantage of the wider range of real ales available."
If you're thinking of going to Britain some time you should hope Camra does succeed because without those wonderful pubs and ales it would be a less interesting place to visit.
My own investigations, conducted at great personal sacrifice, confirm that more and more pubs do indeed offer real ales as well as - or occasionally instead of - the ubiquitous international beers like Fosters and Heineken. But there's also no doubt that a lot of the small local pubs are closing.
For instance, in Central Manchester on Boxing Day we were unable to find a pub in the city centre where we could celebrate a great win by Manchester United. In desperation we drank the lager in our hotel fridge.
One rainy evening in Windermere, in the heart of the Lake District, we wandered lonely as a cloud, finding only one pub in the middle of town, and that so full of smoke and karaoke music that we couldn't stand it. Fortunately, we located a refuge in Miller's Restaurant where we enjoyed a couple of steak and kidney pies and a few nice bottles of Jennings Cumberland ale.
Oh, and I met Colin Dexter, creator of the pint-loving Inspector Morse, in the Morse Bar of the venerable Randolph Hotel in Oxford... and couldn't get a satisfactory pint.
All the Morse Bar had on draught was Caffreys ale, Guinness stout and Grolsch lager. I tried a pint of Caffreys, didn't think much of it, and had my opinion confirmed by Loe who described it as "that awful nitrokeg stuff."
But those, happily, were the exceptions on a tour of Britain which involved 33 pubs and 41 different ales, not to mention some fine pub food, delightful landlords, entertaining conversation and fascinating towns.
Unfortunately, there isn't space to mention all the pubs we visited but I can offer a mouthwatering sample of what's on offer.
An excellent place to start a pub tour - well, it's where ours started - is the Evenhill, in the Kentish village of Littlebourne, just outside the cathedral city of Canterbury, and only a couple of hours' drive from Gatwick Airport.
This is not only a fine local pub dating back 400 years, and a good base from which to explore Canterbury, it also happens to be one of 370 pubs owned by Shepherd Neame, the oldest brewery in Britain.
That made the Evenhill a great spot to have a chat with the amiable chef, try some good English nosh like sausage and mash or steak and ale pie, accompanied by flavoursome pints of Master Brew, Late Red and Spitfire.
Later we visited the brewery, founded in 1698 in the grand old market town of Faversham, and based on a brewing tradition dating back to a 12th century Benedictine abbey.
It's well worth a tour for its intriguing mix of ancient equipment and traditional techniques - including the soft artesian water and Kent hops which caused a brewing industry to develop there in the first place - with modern technology.
And afterwards, in the brewery bar, you can try a few more of their excellent ales including Whitstable organic ale (which uses hops from Motueka), the powerful Bishop's Finger (the name comes from the signposts which used to point pilgrims on the trail to Canterbury) and 1698 (which commemorates the official date the brewery was founded).
A rather smaller brewery, but also worth a visit, is at the Filo pub - the name stands for First In, Last Out - built in the prime position on the coach road out of the historic town of Hastings.
The Filo is one of an increasing number of pubs which make their own beers. Owner Mike Bigg, a former civil engineer, says he had to learn brewing "from scratch... and I've certainly made mistakes along the way... but these days we're getting better and better."
Like many real ale pubs these days the Filo is happy to give newcomers the chance to taste its range before deciding what to drink and I particularly liked the Crofters real ale - a perfect accompaniment for their excellent liver and bacon - though the Ginger Tom, which includes ground up ginger, was an intriguing alternative.
Part of the charm of pubs like the Filo, which dates back to the 1500s, is their age. But pubs don't have to be ancient to be worth a visit. In fact, probably the best pub of the whole trip was The Florence Arms, in the historic naval city of Portsmouth, housed in a rather boring Victorian brick terrace building where a family called Frowd used to sell grog from their front room 150 years ago.
As we left our hotel seeking somewhere to enjoy a quiet ale my wife, who is English, assured me, "You don't have to walk far to find a pub in England. There's one on every street corner."
And on this occasion there was indeed a pub on the first corner, though it was packed with young people and noisy music.
On the next corner was the Florence Arms, also rather noisy, but the landlord, seeing the aged faces peering unenthusiastically inside, said, "I think you might prefer our other bar round the corner," and he was right.
It was cosy, quiet and had a good range of ales, from which, after tasting a few, I opted for the marvellously rich and fruity Adnam's Broadside, while my wife chose the lighter, citrus flavour of Young's bitter.There was such a great atmosphere that we decided to eat there and enjoyed some excellent roast lamb accompanied, on the landlord's recommendation, by a fine pint of Spitfire.
All of that was in sharp contrast to our next pub, the famous Haunch of Venison in Salisbury, which we seemed to strike on a bad day.
This is a fascinating hostelry, sitting right opposite Salisbury's historic market cross and close to the fabulous cathedral - there is a reference to craftsmen working on the cathedral spire staying there in 1320 - with a pewter bar top, gravity fed spirit taps and, most extraordinary of all, the mummified hand of a gambler still holding a card yellowed with age...
Unfortunately the staff didn't seem interested in customers and the tiny bar was dominated by two women having an intense conversation about the meaning of life, so we quaffed our pints of Greene King India pale ale and fled.
Luckily, not far off was a sanctuary in the form of The Cloisters, only two centuries old but more than making up for it with friendly service, peace and quiet and a nice pint of Ringwood Fortyniner.
And that's the great thing about most English towns: if one pub disappoints you, chances are there's something better just round the corner.
When Oxford's Morse Bar proved a letdown, for instance, there were plenty more on offer like the famous Trout just outside the city, the Eagle and Child where writers like JR Tolkein and CS Lewis famously used to meet, the Bear, the Hobgoblin and, our favourite, the King's Arms.
Dating from 1607, this place is an absolute warren of rooms, in one of which Dexter used to drink before he got diabetes (as did Morse shortly afterwards), and in another an early meeting of Camra was held.
With a pedigree like that it's hardly surprising that we were able to enjoy a fine drop of Wells Bombadier and some marvellously malty, hoppy, toffee-tasting Young's Special.
Similarly, when Windermere's pubs proved nowhere near as attractive as the surrounding scenery, we were able to seek solace just down the road in Bowness-on-Windermere, at the Old John Peel - named after a famous Lake District huntsman - which offered great food, marvellous atmosphere, some tasty pints of Everard's Sleigh Bell and Theakston's Bitter, and the drama of a life-or-death game of draughts between a group of octogenarian patrons.
And on the other side of Lake Windermere in the tiny village of Near Sawrey, was an absolute gem of a pub, the 17th century Tower Bank Arms, Beatrix Potter's local - though I don't know if she ever drank there - which features in her story about Jemima Puddleduck.
The landlord, Anthony Hutton, offers a magnificent range of ales from a dozen of the Lake District's microbreweries including Ulverston Brewery's Another Fine mess (commemorating silent movies star Stan Laurel who was born in Ulverston), Cumbrian Ales' Wicked Jimmy (named after a legendary local), Hawkshead bitter and Barngates Brewery's Cracker ale, all of them superb.
If you want to short-circuit the process of sorting the good pubs from the bad without having to try the lot then a good option is Camra's Good Beer Guide, updated every year on the advice of local patrons, which is not cheap but will save you from some nasty confrontations with smoke, karaoke and warm lager.
An even better option, however, is to have a seasoned local tippler show you around his patch.
Luckily, in North Yorkshire we found just such a guide in my old mate Paul Routledge, a legendary ale drinker, who lives these days in a farm cottage just outside the village of Cowling.
Under his tutelage we sampled some outstanding pubs, not all of which I can recall clearly, but I do remember that one high point was definitely the Old White Bear, one of the best-known pubs in the region, and the original home of the locally famous Naylor's Brewery.
The brewery has since moved to bigger premises but its ales are still served in the Bear - I tried the rich, fruity Mother's Best - and at 1.65 a pint ($4.80) the cheapest drop we found.
The pub also has a unique game, involving swinging a ring on a length of string with the aim of hooking it over the horns of a bull's head hanging on the wall, at which I failed lamentably and my wife nearly knocked out one of the watching drinkers... which at least stopped him laughing.
Another Yorkshire highlight was the Black Bull in the lovely old town of Haworth, just below the parsonage where the Bronte sisters wrote their classic novels, at which brother Bramwell used to drown his sorrows.
But the climax of our Yorkshire pub experience was the unique Falcon, a famous fly fishing pub in the village of Arncliffe, Littondale.
This, I should say at the outset, was sold to me as being presided over by the most cantankerous publican in Britain, a title for which there would be hot competition. I must admit I did initially wonder if the claim might be correct when we waited for several minutes with tongues hanging out while our host slowly and methodically completed the task of winding a piece of string around his fingers.
Our wives also began to think the same when they sat in one of the numerous small side rooms waiting for the drinks to arrive and discussed moving a table so we could all sit together, whereon a sepulchral voice boomed from the dark of the central servery, "Don't touch the tables".
But once the publican gave us his attention he proved a delightful chap.
We got a couple of excellent pints of Timothy Taylor's nutty-tasting best bitter which, charmingly, he served by decanting from a couple of kegs on the floor of the servery and then into our pint glasses... none of that modern pump nonsense here.
Then he chatted enthusiastically about fly fishing, local characters, football, Yorkshire and single malt whiskies.
By the time we left my guide was deeply perplexed, saying, "I've never heard him talk so much."
I'd like to think it was due to the fact that the landlord of the Falcon for once found an audience properly appreciative of his wonderful old pub... but then Kiwis do adore English pubs.
CHECKLIST
Getting there:Emirates has three flights a day from Auckland and one from Christchurch to Dubai, and flies from Dubai to several British airports from Gatwick in the south to Glasgow in the north.
Pubs: You can buy Camra's Good Beer Guide from bookshops or through its website.
Another good website for information about pubs is beerintheevening.com.
Further information: See visitbritain.com.
Jim Eagles toured English pubs as a guest of Visit Britain and Emirates (but paid for his own pints).