Tim Roxborogh visits Vietnam's tourist heart.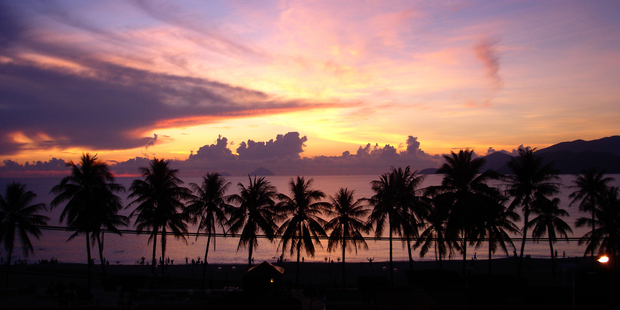 It's not that I'd never seen anything like it, it's just that we didn't expect to find it here. There must have been about 30 great hydro-slides and from what we could tell from our perch in the gondola there looked like a pretty good slab of beach, too.
Add to that the huge dry-land theme park next door and our two weeks of claims that we were here to "see the real Vietnam" were soon forgotten. And rightly so.
This was Nha Trang, the famous war-era R&R hangout and the now Gold Coast-like tourist destination we probably all needed.
Our gondola was taking us to the grandly titled Vinpearland, an island in Nha Trang harbour now entirely devoted to attracting foreign dollars.
Our Intrepid Travel group of 10 were bound for Ho Chi Minh City after two weeks of temples, war sites and poverty, interspersed with amazing food and some of the best scenery imaginable.
But sometimes even noble tourists need a day or two off and this was the place to do it.
I've always had a soft spot for hydro-slides - I went to Austin, Texas, two years ago just to see Schlitterbahn, reputedly North America's best water park.
That extraordinary place had the most incredible squiggly tubes of all shapes and sizes. It didn't matter that you had to queue for half an hour just to ride one when the payoff was jets of water shooting you skywards.
Schillterbahn was amazing, but you'd expect that sort of thing in the United States, not in a previously war-ravaged developing country in Southeast Asia.
But if there's one thing I've learned in my jaunts through this part of the world it's that whatever preconceived notions you have of the place you need to check them long before you step off the plane.
Sure, we'd all said we were here to see the "real Vietnam" but the reality of the country needn't be limited to a patronising attitude that only the West is allowed the fun of economic development.
Nor the fun of an I Dream Of Jeannie-theme waterslide that spits you out of a tube, spins you around the edge of a giant circle, then plops you in a pool with everybody laughing almost as hard as you.
All told, a full day of hyrdo-slides and lazing on the beach at Vinpearland before hopping on the gondola returning to mainland Nha Trang was about as good a day as you can have of mindless fun.
With an entrance fee of about $18 it's cheap and wonderfully queue-free, although an enjoyment still out of reach for most Vietnamese.
Make no mistake, Vietnam is still a poor country, but here in Nha Trang you'll find the greatest wealth and the most rapid development.
After another couple of days spent snorkelling and island-hopping around some of Nha Trang's fishing villages it was easy to see why many regard this city of 300,000 as Vietnam's own little slice of Greece, even down to the stucco architecture.
It was fun - but all good R&R comes to an end and it was off to place everyone still calls by a name it hasn't officially had since 1975.
No offence to Ho Chi Minh, but Ho Chi Minh City doesn't evoke the same sense of nostalgia (however misplaced) as the name Saigon.
I wasn't alive during the Vietnam War, but the word Saigon immediately brings to mind images of the Rex Hotel, the tank crashing through the gates of the Presidential Palace, the Cu Chi Tunnels, beautiful women in conical hats, steamy tropical nights, and the insanity of war.
We didn't have long in the city, but enough time to cross off the city's "must-dos" and even time for a possible "mustn't-do" - my leading the Filipino house band at the Rex Hotel through a shaky rendition of Slip Slidin' Away.
Peer pressure from people you'll probably never see again is a powerful thing.
And there was something powerfully memorable standing onstage at this famous hotel where 40 years ago army generals drank the night away while their men perished in battles on the edge of the city.
Back then, the bigwigs were heavily criticised for their perceived apathy and for keeping a safe distance from the explosions that could be seen from the top-floor balcony of the Rex.
There's no longer a war here, except for those trying to keep the "real Vietnam" at bay, whatever that may mean.
TOP FIVE SPOTS
1. Vinpearland: The best, newest, most spectacular water park any of us had ever seen. No queues either.
2. The nightlife: Arguably the best place to party in Vietnam is Nha Trang, which is becoming less seedy as the years go by.
3. Nha Trang Beach: Not quite as spotless as Kiwis and Aussies are accustomed to, it's still a fine stretch of white sand next to turquoise waters.
4. Long Son Pagoda: Although most head to Nha Trang to party and work on their tans, this hilltop pagoda is one of the most striking in Vietnam and has a stunning view across the city.
5. The snorkelling tours: Although the water clarity and fish variety aren't a patch on Malaysia or Thailand, the island-hopping, from fishing villages to resort islands around Nha Trang, makes these tours a must-do.
Tim Roxborogh, breakfast host on Easy Mix, travelled courtesy of Flight Centre.