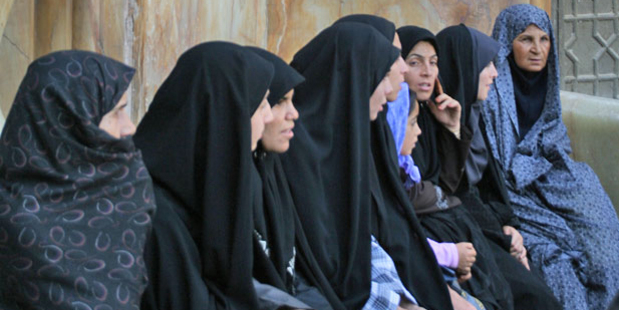 Pariah state, part of the 'Axis of Evil', heart of the late Persian Empire. Caught between Iraq and a hard place, Iran has more street cred than most gangster rappers. But what we were driving to find out was: what is Persia like in person?
Introductions went badly. Not long after crossing the border from Azerbaijan we were broken down on the side of an unlit motorway, the engine of our beloved car (Oddy) melting, Chris' wrist burned by the radiator, anti-freeze in Marta's eye, plagued by exhaustion, sunburn and stomach-aches.
It was midnight; we had been driving for fifteen hours and as usual had no place to stay.
Little did we know, in Persian culture a guest is considered a friend of God. If there is a country in the world to be down on your luck as a visitor, it is surely Iran.
Less than 24 hours later we were relaxing at our friend Arta's place in Tehran.
By that time the friendly mechanics had replaced Oddy's rotten radiator and removed his troubled thermostat. Strangers had given us food, invited us to stay, paid for our petrol, led us around town and everywhere we went people asked to have their pictures taken with us.
Even compared with the exceptional hospitality in Turkey and Azerbaijan, people were so friendly that we suspected a nationwide campaign to win over tourists and dispel negative international publicity.
But Arta - our translator, ridiculously generous host and inside word on life in the Islamic Republic - told us that this was simply an extension of the culture of hospitality. We were clearly foreign, and as such, guests to the whole nation.
Treated like celebrities, it would have been easy for us to overlook the problems in Iranian society - at least for Chris and I.
Women in Iran are forced to dress like the Emperor from Star Wars, in costumes more suited to space than 45 degree heat. Marta, sweating in her jeans and headscarf, was unimpressed.
If girls don't cover their hair and limbs properly, they may be tried in mobile courts set up in buses and imprisoned for a short time. This renders girl-watching terrible: Chris and I were also now unimpressed.
The 'Emperors' roaming around the streets are symbolic of the dark side of Iran.
A woman has half the legal rights of a man. Numerous offences are punishable by death of some sort or another: Adulterers are stoned to death and technically homosexuals may be thrown off cliffs in sacks. The Exclusive Brethren has nothing on Sharia law.
Political and personal freedoms are severely restricted. Opposition to the current regime is prohibited, public dissent is forbidden and the general population benefits little from the vast oil revenues.
It's not all bad news though - thankfully, if you know the right people, basic human rights like alcohol and Facebook are accessible, although prohibited.
And society does seem to be liberalising - for example 60 per cent of university students are now female. Everywhere on the streets of Tehran we saw both young and old women wearing makeup and allowing died fringes to show under their headscarves, in open defiance of the religious police.
In short, it is impossible to be short when describing Iran. Constantly fascinating and always surprising, a book - not a blog - is appropriate.
Even though it's comforting and fun, you just can't simplify the world into good and evil. Iran, more than most countries, is extremely complicated.
All I can say is, if you're ever in this "bad" part of the world, stop by. Join the dark side. It's a lot of fun.
Empire Records:
* Tehran has some of the worst air quality in the world, killing up to 3,600 people a month.
* Iran, with 3000 plastic surgeons but very little scope for women to show off anything, has the highest rate of rhinoplastery in the world.
* Iran has the second worst road fatality statistics in the world with 31,000 annual fatalities.