Not all Scottish spirits are confined to whisky bottles, discovers Pamela Wade in the capital.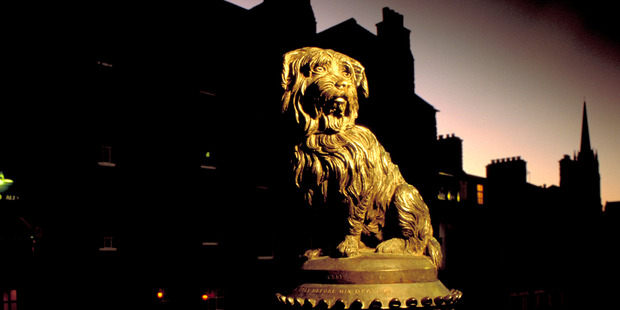 It was an ordinary-looking notebook, pocket-sized, dog-eared and old. The cover, worn smooth in places and embossed in faded gold, was made of brown leather, its texture a little like pigskin, except it wasn't. It was human skin. Even creepier, it was skin with a name and a face, and the face was looking back at me.
The eyes saw nothing, however: They were closed, because this was a death mask, moulded soon after the subject was hanged. There was a deep crease around the neck made by the noose when it tightened, after an unusually short drop of 7.5cm, according to a contemporary report, which also notes the long and violent struggle that preceded death and the rapturous shouts raised by the multitude that accompanied the execution.
The Surgeons' Hall Museum in Edinburgh houses so many macabre and gruesome items that entry comes with a warning to the squeamish. But amongst the cases of bones with sword wounds and embedded musket balls from the Battle of Waterloo, the dried and varnished body parts, jars of parasites and seriously unnerving early dental instruments, William Burke's remains are in a class of their own.
By trade a canal digger, Burke was tempted in 1827 by the huge demand for bodies for anatomy classes, which meant that surgeons would pay up to £10 for a cadaver, no questions asked. Resurrectionists stole them from graves, but Burke and his associate Hare cut out the middleman of the Grim Reaper and harvested them directly from the ranks of the poor and homeless.
He was Scotland's equivalent of Jack the Ripper, but much more efficient. By the time of his hanging two years later, he had killed at least 16 people. Afterwards, rioting forced the authorities to allow public viewing of his body and 30,000 people filed past, some of them claiming souvenirs, hence the notebook.
Burke was himself then dissected, and is still assisting the teaching of medicine - his skeleton hangs in the University Medical School.
Death is hard to avoid in Edinburgh. Over 1000 years of lively history will do that for a place, and wherever you turn there is another violent story waiting to be told.
At the Palace of Holyrood House, where the Queen hosts her annual garden party for the great and the good, and the grass is so fine and genteel that the signs read "Please Do Not Walk On The Lawns", I stood on the spot where Mary Queen of Scots' secretary, David Rizzio, was stabbed 56 times.
It takes little imagination to picture the scene - the foppish Italian shrieking behind the skirts of the pregnant queen as her jealous husband and his supporters burst into her apartments, shouting accusations and brandishing daggers.
The screaming emptied nearby taverns and morbid curiosity still attracts the commoners to stare at the blotch on the floorboards, even though the official word is that it is not the original bloodstain.
Rizzio was buried nearby at Canongate Kirkyard, which I visited at midnight at the end of a tour of some of the city's spookier locations that had begun further up the Royal Mile under the Mercat Cross.
Rejecting the first two companies because their guides were respectively English and - good grief! - Australian, it was third time lucky when I heard Faith's lilting accent as she scoffed at some of the local wildlife cavorting nearby: "Don't drink on an empty head!"
Kitted out in a long black cloak, she described in loving detail and with enthusiastic audience participation the principles of hanging, drawing and quartering, the whippings and the general torture that entertained the crowds on this spot, before taking us to see Edinburgh's even darker side.
An innocuous door opened to a set of stairs that took us down into the hidden vaults under South Bridge, where for over 100 years the city's poor lived in the darkness, in a labyrinth of rooms that were unlit, unventilated, damp and crowded.
Sealed up eventually when crime and disease reached intolerable levels, the vaults were re-opened only 20 years ago and are still being excavated.
Her candle guttering in the draught, Faith told us that many people on the tours had experienced inexplicable chills, touches and smells, and their photos had shown glowing orbs and smudgy white shapes when viewed later, even though unlike some other tour companies, ours employed no surprise "jumper ooters".
Described in a BBC documentary as possibly one of the most haunted places in Britain, the vaults are undoubtedly full of atmosphere and not a place to linger - but for us the ghosts were a no-show.
It hardly mattered: Faith's tales of real malice and misfortune were in their way more disturbing than any supernatural shenanigans.
At Canongate Kirkyard, we stood in the cold and dark, hemmed into a tomb by the iron railings designed to keep out the resurrectionists, and heard about fingernail scratchmarks inside coffin lids, a kitchen boy roasted and eaten by a mad earl, and the fiendish torture devices used on women accused of witchcraft. Astonishingly, homeless people were sleeping peacefully on the church's front porch. It was a homeless man looking for shelter in 1999 in Greyfriars Kirkyard up near the Castle who is blamed for releasing a poltergeist from George Bluidy Mackenzie's tomb.
More than 400 attacks on visitors to the mausoleum have led to collapses, blackouts, broken fingers, scratches and bruises - but in soft afternoon sunshine it was a green and pleasant place where blackened tombstones leaned at all angles under the oak trees and inside the church pink and purple puddles of light lay on the floorboards beneath the stained glass windows.
In the street outside I found the statue of Greyfriars Bobby, the Skye terrier who kept a vigil for 14 years on his master's grave in the kirkyard, where he himself is now buried.
If Edinburgh's human citizens had been equally selfless, I reflected, its history would be much more civilised but nothing like as fascinating.
CHECKLIST
Getting there: Cathay Pacific offers a daily one stop service from Auckland to London with convenient connections to Edinburgh. Cathay Pacific offers special fares to Glasgow/Edinburgh. Visit www.cathaypacific.co.nz for flights and airfares.
Where to stay: The Scotsman is highly recommended for character, comfort, service, central position and its breakfast menu plus it has its own ghosts (www.thescotsmanhotel.co.uk).
What to see: Take a hop-on, hop-off bus tour to get your bearings, then follow your inclinations: history, culture, shopping, pubs, clubs and restaurants. Don't miss Edinburgh Castle and be sure to wear comfortable shoes because the cobbles are unforgiving.
And if you're really into ghosts then don't miss Edinburgh's Ghost Festival, on May 9-18, which delves deeply into the city's fascinating past and its haunted locations. This year's highlights include a scientific experiment by Edinburgh University's Department of Parapsychology and an exclusive event with Britain's Most Haunted star Richard Felix.
Further information: See visitbritain.co.nz.
Pamela Wade was a guest of Visit Britain and flew courtesy of Cathay Pacific.