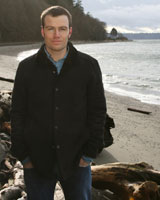 A co-author of the Lonely Planet guide to New Zealand has labelled a colleague "an embarrassment" to the travel writing industry for saying he never visited one of the countries he wrote about and gave a restaurant a good review after having sex with a waitress.
George Dunford was criticising Thomas Kohnstamm, who worked on more than a dozen Lonely Planet guides and has revealed in a new book that he wrote about Colombia from his home in the United States.
Lonely Planet has clarified the situation by saying Kohnstamm was commissioned to write background chapters which did not require him to visit Colombia.
Kohnstamm also praised a restaurant's table service after having sex with a waitress on a table top, and said he sold ecstasy when he was short of money during his travels.
Dunford, of Melbourne, suggested on a blog that Kohnstamm's book should be "treated with a lot of salt".
He criticised his budgeting skills after he said he could afford to spend his first few days in Rio partying but then alleged Lonely Planet paid him so badly he had to sell drugs to make ends meet.
"I think anyone who accepts a job where ... the money isn't going to work out probably doesn't deserve the tag 'professional'," Dunford said.
"If you've got a problem with the pay rate, don't do the job. It's amateurish to take a gig, waste time and then waggle fingers at your employers for being bad payers."
Dunford said Kohnstamm's claim that he never visited Colombia "embarrasses travel writers" more than the sex anecdote.
The allegations left Lonely Planet bosses scrambling to reassure readers about the integrity of the authors who contribute to the six million guide books sold each year.
Other writers of the New Zealand guide book were also keen to reassure readers that, unlike Kohnstamm, they spent long hours visiting the many, different places they wrote about around the country.
Commissioning editor Errol Hunt, who also contributed to the latest NZ guide, said Kohnstamm's allegations didn't ring true with the work of travel writers who worked long hours and had little time for partying.
By Elizabeth Binning

Email

Elizabeth