Use Valentine's Day as an excuse to visit one of these romantic spots, says Kerri Jackson.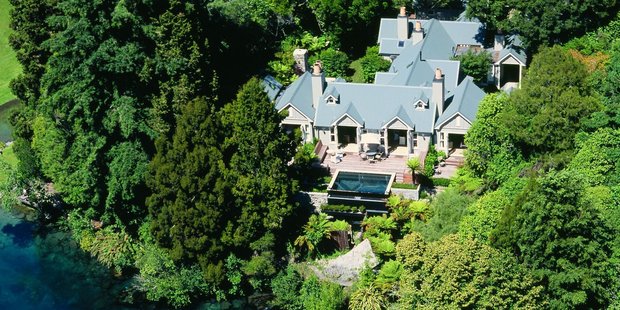 Where?
Approximately 20km out of Rotorua, headed towards Taupo.
Why?
With native forest, a network of cascading streams, lakes and glow-worm caves, Treetops Lodge is justifiably one of the country's most-exclusive spots. Choose between a suite in the main lodge or a secluded private villa tucked away among the trees. On top of the vast estate grounds, which make you feel a world away from, well, the world, the lodge also has a conservatory, library, and games room. Be as active or reclusive as the mood takes. And if you can tear yourself away, the various geothermal soaking treats of Rotorua and Taupo are just a short drive away. On the website, Treetops' owner John Sax talks of building a sanctuary... it's hard not to see what he means.
How much?
Between $840 to $1705 a couple a night depending on room type. Rates change to low-season in May.
Where?
Whangaroa Harbour, Northland. Whangaroa Houseboats' HQ is in historic Totara North on the north western side of Whangaroa Harbour, 13km north of Kaeo.
Why?
It's hard to imagine a better definition of "romantic getaway" than just you and your beloved on a fully-equipped, easy-to-handle houseboat pottering around the inlets and backwaters of Northland's spectacular Whangaroa Harbour. Assuming "romantic getaway" means just the two of you, your best option is La Mer. It's a 9m houseboat with a fully equipped galley, double bed, dining area, full bathroom with flush toilet and large shower, hot and cold running water, a sun deck, dinghy and outboard motor, CD player, and linen. And if you can't bear to leave the kids at home, there's another sleeping compartment. Rental includes instruction in how to operate the boat. The only thing you need to provide is food. If you want to make your romantic getaway more of a group affair Whangaroa Houseboats also has an eight-person boat for hire.
How much?
La Mer costs $990 for a three-day weekend, or four-day midweek hire.
Where?
80km from Christchurch on Banks Peninsula.
Why?
With one narrow, winding road in and out of town, Akaroa has avoided the tour-bus crowds. This small town, the last remnant of early, short-lived, French occupation in this country, retains its quaint olde worlde charm and is perfectly formed for the romantic retreat. It is secluded, yet surrounded by incredible food and wine options for those who wish to venture out (try French Farm winery). Alternatively, wander the French-named streets hand-in-hand, or explore Akaroa Harbour on one of the many boat tours. If you're after romance, try staying at Oinako House, a beautifully restored heritage mansion. For romance that's a little more quirky try a stay at Linton, known locally as The Giant's House. Owner, artist Josie Martin, has filled the gardens of this old homestead with her own incredible mosaic sculptures. Even if you don't stay here, it's a must-visit.
How much?
Akaroa offers a full range of accommodation at all price levels, from backpacker to boutique luxury. Rooms at Oinako start at $210 a night; rooms at Linton start at $250.
Where?
Manawatu, 7km from Apiti, north of Kimbolton and Feilding.
Why?
Those Evermore boys notwithstanding, Feilding and its surrounds are not generally your first thought when it comes to sexy. But if you're wanting a retreat to what could be described as the middle of nowhere, this is your place. Nestled at the foothills of the Ruahine mountain range, Makoura Lodge is the perfect spot to really escape city madness for a little romantic break. The gorgeous macrocarpa units have equally pretty views towards the mountains. With great hearty food available from the lodge restaurant and beautiful native gardens you need never venture past the gate. Plus, the lodge plays host to a number of weddings, so they must know something about romance.
How much?
$130-$160 a couple for a studio or two-room apartment.
Where?
Havelock North, Hawkes Bay.
Why?
Napier may have its swish and sexy art deco buildings but if you want total immersion in the romance of Hawkes Bay try staying in pretty, tree-lined Havelock North. It's in the heart of food and wine country and just a short hop to the golden sands of Waimarama Beach. There are a number of great hotels and motels in Havelock North but if you're going for a full, love-in experience try Rush Cottage at Black Barn Vineyard. It offers all the great local food and wine options, while barely having to leave the bedroom. Stroll through the vines, or pick your own fruit and nuts from surrounding trees before pausing at the cellar door for a tasting of Black Barn wines. On offer are a number of other residences, including The Black Barn at the vineyard, a house at Waimarama Beach and several along the banks of the Tuki Tuki River.
How much?
Rush Cottage costs $290 a night.
Where?
Mid-Canterbury, 90 minutes' drive inland from Christchurch.
Why?
What's more romantic than a spa treatment followed by a delicious hot soak in a mineral pool? The recently opened Spa at Hanmer Springs even has private indoor pools in which you are not allowed to soak alone - which pretty much makes romance compulsory. The historic Heritage hotel is just across the road from the pools, making it easy to mosey back and forth between the two. If you're getting unattractively wrinkly from all that hot water, the Heritage grounds are beautiful and well worth a romantic stroll while you dry out.
How much?
Hanmer Springs Thermal Pools and Spa offers a pamper pack for two people, including accommodation, sauna, massage and use of a private pool, for $295. Heritage Hanmer Springs offers standard hotel rooms, from about $145 a night, as well as private villas.
Where?
Abel Tasman National Park, Nelson.
Why?
A visit to Awaroa is a romance must-do if only because it's inaccessible by road. That means you're forced to arrive via the infinitely more romantic method of boat (water taxi from Marahau) or by air from Nelson, Wellington or Motueka. Of course, if you're a little more active in your romantic pursuits, you can get to Awaroa by first tramping through Abel Tasman National Park. Thinking of the lodge's stunning setting between the forest and a calm azure beach is surely motivational. Awaroa is also world-renowned for its eco stance in everything from its construction to the organic garden onsite, which dictates the flavour of the delicious lodge menu. Surely there's nothing sexier than helping save the planet?
How much?
$350 a night for a superior suite with a private (and very romantic) deck, $255 for a standard room.
Where?
Hauraki Gulf, a 2 1/2-hour boat ride from Auckland, either via Fullers in the city, or Sealink (which will also take your car) from Half Moon Bay. There are also regular air services.
Why?
Find a romance partner with a boat or hop on a ferry to the unsullied gorgeousness of Great Barrier Island. If you're poor and boatless and can't, therefore, simply drop anchor in picturesque Port Fitzroy, try a little no-frills romance with a stay at Sugarloaf Campground at Kaitoke Beach. Dining by barbecue and lying snuggled in a tent with the birds chirping is back-to-basics romance at its best. If that all feels a little rustic, try a night or two at Puriri Bay Vineyard. With 360 degree views across Tryphena Harbour and a neighbouring kauri forest, the pinot vineyard is a pleasant spot. Once on Great Barrier your entertainment options are endless - walk, swim, fish, eat, drink or, of course, simply loll about admiring the scenery.
How much?
Fullers tickets cost from $130 return; Sealink tickets are from $110 return. Campsites at Sugarloaf start from $8 a night. A night at Puriri Bay Vineyard starts at $150.
Where?
45km north of Auckland.
Why?
If you want a Valentine's getaway that's an easy half-hour jaunt out of Auckland, Waiwera is a great spot. The hot springs are there to help with romance and relaxation, the new spa complex can assist with that department even further. Go for the basic budget-sensitive option and stay at the neighbouring holiday park, or upgrade yourselves to one of the luxury spa self-catering accommodation units. And while you're self-catering, why not spend a day enjoying a romantic picnic at beautiful Wenderholm Regional Park, just up the road?
How much?
Waiwera Spa luxury self-catering unit, $245; standard self-catering unit, $215. Waiwera Holiday Park campsites start at $18 a person a night.
Where?
Taupo, on the banks of the Waikato River.
Why?
The jewel in the crown of New Zealand luxury accommodation, Huka is perhaps not in everyone's budget but certainly worth aiming for. Secluded and luxurious, it offers incredible dining, as well as every room comfort you could need in any of the 20 lodge rooms or the wildly stylish and sophisticated Owners' Cottage. If money is no object it is the romantic getaway - a short distance upstream from the mighty Huka Falls.
How much?
High season prices start at $960 a person a night, and go all the way up to $6945 for the cottage. Start saving.