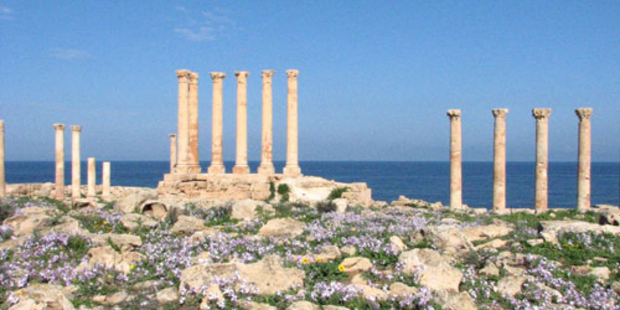 The jewellery shop windows of Tripoli, the capital of Libya, might seem unlikely indicators of national optimism.
But the fact that watches bearing pictures of Colonel Gaddafi and commemorating the 39th anniversary of the Libyan revolution (and thus the length of his time as Libya's leader) are already for sale - nine months before the actual date - suggest an upbeat approach to the future.
For those of us of advanced age, the words Libya and the Colonel are synonymous, as is perhaps a perception that travel here for outsiders is a somewhat risky business.
But, as often is the case with travel, reality is very different to perception.
The biggest danger I've faced is Libya's drivers - even crossing the road to the internet cafe today involved a heart-stopping moment when a driver seemed to deliberately accelerate as I appeared in his sights.
It's nothing personal - pedestrians are just not on a Libyan driver's radar - mind you neither are any other vehicles who might dare to be on the road at the time.
Tripoli is in renovation and building mode at present. Its Italian colonial heritage buildings are being restored and enormous gaping holes have appeared on the sites for several new five-star hotels and office blocks.
Even the Americans (in the past not exactly bosom buddies of Gaddafi) are back, at least discreetly.
US tourists are not permitted but there appears to be a diplomatic presence as I discovered the other day when I found myself in a van with seven Americans, probably from the unofficial US embassy.
We were bound for Libya's premier tourist attractions - the spectacular Roman ruins of Leptis Magna.
My travel companions were suitably coy about their presence in Libya and I decided it best not to ask. And just in case, I made certain that our security guard (a prerequisite for all tour groups of more than five) knew that I was flying a different flag.
But during our journey beside the Mediterranean Sea to the ruins there was chat of embassies as far flung as Mexico, Berlin and Yemen.
All that stopped though when we began walking along a paved street still showing the ruts worn by ancient chariots. We were following in the footsteps of a string of invaders - the Phoenicians, Romans, Byzantines and Italians - more than 2000 years of history.
Leptis Magna was one of the greatest Roman cities of its era and despite the ravages of earthquakes, scavengers, foreign museums and private collectors, it is still alive with memories of past glories.
Beyond a magnificent triumphal gate are Roman baths with soaring pillars, saunas and pools and latrines with marble seats that would be warmed up first by the slaves of the wealthy and powerful.
Mosaics of great intricacy peeked out from the soil, along with fragments of frescoes and ancient glass. Only about 40 per cent of Leptis has been excavated - who knows what still lies underground.
Apart from a few Libyans and a handful of other tourists we had the site to ourselves.
It was the same the day I visited Sabratha, west of Tripoli, another ancient Roman city, to see the largest Roman theatre in Africa.
Set against a backdrop of turquoise and lapis Mediterranean Sea, it must be one of the most beautiful theatre settings in the world.
Wild flowers bloomed purple and yellow on the walk between the theatre and the remains of a temple perched right beside the sea. In fact some of the city has already disappeared under the waves.
Octopus fishermen in wetsuits cruised past below - if it had been a few degrees warmer I would have joined them - where else in the world can you float over 2000-year-old ruins?