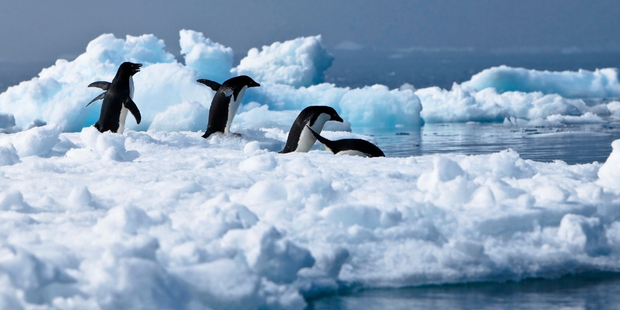 Tourists to Antarctica are unlikely to be deterred by the sinking of a cruise ship last week because there is strong curiosity about the region, travel experts said.
More than 150 passengers and crew escaped unhurt after being evacuated by lifeboats from the Explorer cruise ship that hit ice off King George Island in Antarctica.
The incident highlighted the danger of touring in the region and the potential for an environmental and human disaster if larger cruise ships encounter any problems.
"It was very unfortunate what happened, but I believe there is still a strong curiosity for the destination," Bruce Poon Tip, the head of the Canadian company G.A.P Adventures which owned the ship, said in an interview.
"Travellers to that region are quite determined and they are generally adventurous by nature, and my hope is that they will continue to travel there."
Cruises for the current season are sold out and there have been no cancellations, he added.
While the number of tourists travelling to Antarctica has grown, raising fears about the impact it could have on the continent's fragile ecology, it is still a niche market.
Just over 37,000 people boarded cruises to Antarctica in the 2006-2007 high season, according to the International Association of Antarctica Tour Operators (IAATO).
"Inevitably some people will think twice about travelling, but the tourism industry tends to be very resilient as people like to travel. But we need to make sure we do it safely and we do it right for the environment," said Costas Christ of National Geographic Adventure magazine.
The 38-year-old Explorer was a week away from completing a 19-day trip following the 1914-16 expedition undertaken by Anglo-Irish explorer Ernest Henry Shackleton when it struck ice.
Passengers and crew drifted for some six hours in lifeboats before a Norwegian passenger boat picked them up and took them to Chile's Eduardo Frei airbase.
"That wasn't luck," said Denise Landau, executive director at the International Association of Antarctic Tour Operators.
She said that three ships, which were part of IAATO's emergency contingency plan, were in the area at the time.
But if the ship had been outside the Antarctic peninsula, the rescue effort would have been more difficult. About 90 per cent of tourism to Antarctica is within the peninsula, she added.
Landau said that she was confident that there would continue to be growing interest in tourism to Antarctica.
"Travel to Antarctica is a 40 to 50-year industry and it's only going to increase. If you look at the track record in tourism, just because something happens, it doesn't mean people stop going."
- REUTERS