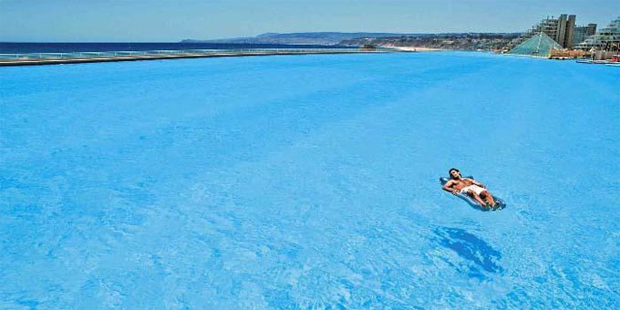 A one-kilometre-long swimming pool in Chile has been acknowledged as the world's largest by the Guinness Book of World Records.
The man-made salt water lagoon at San Alfonso del Mar resort in Algarrobo, Chile, was completed late last year and has been drawing large crowds ever since.
Situated on the Chilean coast, it provides a spectacular play area of seemingly endless crystal-clear blue water.
But the impressive pool is more than just a great place to cool off.
The lagoon employs cutting-edge technology that allows it to "harvest, filter and permanently recirculate ocean water", according to biochemist and businessman Fernando Fischmann, who heads Crystal Lagoons Corporation, the company that designed the mammoth pool.
"This advance provides something that until now was not technically possible - the generation of monumental masses of water in a crystalline state to provide a beach life environment and aquatic sports at the top level," he says.
And it seems everyone has gone crazy for over-sized pools.
Crystal Lagoons has confirmed it has other projects in advanced planning stages all over the world, particularly in the Middle East.
Fischmann says companies are keen to take advantage of the way lagoons form "impressive artificial paradises, even in inhospitable areas".
THE SAN ALFOSO POOL
* Is 8 hectares in surface area or the equivalent of 6000 standard-size eight-metre-long swimming pools.
* It easily dwarfs the next biggest pool - the Orthlieb in Casablanca, Morocco - which measures 150m x 100m.
* The lagoon's water temperature in summer is 26C, nine degrees warmer than the ocean it sits alongside.
* Its waters are transparent to a depth of 35 metres.
* It cost approximately US$1.5 billion to build and about US$4m per year in maintenance.