Shania played hard to get but Phoebe Falconer had a lovely time anyway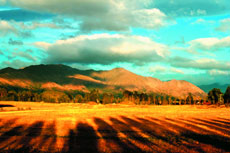 Me and Shania Twain. We're new best friends.
I haven't actually met the Canadian singer, you understand. But I hear so much about her in Wanaka that I feel as if we've been buddies for years.
The limousine driver tells of the huge stable-block being built on Motatapu Station (4000sq m, reportedly), and of her appearance in local cafes, causing paroxysms of delight among the local matrons.
The helicopter pilot extols her efforts to fit in, employing local labour and allowing the Motatapu Icebreaker event to take place on her land.
But the local beautician, when asked if she goes to Shania or if Shania comes to her, just gives an enigmatic smile.
So I don't get to meet Shania. What I do get in Wanaka is luxury, adventure and sphincter-tightening fear.
I could get used to luxury. Especially if it involves travelling in a warm leather-seated Mercedes S600 limousine when it's four degrees and sleeting outside.
I sit back and enjoy the drive to Wanaka, beside brown paddocks, willows and poplars just beginning to change colour, and hectare after hectare of grapevines.
Fifteen years ago, says Gerard Gibb, my driver, you couldn't give land away here - the rabbits had stripped everything good out of it. Now you can't afford to buy it.
We stop just outside Cromwell to visit The Big Picture, brainchild of entrepreneur and sometime winemaker Phil Parker. Inside the rather unprepossessing building is an aroma room, where you can attempt to identify the myriad smells that give wine its uniqueness. You then take the virtual wine tour, featuring video clips of local winemakers talking about their product, while tasting said product. Ingenious.
The cafe at the Big Picture is damn fine. I can recommend the risotto of roast pumpkin and sun-dried tomato.
Back into the warm car and we head for tonight's destination, Lime Tree Lodge, in Wanaka.
I am greeted by Sally and Rebecca, the lodge managers. They have been here since 2004, taking over an established lodge and updating it.
My room, the Linden Suite, has benefited from the refurbishment. Large and beautifully appointed, it has french doors opening out on to a garden edged with late iceberg roses and a huge bed I can hardly wait to fall into. Underfloor heating in the bathroom, a platter of fresh fruit, gift basket of wine, lotions and potions, a pot of homemade lime marmalade. I could stay forever.
Drinks in the lounge (local wines, naturally) with the other fortunate guests before we head out to dinner at Missy's Kitchen in Wanaka. It's not cheap; the prices equalling those at upmarket establishments in Auckland but the food is excellent.
A good night's sleep is followed by a totally unnecessary breakfast and then I tog up for the first adventure, jetboating up the Matukituki River. The weather has improved, clear but cold, and woollies are definitely called for. A 15-minute drive from the town and we intrepid boaties are on the river, holding on for grim death.
It's fearful - jetboating. And here it comes - twisting and turning in centimetres of water, spinning around in 360-degree turns to stop. Exhilarating. We head up towards Mt Aspiring National Park, where the Matukituki River rises. There is plenty of snow already on the mountain peaks and the unfortunately-named Avalanche Glacier sparkles. We slow down to try and spot brown trout in the river and they are easy to find. Brent, the boat driver, says that within the next month the river will be black with fish.
Back to Lime Tree Lodge, where it is warm enough for lunch outdoors, and then I am whisked into Wanaka for a facial and neck massage. Oh, it is hard work, this travel thing.
The facial, administered by the beautician who won't talk about Shania, is the best I've ever had. Face glowing, I wander around the shops and cafes in town, but The Great One is nowhere to be found.
Back at the lodge, the pre-dinner drinks are supplied by Steve and Barbara Green, of Carrick Wines in Bannockburn, near Cromwell. They are staying the night, thus removing the necessity of holding back on the wine-tasting. Eventually, we stagger off to bed.
Sunday dawns clear and still, which is good news - it is not clever to go in a helicopter in a high wind.
Another fear - helicopters. I've never been in one and I'm gibbering with fear by the time the damn thing arrives. Steve, my pilot, is all of 12 years old but he is very considerate and thoughtful, and agrees that those terrifying swooping manoeuvres are quite unnecessary. He also suggests that when we are about to fly over a sharp drop past a ridge, that I look straight ahead rather than down.
Good advice. The flight is calm and steady, and the views quite outstanding. We revisit the Matukituki River and fly along the cliff sides, watching for deer and thar, and keeping an eye on yesterday's jetboat far below.
A flight of 15 minutes or so takes us to Rob Roy Glacier, with ice hundreds of feet thick. Deep within the crevasses, it glows a clear blue.
As we approach the glacier, one of more than 150 in Mt Aspiring National Park, my recently-acquired sangfroid deserts me, principally because I look straight down at the valley 6500 feet below. Not a good idea.
Back over the river valley and Lake Wanaka, with its beautiful houses and trees, reddening now with the sudden cold snap. Steve points out one house that has an aircraft hangar underneath, for storing the family plane. Clever idea but I doubt it will catch on in Auckland.
Wanaka has grown from about 1800 residents 10 years ago to a permanent population now of 5500, increasing to 20,000 over the ski season. The new inhabitants are here for the lifestyle and the burgeoning wine industry has contributed to the town's growth.
The return trip to Queenstown takes us through the ski resort of Cardrona and over the Crown Range. The old Cardrona Hotel has been totally refurbished and the huge open fireplace in the garden looks to be a splendid place to partake in an apres-ski tipple. From the top of the Crown Range, I look straight down along the arm of Lake Wakatipu. It's glittering and beautiful and I could stay for a month. Maybe then I'd get to meet Shania ...
Phoebe Falconer visited Wanaka as a guest of Lime Tree Lodge, Alpine-Class Tours, The Big Picture, Wanaka River Journeys, Soak Day Spa, and Wanaka Helicopters.
By Phoebe Falconer

Email

Phoebe