Experience the spectacular wildlife in the land of Born Free, writes Brett Atkinson.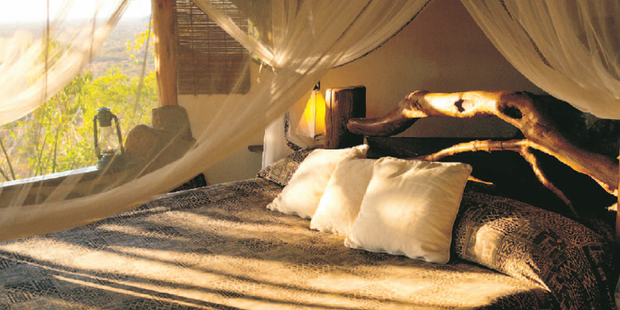 I'm not a hugely experienced fisherman, but I do know when a couple of hippos move into your fishing spot it has the potential to slow things down a little.
The river giants' timely intervention is actually kind of welcome. For the past 15 minutes I've been hauling in catfish continuously. Literally. As soon as my hook drops into the tea-brown waters of northern Kenya's Tana River, a catfish arrives hungrily to seize the bait. As my breakfast coffee grows cold, an extended family of slippery, wriggling catfish is taking shape on the simple riverside platform.
I'd ask our guide George for assistance, but he seems more interested in bouncing around listening to reggae on my iPod. Then again, considering how well he's shown us around Meru National Park for the past two days, the man deserves to be allowed to shout "Jah!" at the top of his voice every now and then. Just as long as he doesn't scare away the wildlife.
Near the border with Somalia, Meru National Park is one of Kenya's least visited wildlife parks. It wasn't always that way. Only 25 years ago 40,000 visitors tracked through it annually, drawn by the legacy of wildlife conservationists Joy and George Adamson, and the story of Elsa the orphaned lioness told in the book, (and subsequent film), Born Free.
The wide plains with 13 rivers were Elsa's expansive backyard, a neighbourhood she shared with 3000 elephants, rare black rhinos, and 300 different bird species. Everything changed in the mid-70s when poachers from the Somali borderlands arrived. In 1980, Joy Adamson was murdered and only nine years later George Adamson was slain along with two tourists. Eventually, 90 per cent of the park's elephants were slaughtered, and Meru's population of black rhinos was totally wiped out.
Now, five years after the Kenya Wildlife Service began an ambitious $1.6 million security and animal relocation programme, Meru National Park is a special wildlife experience once more.
Ironically, Meru's recent history of poaching has visitor benefits. The park still only has two lodges and the animals remain shy towards human interlopers. In more popular parks, such as the Masai Mara, you'll likely share your wildlife moments with a phalanx of camera-saturated mini-vans.
In Meru, it's normally only you, your guide, and a wide array of inquisitive species. The animals may be a little harder to find but, once sighted, are far more naturally behaved than their sometimes world-weary cousins.
Our own behaviour quickly assumes a languid, natural rhythm. Each morning we're awakened pre-dawn by a soft knock on the door of our rustic bungalow at Elsa's Kopje, a luxury lodge built into the subtle folds of Mughwango Hill, on the site of the Adamsons' original camp. There's an outdoor bath fed by natural springs, and the views from the four-poster bed make staying in bed a real option. A bush breakfast, comprising homemade muesli and ciabatta sandwiches partnered by fresh coffee, is served under a spiny acacia tree.
Our guide, George, continually positions us to experience Meru at its best. The birdlife shines with skittish guinea fowl running across the dusty tracks in front of our 4WD, red-billed hornbills and white-backed vultures.
One of Kenya's biggest herds of cape buffalo creates a dusty localised earthquake just metres away. A family of elephants eventually cross in front of our 4WD, but only after prolonged consideration by a cautious mum. When she finally makes her move, a tiny baby elephant scurries along in her footfall.
Maybe it's not what Sir David Attenborough would recommend, but after such up-close and personal experiences, a few alfresco gin and tonics at sundown seem an entirely appropriate response.
Especially when our spontaneous riverside bar looks like a good fishing spot, and there's not a hippo to be seen.
IF YOU GO
Getting there: New Zealand travellers have two options to get to the Kenyan capital, Nairobi. Emirates fly via Dubai (total time 26 hours), or you can fly via Sydney and Johannesburg with Qantas and South African Airways. This option takes about 22 hours. The journey from Nairobi to Meru National Park is a bumpy, dusty nine-hour drive, or a one-hour flight to the local airfield.
Where to stay: Packages at Elsa's Kopje include two game drives per day, all meals (Italian-styled) and all drinks including beer and spirits.
Further information: See houseoftravel.co.nz.
Brett Atkinson travelled to Kenya courtesy of the House of Travel.