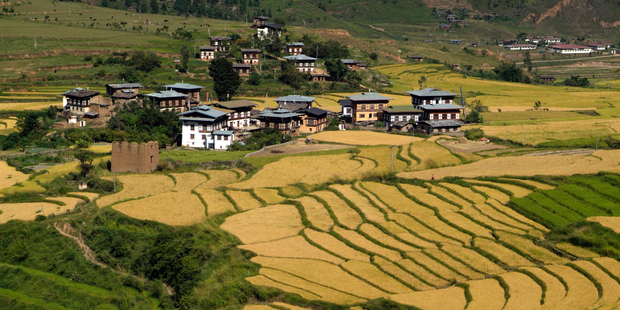 The valleys of Bhutan are changing colour almost as I watch. Rice, its vibrant emerald green stalks and burnished heads of grain, are being felled relentlessly by farming families wielding sickles.
As they work slowly across the terraces, the landscape is transformed into the hues of a Central Otago summer. It's a sign that, despite Bhutan being in monetary terms one of the poorer countries on the planet, few of its estimated 700,000 strong population will go hungry this winter.
Anyway, Bhutan doesn't judge its performance in terms of gross domestic product. It's key indicator is a term devised by the recently retired fourth king - Gross Domestic Happiness. It's a concept that could make a Western economist blanch in horror but GDH is no airy-fairy concept. It underpins every decision made by government ministries - from education to roading.
Issues such as cultural heritage, spiritual well-being and environmental protection have to be considered ahead of economic gain.
If a project does not meet those criteria, no matter how lucrative it might be, it is unlikely to see the light of day.
When I drove through the almost primeval high altitude rainforest that clings to the vertiginous Pele La (la means pass) I spotted a troop of about 30 grey langur monkeys plummeting with aplomb from a stately magnolia tree.
Babies clung to their mothers' tummies and their long tails that ended in a pom-pom full stop dangled like bell pulls. It was one of the largest troops I'd seen - a testament to Bhutan's careful protection of its environment and evidence that even langurs were experiencing some national happiness.
While GNH is a serious business for the Bhutanese they retain an earthy sense of humour, evidenced by their fondness for the stories that surround a Buddhist teacher known fondly as the Mad Monk.
He is remembered not so much by sombre shrines but (for reasons connected with his fabled but not so obviously spiritual abilities) in the wooden "flying" phalluses that are suspended from the four corners of most Bhutanese houses.
Even larger versions are painted on house walls often in startling detail - they are believed to protect those who live inside and promote fertility.
At the Mad Monk's special temple in the valley of Punakha a monk offers blessings by lightly touching the heads of supplicants (including visiting tourists) with a large red wooden phallus.
The story goes that a Japanese woman tourist, desperate for a baby, visited the temple to meditate and receive a blessing. And lo, after returning home she gave birth to a child. She returned to Bhutan with her baby to give thanks.
Everyone was delighted but couldn't help noticing that the baby did not look like the Mad Monk at all but bore a startlingly resemblance to the tourist's guide...