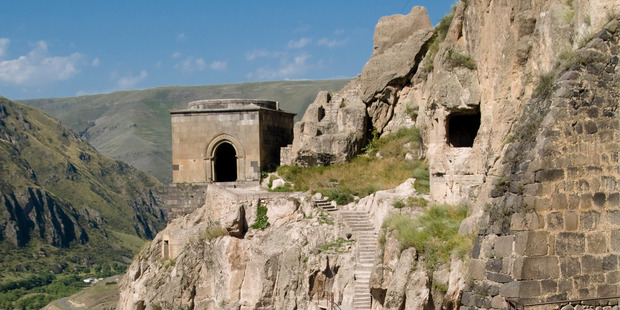 Georgia in early autumn is overflowing, fecund with fruit. The tomato-sellers' buckets are pilled high with red monsters; golden peaches rub downy shoulders on makeshift shelves and Ladas groan with watermelons.
How else does a smallscale grower transport his produce to market or to his roadside stall?
It is never enough to pack the boot of one's Lada, Niva or Volga with the mammoth green-striped watermelons. Why waste all that interior space? Melons ride in state on the backseat, the back window ledge, even on the front passenger seat.
The drivers all seem to be small men wearing caps (small driver- more melons) who sit hard up against their door as the front-seat melons jostle for a better view. Twig brooms travel the same way but they can also be lashed to the roof transforming the vehicle into a mobile haystack.
In a few weeks the cars will be squelching with ripe grapes.
On the still sultry Black Sea coast of Georgia you can almost hear the vegetation growing in the moist, warm air. Inside the ancient Gornio fortress at Batumi (where St Matthew is said to be buried) it is not grapes that hang from the vines however, but kiwifruit. Above them towers a venerable avenue of cabbage trees. Neither caretaker nor gardener know who planted them or when.
Just a few kilometres south of the fortress, forest-clad mountains tilt seawards on the border with Turkey. There is a narrow gravelly beach overlooked by a Turkish watchtower. Apparently if a swimmer strays across the invisible line between the two nations, a guard will yell and a siren blares. Still, I like the idea of being able to swim into Turkey.
Turkey was in my sights again yesterday near the cave city of Vardzia. Most of the city was built during Georgia's Golden Age between the 11th and 13th centuries, and was where Queen Tamara made her home.
The cliffs are honeycombed with thousands of caves, including a church, monastic cells, bakeries and homes. Monks had returned to the caves after the collapse of the Soviet Union but recently they gave up living here full-time.
I could hardly blame them - the climate here is harsh, a place of extremes. And it would be a hang of a walk up from the nearest market with a melon or three.