Michele Hewitson gets the hang of the Tube and is nudged into places she'd never normally go.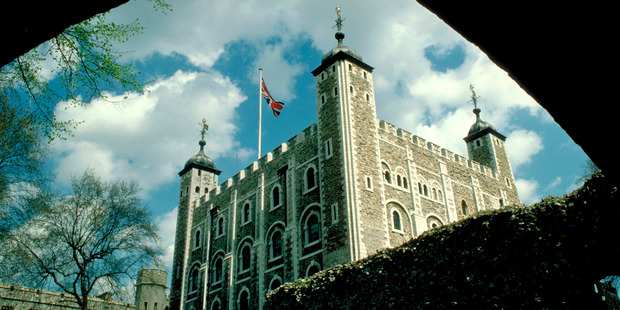 They're changing guard at Buckingham Palace -
Christopher Robin went down with Alice.
We looked for the King but he never came.
"Well, God take care of him, all the same,"
Says Alice.
I've always liked that little A.A. Milne ditty. It rhymes so nicely. It's so twee. And it is, almost certainly, the first time I encountered London in a book.
Things went downhill after that and almost everything I now know about London comes from literature - and what dark, fuggy, disturbing stuff it is.
I blame Ian McEwan and Anita Brookner and Dickens and all the ghastly thrillers I've read over the years set in dark, fuggy, disturbing old London. I knew, or thought that London was a place where people were unhappy (if not outright psychos). It was, I thought, unknowable and grey.
I like reading about London. I didn't much want to go there. I went once and went round and round in a double-decker bus always going the same way - the wrong way - because I kept getting on the bus going the same way.
I saw Buckingham Palace six times and grew fond of it although people scoff: too small. Too plain. Too dour. Too lacking in grandeur. It was never built as a palace. It was a house, a grand residence, certainly, but just a house. I like it very much.
It is just like the Queen, who lives there. I like that you can imagine her sitting in one of her sitting rooms, eating her tea off a tray, watching Corrie St, perhaps.
I like to imagine her rows of tweed skirts, and sensible shoes, dusted daily by one of the dailies.
This time I got off the Tube at Green Park and went down alone - nobody wants to see boring old Buck House except me - and missed the changing of the guard.
The guidebook said it was every other day and it was obviously another day.
This reminded me of Lewis Carroll's "The rule is jam tomorrow and jam yesterday - but never jam today' which has always struck me as being particularly English, so I didn't mind a bit. I missed it the last time, too.
Even if I never get to see it, it will be going on every other day, which is a nice thing to know. Unless it's raining, because the bearskin hats would be ruined. Which rather begs the question: why the hell did they make hats that can be ruined by rain? This is Britain.
I thought I might see the Queen but I didn't, not that day. In the meantime, I went in search of London, which is, everyone said, a ridiculous thing to do. There is no such place as London. It's a series of villages. To me, it's a series of fictional places.
So I wanted to do tourist places which is what I think tourists should do and what London does so grandly.
When I went to St Paul's a nice chap from Wellington showed me around and said he supposed I was interested in the cathedral's association with New Zealand. Governor Grey is buried here. Of course I wasn't. I wanted to see John Donne's statue. He was my great literary love when I was 21.
The story goes, Donne's memorial survived the great fire of 1666 and you can still see faint marks on the marble of what might be smoke. Or it could just be dirty. I prefer to think I went away with a smudge of 15th-century ash on my finger.
The cathedral didn't survive that fire. It hasn't survived a lot. In 962 it burned down, then and again in 1087 before the big one of 1666 - thank goodness, otherwise there would be no Sir Christopher Wren marvel, and if that famous dome doesn't make your heart soar you are a heathen and beyond hope.
In the crypt are the national heroes Nelson and Wellington. A very sooty amputated tomb statue of, possibly, one of my rellies, a William Hewit, a patriotic merchant whose stone arms and legs were hacked off by Cromwell's thugs, although he had been long dead. And Gov Grey.
You can walk over him. Lord Chancellor Christopher Hatton's Latin inscription reads, in translation: 'A gift for worms I lie below, And in this way I try to show, That, just as I am buried, so, The glory of this world shall show.' Which is even worse doggerel than A.A. Milne's.
Today, burials inside church buildings are prohibited on public-health grounds. Too grisly perhaps. But how London revels in its grisly past. It's all theatrics, of course.
At the Tower, a Beefeater interrupts his recital of beheadings and live burnings and 'legs and arms flying all over the place' to ask why I'm writing in my notebook. 'Are you a policewoman?'
'Just taking down your details,' I say.
'Ooh,' he says, striking a pose more commonly used by drag queens: '42, 38' and, gesturing downwards, 'I'll stop there.' Then it's back to: 'We're going to follow the trail of blood.'
On November 5, 1605, Guy Fawkes was taken to the Tower of London. On that date we went to a vast, mad restaurant, another sort of tower in the sky, called Gilgamesh in Camden Stables Market. There were bangs and shrieks in the night and freight trains swept noiselessly past the windows.
Gilgamesh cost 21 million quid ($54 million) to create, it seats 800 and is kitted out in spectacular fashion: all wood carving and bas-relief depicting ancient Babylonian scenes of kings and gods and animals.
The food is Pan-Asian - God knows why, but it is good - although you don't really go there to eat.
Below are the Camden markets, which may or may not still smell of joss sticks and dirty hair (they look as though that's what they should smell of), and just after midnight there are dreadlocked characters sitting cross-legged on the footpaths, smoking dope.
Gilgamesh looms over all of this, a vast, mad temple to London's new religion, which is food and ever-newer ways and places in which to entertain people while they're eating it. But, oddly, I thought later, Gilgamesh, works as a reasonable metaphor for London.
Like London, this vast eating/meeting place is bustling and loud and spirited and elusive. The red strip-lighting around the dining stages reminded me of the central line on the Tube map: it tells you where you're going but, beyond knowing the name of that place, you have no idea what it means or who lives there or how it will differ from that other place on the red line in London you got on at.
Like Gilgamesh, and the Tube, London is corners you can't quite see around. It feels ancient and arcane but often it's not. The changing of the guard at Buckingham Palace, for example, was made up in 1911.
Or simply wistful. At the Keats House in Hampstead is a very small plum tree near where he wrote Ode to a Nightingale under some other, presumably, much larger and more romantic plum tree.
The pub at the end of the walk does Sunday lunch in a room with plastic wisteria, which is just the thing after a walk on the heath which is ... a bloody big park. Roast beef and Yorkshire pud is 9 quid 99p and the pud is as big as an Ascot hat.
'Why is it so pissing busy?' said an aggrieved local out on the high street, where you could hardly move for tourists, another tribe. Well, Hampstead might be what you think of when you think of a certain London: charming and cultured.
Around the corner from Putney Bridge on Fulham High St is a book shop with no name, although anyone who has seen Black Books would have felt at home. I wanted to buy a book called London: A Literary Companion. There was nobody to pay. After a long while a man came appeared and said he'd relieve me of my 3 quid. And so, relieved, I carried on around the corner to the pub.
You don't need to go much further than round the block after you get off the train at Putney Bridge. It has the River Cafe, a newsstand which sells plonk, the bookshop, and a pub called the Eight Bells.
And the Premier Travel Inn, where the soap and shampoo come out of one dispenser stuck firmly to the wall. This is a marvellous idea: you don't feel the need to pinch those dinky soaps. And there's nothing actually wrong with washing your hair in detergent.
At the Eight Bells a message is on the blackboard outside about being the friendly pub 'where we want to get to know your name'. I'm not sure why I thought London would be so hard and unfriendly to get around.
The Tube guards keep smiling through every stupid question and they always opened the pushchair gate for my big suitcase. People would stop and ask, 'Are you lost, love?' whenever I looked lost.
The service, especially in pubs, could be excruciatingly slow, but it was always friendly. On the second visit to Eight Bells, my half pint of London Pride is poured before I get to the bar.
I had to go and stay in another village, Earls Court, after Putney. Earls Court was where backpacking Kiwis once congregated. What else? My Literary Companion quotes V.S. Naipaul who had noted the offers in shop windows. 'Grounded Air Hostess Seeks New Position. Chocolate Baby Teaches French. Very Strict. Handsome Young Man Willing to Walk Dog.'
Trundling my suitcase along that main street to my hotel, I peered into fast food joints and saw signs warning of pickpockets. The signs in shop windows read: 'Hot Sexy Lady Girl. New! Blonde Slim Tie and Lease. Room 2 Let. 2 Mints Walk from Underground.'
A man in a pub said: 'If you weren't leaving London tomorrow I'd ask you out on a date'. He said he was a member of the Royal Society of Arts (former members include Karl Marx, William Hogarth, Charles Dickens). He was at least 79, but, like that half pint of London Pride, it was the thought that counted.
The Rockwell is the new Earls Court. It is a little, luxury, boutique hotel with that real London luxury: a lovely little walled garden. Well, it says it's in Kensington, actually, which is much nicer, isn't it?
This turned out to be a good idea, staying at different villages, although everyone sulked like anything having to leave the Langham on Regent St and the free cucumber sandwiches, champagne and little cakes for afternoon tea in the club lounge.
But if you weren't pushed you might never leave and I did get to see parts of London I'd never have ventured into. The Tube became as familiar as the bus stop at home, which made me feel like an intrepid traveller.
The only time I felt at all uncomfortable was on a quiet Sunday in Marylebone in search of some markets which weren't actually open on Sundays. The streets were empty except for some men in hoodies with a pit bull off its leash.
'Walk with me, my darling,' said an old black lady with missing teeth and a big heart. So I did and it was fine.
At that moment I realised I had fallen head over in heels in love with London. And that this affair had started the moment of arrival at Paddington Station, that vast, lovely Victorian edifice which somehow still evokes steam trains and where the English light drifts down through the vaulted ceiling and makes even 21st-century rush hour look romantic. Despite the Yo! Sushi bar where the plates go round and round like carriages on a model railway.
There was so much to fall in love with. The gargoyles on the outside of the Natural History Museum. The Turner-esque sunset over Regent St. The Borough Market's displays of hanging pheasants and hares and blackberry pies.
John Nash's perfectly lovely little circular All Souls church in Langham Place, whose perfection is somehow enhanced by the ghastly brown stacking chairs, and the smelly bum people who take up residence on them. Soho, late at night, where a man said: 'I'm looking for the Revolution' and it turned out to be a nightclub.
Liberty of London, the best shop in the world, with its Tudor revival arts and craft front on Great Marlborough St, where you can buy fabric or vintage or pearls or perfume. Then take refuge and tea in the tea rooms with egg and cress sandwiches and proper tea made from tea leaves after you've had a fright after seeing a hoodie.
And what would London be without a wee fright? Well, it wouldn't be real, would it? It'd be like something out of a book.
CHECKLIST
Getting there: Air New Zealand flies daily to London via Los Angeles and Hong Kong.
Further information: See visitbritain.com.
Michele Hewitson explored London with help from Air New Zealand and Visit Britain.