Secret valleys, rocky waterfalls and magical beaches. Pamela Wade saddles up for stage two of the Great New Zealand Trek.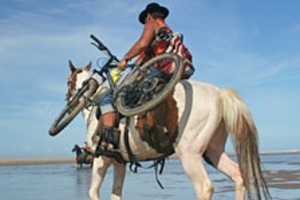 There's nothing like a serendipitous bit of musical accompaniment to gild the moment - after a day's ride on a willing horse through Northland's calendar country, a dinner of roast pork with perfect crackling followed by strawberry shortcake and a classic sunset into the sea, I'm tucked up snugly in my tent.
I can hear the trill of night-time cicadas, horses snorting contentedly, the waves breaking on the beach below and a soft breeze soughing through the pines - and then, from the marquee up the hill, comes Louis Armstrong's gravelly voice singing It's a Wonderful World. I'm grinning in the dark.
I'm not the only pleased person in this paddock. I'm just one of 265 following a 200km trail from Rawene in the Hokianga Harbour down to the northern heads of the Kaipara Harbour, on stage two of the Great New Zealand Trek.
The inspiration of Steve Old, this is a grand and glorious expedition through New Zealand on foot, horseback or mountain bike, one week per year.
The trek began last year at Cape Reinga and will finish at Bluff in 10 years' time, and although the idea is that people will drop in and out along the route, there is no doubt that a solid core of trekkers will stick with it from start to finish.
"What a thing to be able to say: that I rode the length of New Zealand," says one woman. "I'm excited by the concept," says another, "and I love the idea of a voyage."
It's more than a voyage, it's part of the Multiple Sclerosis Society's Race Towards a Cure.
Each trekker is sponsored and some of the entry fee is a contribution towards research into what is in Steve's words "a dismal disease" that claimed his own mother and can strike anyone at any time. Last year's trek raised $21,000 for the cause, bringing Steve's total since organising his first trek in 1995 to close to $200,000.
Those 12 years have had more than a financial benefit. Steve's experience (which also includes working as a logistician for Medicins Sans Frontieres) means the week slips by smoothly.
In a reversal of the law of physics, like attracts like, and Steve's team of 90 helpers is composed of enthusiastic, cheerful people just like himself, from the wranglers keeping night-watch over the horses, through the route-markers with their hundreds of pink ribbons to the lady in charge of the tea urns.
The travelling city of marquee, tents, toilet and shower trucks, water tankers, kitchen, generators, lights and electric fencing is packed up each morning when the trekkers depart, leaving behind only flattened grass, and is moved on to the next site ready to meet our needs when we stagger into camp, whether we're wanting a cold beer, a hot shower, a healing massage - or all three.
Six months of planning and negotiation with landowners, DOC and Traffic Management ensure that when our cavalcade parades through Rawene with a clatter of hooves and a Mexican wave, ahead is a trouble-free route through bush, forest and farmland, along quiet roads and the beach.
We pass through secret valleys with rocky waterfalls, neat paddocks stocked with sleek cattle, over rolling hills where larks burst out of the long grass, past old woolsheds and through dark and silent pine forests and hamlets where toddlers marvel at the sight of us.
We splash through clear rivers where schools of fish scatter when the horses dip their muzzles to drink, and scuff through squeaky sand as the waves foam up the beach.
On the third day we climb Maunganui Bluff, 850 metres, from where the beach disappears into the haze north and south in a view so spectacular even the walkers, who always have it hardest, feel rewarded for their effort.
We're a motley bunch, sprawled on the grass eating our sandwiches. The 180 horseriders cover every permutation: neat and precise English-style riders with everything just-so, down to the horses' dazzlingly clean tails; Western enthusiasts in cowboy hats and bandannas on palomino quarter horses with bitless bridles; old farmers in battered Akubras on strapping cobs, their stock saddles hung with bundles; Maori men in shorts and beanies on coloured horses dragged in from the hills. There's a shire horse, a 30-year-old mule called Colonel, and Felix, Steve's chestnut horse ridden by Tom Cruise in The Last Samurai - small but prancing (Felix, that is).
The walkers, about 40 of them, are less varied, "more pit ponies than thoroughbreds" one of them says. Not generally young, lean or lively, these sturdy and stubborn people are the wonders of the trek, plodding doggedly on through soft sand, up steep hillsides and along stony tracks, sometimes hitching a ride with the four-wheeler bikes buzzing back and forth with water containers, but just as likely to slog it out every step of the way.
The bikers ("Don't call us cyclists" says one, anxious not to be confused with wussy sealed-road types) are fewest in number and, first away and fastest, most often seen lying by their tents at the end of the day; although some accept a lift from a rider at deep streams, or a tow on a tail up a hill.
What we all have in common, from the nine-year-old Maori boy barefoot on his bareback pony to the white-haired 75-year-old walker, is a get-up-and-go attitude, a love of the outdoors and satisfaction in tackling a physical challenge. "Surround yourself with positive people and you'll always end up feeling better," says the walker matching strides with my tired horse near the end, and he's absolutely right.
It's a natural high and one reason why so many of the trekkers are not only back from last year, but eager to make it all the way to Bluff. When we pack up our tents after the last night at Pouto Point, there's only one thing to say: "See you next year."
IF YOU GO
Further information: See greatnewzealandtrek.com.