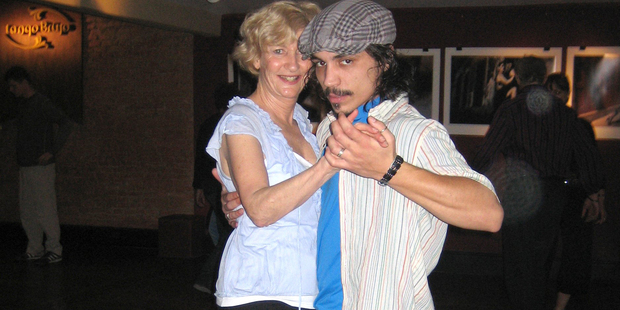 It wasn't when Juan pulled his Argentinian beret over his eyes, took me in his arms and started the slow slide. It wasn't when the music kicked into that unmistakable rhythm, or when the instructor started clicking her fingers and stamping her feet.
No. It was when I first wriggled my feet into those high, black, T-bar-strapped tango shoes. I was there. Buenos Aires, the city Madonna called the Big Apple.
It had taken most of a week to organise the tango lesson, and even then I was in the intermediate class where I had no right to be. Sasha, the semi-English-speaker at Adventure Travel, had come up with an option ($172 each) that was so expensive it made our eyes water - even if it included dinner and a tango show afterwards.
The dozens of people handing out fliers for everything from lessons to leather jackets on Florida Ave looked slightly dodgy. The billboards advertising tango experiences splattered all over town seemed too impersonal.
And then, on Sunday morning, we found what we were looking for. We heard the music on the outskirts of a San Telmo antiques market where you can buy a real mink wrap with its paws on.
Two couples, the men in fedoras, the women in sexy tight skirts and blouses, were slinking along the street. At first they looked almost ordinary. Sure, the girls' skirts were slashed way up to the knicker line, their tights black and lacy, their heels impossibly high. But then, on the rough cobbles, they broke into a dance that would make Norm Hewitt sob.
The girls arched their backs, slid their legs between their partners', kicked as fast and sharp as scissors; the men snaked their necks, glared, twisted and twirled like bull fighters.
And then, when the crackly music died away and people dropped pesos in their cardboard box, someone handed us a leaflet advertising tango lessons and tango shoes as well.
We were hooked. Now we understood the woman Jessica had heard about on her flight from London.
"My mother's gone mad," the young man had told her.
"She's sold the house in Kent and moved to Buenos Aires. She got a great deal with six pesos to the pound. Now she dances the tango for eight hours a day."
"You're kidding!"
"No. It's true."
The name on the flier was Tango Brujo. The photos of the shoes they sold at their shop in Esmeralda St were drop-dead sexy - and Jessica had to have some.
Tango Brujo turned out to be a small, extremely old and authentic-feeling institution. After a short search, we arrived around 1.30 in the afternoon, pushed open the massive wooden doors and there they were.
Rows and rows of tango shoes, varying from high to terrifying; all gold, silver, black or red or a combination of both. There were also racks of knee-length, high-slit black tango skirts; pants and jackets for the men, even a long, sequin-and-diamante-studded black velvet tango dress.
It was all very relaxed. Every couple of minutes a couple, dressed in slouchy pants and carrying water bottles would shove their way in with a "hola", and disappear out the back.
The girl at the desk, who spoke good English obligingly unboxed almost every tango shoe in the place for Jessica, while I made my way up the curving wooden stairs to where the music had already started, a box of black practice shoes under my arm.
It was true. You do need the shoes. The soles were leather and slippery enough to slide round the wooden floor, the T-bar solid enough to make me feel firm on the first three-inch heels I've worn in years.
"Shame it's the intermediate class," said Juan as he spun me round the floor.
"You have to look 'ere," he said, poking his chest.
"Don't look down. Look 'ere. And when I move my chest this way, you follow. The man leads. The woman follows."
And, amazingly, I did.
It wasn't so simple with my obliging pupil partner, Ricardo, who was more gentle than masterful, but we did get the basics: forward, forward, forward, side; back, back side, twirl "and follow 'eem".
At the end of the hour I felt about 15 years younger and as though I'd climbed a mountain, achieved the earth. That young man's mother was right. This is the way to live.
We left the shop with a black shoulder bag each. Hers were black and red four-inch stilettos with thin ankle straps; mine downright dowdy by comparison.
The next night we headed out to see the experts, guided by a Chilean man at the next table who seemed to know what he was talking about.
His recommendation was Senor Tango in La Boca. At 11pm the bright-painted corrugated-iron houses that had looked so seedy-yet-exciting by day were plain threatening.
We hurtled along in one of Buenos Aires' rattlebag, seatbelt-free taxis, with a driver who spoke no English and kept holding our scrawled address out to passers-by for directions.
Young people lounged in the doorways of run-down buildings, the so-called silver river smelled pungent and dank, and we were both seriously relieved to see the high roof of Senor Tango loom out of the dark, lit up like a firecracker.
But that was only the beginning. Now we had to argue our way in. "The show 'ees in progress," said the bouncer with the chalk-white face, black suit and top hat. "You cannot go in." Then, after a pleading look from Jess, "I will 'ave to check".
Probably it was our English accents (six pesos to the pound, remember) that got us to the small table alongside a group of women of a certain age who were probably taking tango classes six hours a day.
We sat there transfixed as act after act took us through the birth of the tango (actually we missed that) to the role of the tango in the country's brothels (seriously sexy), the acrobatic tango (where the dancers flew in on a high trapeze) and last, the finale tango which was, truly, amazing.
Around 10 couples, all thin and beautiful with the tightest gluteus maximuses and longest legs either of us had ever seen, slowly circled the revolving stage. Each couple had their moment in the spotlight. Each of their solos was different: sometimes romantic, sometimes aggressive; always erotic - and all of them as powerful and athletic as anything in the Russian Ballet.
During all of this, the man with the white face appeared, first to light our stub of a red candle, second to bring me the biggest gin I've had in a while, and third, a bill for P150 each. All for an hour and a half and worth every peso.
He also got us a taxi before the mad stampede at the end, as hundreds of tango-crazed people poured out. It was only midnight, after all, and for any self-respecting Argentinian, the night was but a pup.
One of the best things about Argentina is that your money is worth double. There are two pesos to the NZ dollar, three to the greenback and six to the English pound, and most of the time a peso buys what a dollar does back home.
But there is a catch. The sign for the peso and the US dollar is the same. Argentinians seem to know which currency they are operating in (and for them it's almost always pesos) but it can be confusing.
Ask if you're not sure and if you don't get an answer just cross your fingers and wait until the Amex bill comes in. Either way, Buenos Aires is a bargain - for visitors.
Until 2001, when there was a social and economic crisis, the peso was tied to the US dollar. Seven different presidents over one year tried to pull the country out of its economic nosedive with little success.
Today, under President Nestor Kirchen, the economy is slowly strengthening, but there is 10 to 11 per cent unemployment - and the figures don't include those on welfare which would obviously take it much higher.
The average income is P150-300 a week. There is a staggering disparity in wealth between the rich, who live in barrios (suburbs) such as Palermo with its leafy, European-inspired streets, embassies and parks; and the poor, who have been forced almost under the motorways and to the outskirts of this 4 million-citizen city.
Here, kids play soccer in slices of dirt between motorways and off-ramps. Groups of children, often carrying a baby, beg all day in the streets. The papers are full of the arguments over abortion, contraception and stem-cell research that pervade Catholic countries.
When we asked our guide to take us nearer the corrugated iron shanties under and around a motorway bridge, where the youths lounged round in the dust, she was horrified.
"No! Too dangerous! Not possible."
"Will they stop the car?"
"Maybe."
Express kidnapping, where the kidnappers hold their captives for only a few hours in return for something like P50,000, are common. Serious kidnapping, where the ransom starts at P1 million is reserved for the rich. And if they don't pay up, the consequences can be dire.
Every Thursday at 3.30pm a group of madres meet in the Plaza de Mayo in front of the palace where Eva Peron gave her passionate speeches to the crowd. They are silently protesting at the mysterious disappearance of their children, who vanished during the military government of 1976-83.
Thirty-thousand people disappeared during those years. The madres are old now and not many make the ritual appearance at the white-chalked square that has been reserved for them for decades. Some do, however, still run a cafe in the centre of Buenos Aires from which they mount various campaigns against the Government.
As with all weak currencies, labour costs less than products. At the city's newest barrio, Puerto Madero, which is a cross between the Viaduct Basin and Canary Wharf in London, apartment buildings have around-the-clock doorman/bouncers and policemen with uzis patrolling every corner.
Consequently, it is the haunt of the new middleclass, tourists and also home of the legendary Faena Hotel designed by Philippe Starck, which is so cool guests are assigned an "experience manager", and visitors have to make an appointment to even get in the door.
Lovely old buildings are continually knocked down to make way for blocks of modern, seriously impersonal, over-heated apartments. Cafes sell excellent coffee and ham and cheese tostadas for P10 each, the laundrette costs P8 a load and dog walkers will exercise your pooch for P60 a week or less.
These dog walkers may look quaint, patrolling the city with between six and 22 pampered dogs in tow, but this employment sector is an important part of the new economy. "It's a good new job, especially for young people," says our guide.
"They can earn P1200 a week, which is a middleclass salary."
Shame they ignore their charges' droppings. But in Buenos Aires, dog droppings are a low priority, as are seat belts, bike helmets, diet (Argentinians consume huge amounts of their famous beef) and car exhaust. Humans smoke in cafes, coffee houses, restaurants, shows, and on the street.
But you would expect that in a city that never sleeps, where Jessica's husband and his partner Lawrence met clients for dinner at 11pm and rolled home around 6am, where good manners combine with drive-by kidnappings, where governments come and go like hot dinners and the economy boils and subsides around them.
While the rich eat the finest beef and the poor fight for their share, the people of Buenos Aires dance.
As Sally Potter put it in her movie, The Tango Lesson: "You have to have lived, and suffered, to understand our tango."
Carroll du Chateau flew to Buenos Aires courtesy of Lan Airlines.