Jim Eagles tests the atmosphere as dawn breaks over ancient and mysterious Stonehenge.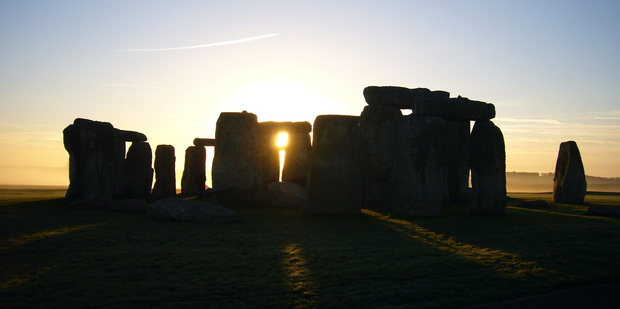 When I applied to English Heritage for special early morning access to the stone circle at Stonehenge the application form asked: "Please give full details of ceremony proposed and equipment to be used."
I thought of replying, "I was hoping to sacrifice a virgin. Can you help me find one?" But they might not have found that amusing so I just explained that I had no plans for a ceremony.
But that flippant attitude was nowhere to be found several weeks later when I found myself walking through the pre-dawn mist towards the giant stones of this mysterious monument which has been drawing awe-struck pilgrims for thousands of years.
In broad daylight this is a place which provokes many questions.
Why did this particular spot become a place of worship as far back as 10,000 years ago? Who decided to enhance it with circles of giant standing stones? How did primitive humans manage to transport chunks of rock weighing 50 tonnes the 250km from an ancient quarry at Presceli to this site?
What is Stonehenge? An astronomical computer? A religious centre? A locus of healing? A cemetery? A place of human sacrifice? Or all five?
And, perhaps the biggest question of all, how could the modern authorities have been so crass as to build a busy highway right alongside one of the most famous monuments in the world?
But in the semi-darkness of a clear and frosty morning, with the giant circle of towering stone shapes starting to become silhouetted against the glow of the unrisen sun, instead of questions there is, well, awe.
At this early hour there is no distracting rumble of passing traffic, the view isn't obscured by countless tour parties and, best of all, we are allowed to walk up to the stones and stand at the place of power in their centre (which isn't allowed during normal opening times).
Standing in the middle of Stonehenge in this dim light the stones seem much taller than they look in pictures or even from walking round the circular path which is as close as visitors are usually able to get.
They are huge. The tallest of the standing stones is 7.5m tall or roughly equal to the height of four tall men standing on top of each other. The remnants of the circle of stones capped by a continuous series of lintels - each a massive slab of stone about 3.2m long - stand 4.9m above ground. I feel almost intimidated by their size and strength.
It is only a few days short of the winter solstice, the shortest day of the year, the time when according to the latest theory - put forward by Timothy Darvill, professor of archaeology at Bournemouth University - an ancient god of healing and the sun, a manifestation of the deity the Greeks and Romans knew as Apollo, is resident at Stonehenge, and the site is at its most powerful.
As the rising sun gradually creeps above the horizon, sending a glowing shaft through one of the huge stone doorways on to a slab lying in the centre, it's easy to imagine a scene thousands of years ago, with priests performing a chant encouraging the days to lengthen and seeking to harness the power of the god.
But on this particular day there is no ceremony and the small group gathered within the great circle simply stands in a silence that is almost reverent and savours the moment.
Later, when the sun is fully up, it is easy to joke about such things.
The young security guard who kept a watchful eye on our activities in the circle of stones said a lot of those who applied for special access did want to conduct some sort of ritual.
"One of my colleagues wandered over to see what one group was doing," he said, "and found they had all taken off their clothes and were lying naked on the grass beside the stones looking up at the sky.
"We often have druids up here, at the solstices or the full moon, dancing around the stones and chanting.
"And there are groups of witches who put things beside the stones so they can use their power to cast spells."
After experiencing Stonehenge at dawn it's easy to understand that some people still feel it is a place with a special energy they might be able to tap into. For me just being there as the sun came up was quite magical enough.
But there are certainly unanswered questions about the meaning of Stonehenge and why this part of the great Salisbury Plain was so significant to early humans.
An English Heritage map of the area on the web shows the area to be dotted with prehistoric burial mounds, temples and fortifications. These include:
The Avenue, the visible remains of an ancient road sweeping from the River Avon to the entrance of Stonehenge, which may have been used to transport the blocks of stone or could have been a ceremonial entrance.
Durrington Walls, a massive 5000-year-old circular bank of earth, which may have been a centre of worship prior to the rise of Stonehenge.
Woodhenge, a Neolithic temple similar to Stonehenge, except that it was built mainly of wood. Needless to say the pillars rotted away long ago but the places where they stood are marked with concrete posts.
The Kings Barrows, Winterbourne Stoke Barrows and Normanton Down Barrows which are large clusters of barrows used for burials since Neolithic times and still clearly identifiable.
Just a few minutes' drive away is what, for me, is one of the most impressive ancient sites in England. Old Sarum is a massive hill fort some 400m in diameter, surrounded by huge earthern banks and ditches, dating back at least 2500 years.
Originally built by Bronze Age people, it was later occupied by Romans, Saxons and Normans, each of whom added to its strength.
At its height the fort held a mighty stone castle, surrounded by a thriving town which even had its own cathedral, but today little remains apart from the original Bronze Age earthworks.
I visited early in the morning when the shadows from the low sun served to emphasise the vast amounts of earth which had to be moved - using deer antler picks and woven baskets - to create this enormous structure.
From the top there are magnificent views with a fascinating story to tell.
On one side, just alongside the great fort, you can see the remains of the old cathedral built around 1075 and closed only 150 years later after continued harassment from the worldly authorities in the castle.
On the other side is the distant vista of Salisbury - once called new Sarum - and the soaring spire of the replacement cathedral whose construction led to the inexorable decline of Old Sarum.
If you're looking for evidence of the power of religion it lies here.
CHECKLIST
Getting there: Every day Emirates has three flights from Auckland and one from Christchurch to Dubai, and flies from Dubai to several British airports. Basic round trip fares start at $2460 plus taxes but there are frequent specials. Call 0508 364 728.
Further information: You can find about all these ancient sites at english-heritage.org.uk.
Information on after hours special access visits inside the circle at Stonehenge can be found here.
For more on Salisbury, see visitsalisbury.com.
General information about visiting Britain is at visitbritain.com.
Jim Eagles visited Stonehenge as guest of Visit Britain and Emirates.