Chris Barton has an almost unbelievably good time in the beautiful setting of Akaroa.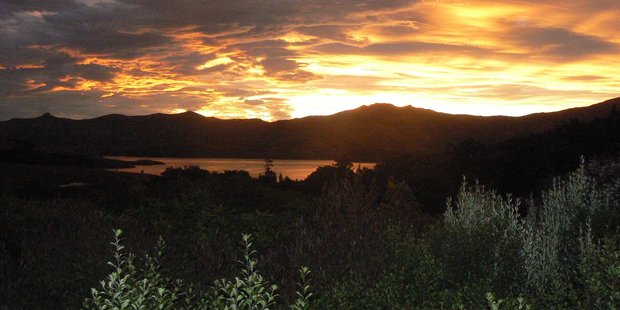 Sated by a five-course meal, taking in the view, I'm thinking, "It can't get any better than this". And then it does.
After a stunned moment or two to confirm that unidentified ball of light can't be put down to aliens or the effects of a fine wine or two, we realise it's Comet McNaught plunging into Akaroa harbour, its tail fanning out in spectacular glowing strands across an inky night sky.
The evening had begun bizarrely too - when our driver Richard, who in true South Island can-do style also turned out to be our host, picked us up from Briar Cottage wearing full period costume, in his lovingly restored 1928 Model A Ford.
It was our second night in Akaroa. Having already met quite a few locals, we had begun to realise that almost everyone has come to Akaroa for the same reason - a change of lifestyle, a fresh start.
Sue and Richard Lovett, who run Matua Gardens, are former Canterbury farmers here to live the good life and to share it with their guests.
They use the word "retreat" to describe their version of the luxury end of the bed and breakfast market. Their house is set on the hillside of verdant valley in Robinson's Bay.
Our hosts live at the back, having given over the best view of water, wood pigeons and passing comets entirely to their guests.
In the comfortably opulent guest lounge by the french doors, a dining table is set with candles and a promising number of wine glasses.
We choose some music and submit to being waited on by Sue and Richard. He pours the Amisfield 2006 Rose, she serves hors d'oeuvres - smoked salmon on oatcakes.
It's all a bit posh, but they want to us to taste the Matua experience, so we sit back and enjoy.
Entree is rare roast beef salad with redcurrant and walnut dressing. The main is oven-baked Akaroa salmon in horseradish leaves with hollandaise ... and so it goes on for five courses, with wines to match.
Much of what they cook is grown on the property - the difference between fresh and really fresh. And there isn't a TV or telephone in the guest area, because being free of those things is what a retreat is all about.
We finish with a cheese platter. If you're a blue-cheese fan, Barry's Bay Blue (more on this later) washed down with a Pegasus Bay Finale Chardonnay 2004, while watching a blazing orange sunset, is really very good.
We begin the next day with morning tea at the beautifully restored two-storey Wilderness House, built in 1878 and run as bed and breakfast by Jim and Liz Coubrough.
The house and gardens are in the grand manner and include a small vineyard out the back, plus a spooky echo to another time - disused servants quarters. You can't move in Akaroa without tripping over its history.
It's short stroll from Wilderness House to Rue Lavaud, the main street of Akaroa where we meet David of Sidecar Sights.
The weather is looking a bit inclement, but we're soon bundled up in supplied jackets and scarves. It's a bit of a squeeze getting two of us - one behind the other - into the sidecar, but once ensconced it's surprisingly comfortable.
Helmets on and hooked up to the sound system, we're off, haring along a few inches from the ground. Once you relax, viewing the landscape from the point of view of roadkill is exhilarating.
David and his other business partners have plans to expand the business, offering longer tours around the South Island - a trailer to tow the luggage, a flip-top lid if it rains. Good luck to them.
Meanwhile, we're enjoying David's Akaroa commentary and a stop at the Barry's Bay cheese factory, established in 1893, where you can view cheesemaking from the gallery window, and taste samples - the havarti is highly recommended.
By now we're running behind schedule. Word seems to have got around the community that there's a journalist in town. So much to do, not enough time.
We squeeze in a visit to Onuku Heights, a sheep and cattle farm with an 1860s homestead run as a farmstay and bed and breakfast. Horse treks have now been added to its repertoire. The drive there is past Onuku marae and then steeply up into the hills of the peninsula on one of those narrow metal roads where you pray no one is coming the other way.
The view from the Heights is breathtaking, even more so on the beautiful western-trained quarter-horses, which take us on a short trek further up the hills.
Then one of those inexplicable holiday mishaps occurs. My horse gets an almighty thwack in the chest from the hind hoof of the guide's lead horse. That causes a delayed chain reaction when, a short time later, my horse kicks the horse behind.
Unfortunately the blow glances off my partner's horse and gets her just below the knee. "I've just been kicked," she remarks.
It's only when we get back to the car that we discover the hoof has left sizeable imprint, now swelling alarmingly and turning an impressive purple. Just as well our next stop is Lumiere Spa, where the expert therapists get some ice on the bruising. Their massages are a must, whether or not you've been attacked by one of the local attractions.
We're late for dinner that night at C'est la Vie, but Magdelena seats us at a table with another couple. It's that kind of place - and one that gets rave reviews from the locals. When our mains arrive you can see why. Chef Charlie is a culinary magician and Magdelena serves with style and, as is so often the case in Akaroa, as if you were a visitor to her home.
Our dining companions are Sharon and Ian Moore, hosts of the neighbouring Garthowen Bed and Breakfast, who are celebrating their 35th wedding anniversary.
We intend to visit their place for coffee and enjoy their waterfront view. But the day has taken its toll on my partner, and we have to flee. I quickly scrawl on the wall - a C'est la Vie tradition - magnifique. Which pretty much sums up our time in Akaroa.
Even the horse kicking, location-wise, was quite spectacular.
CHECKLIST
Getting there: Air New Zealand has regular flights between Auckland and Christchurch.
Where to stay: Try Briar Cottage, Matua Gardens, Wilderness House, Onuku Heights or Garthowen.
What to do:
• Get a massage at Lumiere Spa.
• Visit the Barry's Bay cheese factory.
• Eat at C'est la Vie.
Further information: See akaroa.com.
Chris Barton visited Akaroa courtesy of Air NZ and Akaroa District Promotions.