Sheila O'Connor spends the night at Canada's Hotel de Glace and discovers why breathing inside your sleeping bag isn't recommended.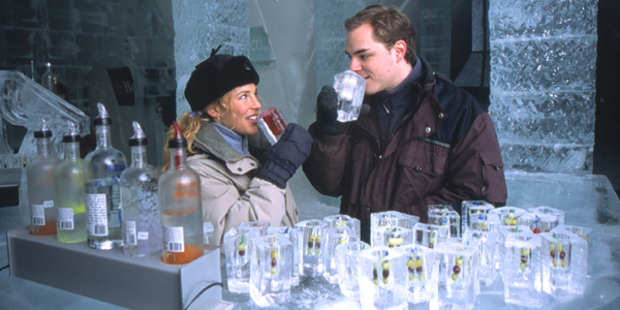 Beautiful. And frigid. That's the comment left by one brave guest at Canada's ice hotel on the shores of beautiful Lac St Joseph.
Nearly everything in this hotel, only 20 minutes from Quebec, is made of solid water. That includes the crystalline walls, ceilings, beds, furniture, luminescent chandeliers, even the glasses you drink from at the bar.
The ice hotel has to be rebuilt anew when the winter arrives in January, taking almost six weeks to build, each time slightly different from the year before.
More than 12,000 tonnes of snow and 400 tonnes of ice are used for the hotel, which is demolished once the weather warms up in April.
The idea came from the ice hotel in Sweden, and some adventurous guests have experienced both of them.
But a stay at any of the Hotels de Glace would not be complete without a chilly libation at the N'Ice Club where the speciality is Absolut Vodka on the rocks - the drink is poured into a glass formed from ice - or hot chocolate to heat you up.
Be careful where you put your glass down though. Whether hot or cold, the drink tends to slip off the bar.
If you're starting to chill then it's time to chill out at the disco where guests rock away to the beat of Euro-pop hits.
Can't dance? Don't worry. People dance happily in groups or on their own and nobody minds either way. There's no need to worry about getting the cold shoulder here.
If you're not dancing the night away in the disco or even admiring the 180kg ice chandelier in the hallway (Just how do they get it to stay up there?) then enjoy the Himalayan photo exhibition. You might feel nervous about spending one night in this ice haven but those explorers did it for much, much longer.
If you don't spend the night you can take a tour for C$14 ($20), but surely it's far better to join the courageous and spend that one-of-a-kind night here.
There's nothing like bragging that you spent the night in temperatures that hover between -2C and -5C. And survived.
But first you'll have to take an information class to learn how to get into your mummy bag. They recommend that you sleep nude.
Honeymooners, should you happen to be among them, get to zip their bags together and there's even a wedding chapel on the premises.
Makes you want to ask: Did you get cold feet? But that would be too corny.
Romantic rooms include the ice bed shaped like a sleigh and the frozen Nephertite room.
The best way to get ready for bed is to first get into the outside hot tub to increase your core temperature. You'll need to wear your winter hat in the tub. Everyone does. Hats and hot tubs go surprisingly well together. Then you dry off in the dry sauna and put on your spa-robe boots and hat before heading to your ice chamber.
Your clothes for the next day go at the bottom of your sleeping bag so they stay toasty and don't get frozen solid in the night.
The secret to a good night's sleep is to make sure you don't breathe inside your sleeping bag because that would cause humidity and you'd eventually get cold. And don't wear cotton, because once it gets wet with perspiration it also makes you feel cold.
Even wearing your socks to bed can do the same thing, so put on fresh synthetic socks right before you climb in.
The beds are surprisingly comfortable and you don't sleep on ice itself, although it is used for the framework.
The inside is made of wood, with foam on top, and the pillow is inside the hood of the mummy bag.
The rooms are pretty much bare apart from the ice beds and the powdery snow that lies between them. Remember you're there to sleep and there would be no point in hanging around, it's much too cold for that.
There are no Picassos or Monets on these 12in-thick ice walls. And although you won't find a nicely locked door between you and the other guests - just a curtain - everything feels perfectly safe.
The lights are inside the bed, which gives the room an other-worldly glow. It means you don't have to move anywhere to turn them off. Keeping your nose warm is the hardest part, but this can be resolved by pulling your hat down on to your nose.
Next day, you'll see the proud, beaming faces of the snow warriors who survived their sub-zero night - most people do it only once.
The successful regale how long it took them to get to sleep, how warm their plush bags were and how surprised they were that their snow-boots were still quite dry in the morning.
The less cheery faces probably belong to those who had too much to imbibe (even if it wasn't alcohol) and had to get out of the sleeping bag to visit the bathroom during the night, only to return and go through the whole undressing-and-back-into-the-bag-again process. Some don't make it back and spend the rest of the night on a couch in the heated locker-room.
The hotel also offers activities that include cross-country skiing, ice-fishing, snowshoeing, dog-sledding and skating.
Or you can stay warm by eating. The food at the ice hotel is superb and everything you'd expect from a five-snowflake resort.
I certainly enjoyed returning home to ambient temperatures but found myself missing the ice hotel and its quirky offerings. It was breathtaking in its beauty.
Was it frigid? Absolutely.
Was it worth it? Absolutely.
It's an experience forever frozen in my memory.
Further information: See hoteldeglace-canada.com.