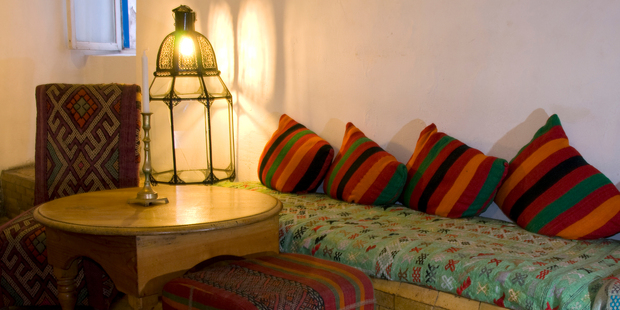 Just across the Strait of Gibraltar, Morocco is now easy to reach from Europe, thanks to a range of cheap flights. Yet it remains a world apart - at once African and Arabian, and with a dash of French colonial glamour.
A decade ago, Morocco was regarded principally as a backpacker destination, charming and cut-price, if a little short on comfort.
You can still find cheap digs (try the shacks on the roof of the Hôtel Farouk in Marrakech) but accommodation options have been transformed by an explosion of style - notably riads, the traditional houses in Morocco's old towns, or medinas.
Built around a courtyard where the women could have access to fresh air yet remain unseen, these retain a sense of beauty and mystery.
Meanwhile, away from the towns you can find oasis hotels, tented desert camps and seaside hideaways.
Publicly vibrant and privately elegant, Marrakech is unique, with its magnificent backdrop of the High Atlas Mountains.
For all its hippie-chic image in the 1980s, it is now regarded as a cosmopolitan centre of cool. The hub of the city is the Djemaa el Fna, the main square of the medina, within which you can get lost in a labyrinth of alleyways and converted riads.
The city has oozed glamour ever since French artist Jacques Majorelle bought land here, turned it into a garden, and opened it to the public in the 1940s. The Jardin Majorelle was restored in the 1980s by Yves Saint-Laurent, whose ownership adds more than a touch of prestige to the city. The Jardin Majorelle is off Avenue Jacoub el Mansour, open 8am to 6pm daily. The garden also contains a small museum of Islamic art.
More recently, other foreigners have been transforming Marrakech. Vanessa Branson, sister of Sir Richard, bought Riad El Fenn in 2002 and has turned it into a wonderful six-bedroom boutique hotel. It has a hammam - a steam-driven relative of the sauna - and fine dining in the courtyard or on the terrace.
While a great many of Marrakech's riads provide spa services alongside their hammams, La Sultana Marrakech has facilities for serious sybarites. Created out of four historic riads, the 21-bedroom hotel has a beautiful swimming pool as well as a sauna, a Jacuzzi, a hammam, plus hydrotherapy, massages and other treatments.
On the outskirts of Marrakech, the oasis of Palmeraie ("palm grove") is a calm contrast to the bustle of the city. This is the setting for the only African venture of super-luxury hotel group Amanresorts.
Behind high earthen walls, the Amanjena is a pink and palatial world unto itself. Accommodation is in 32 pavilions and six maisons whose Moorish design also nods to the Berber villages of the High Atlas.
With huge beds, butlers, two restaurants, swimming pool (as well as private pools for much of the accommodation), tennis courts, spa and even three boutiques, the temptation is simply to stay put.
Meanwhile, near the Berber village of Asni in the High Atlas Mountains is Kasbah Tamadot, a lavish hideaway with magnificent views and superb food.
The property was bought by Sir Richard Branson in 1998. After extensive refurbishment, it opened as a hotel last year. It has 18 spacious, antique-filled rooms, spa, infinity pool, tennis courts and even its own hot-air balloon.
Yet stylish stays near Marrakech do not necessarily come with a serious price tag. Between the city and the foot of Jebel Toubkal, the highest of the high Atlas mountains, is the Ourika Valley, which is home to a glorious campsite, Les Jardins d'Issil.
"Tent" is perhaps a misnomer for the accommodation here - 15 or so pavilions set around a large infinity pool. These are partly walled and topped with Moroccan fabrics. Inside are comfortable beds, silk cushions and floors covered with bright rugs.
Despite its sights and a host of romantic associations, the north is visited relatively little.
Rabat, the capital, contains gracious boulevards as well as a 12th-century medina.
Glorious, crumbling Fez is the world's largest surviving medieval city.
Casablanca boasts the Hassan II Mosque, the largest religious monument outside Mecca.
You can also call in at Rick's Cafe at 248 Boulevard Sour Jdid, open seven days a week for drinks, food and assignations.
Volubilis is the site of one of the Roman Empire's furthest-flung cities. And Meknes was once the Versailles of Morocco, an imperial city of pomp and palaces.
CHECKLIST
Flight Centre has 11-day Backroads of Morocco tours, including stops in Casablanca, Meknes, Fez, Merzouga, Erg Chebbi, Todra Gorge, the Dades Valley, the fortified town of Ait Benhaddou and over a High Atlas Pass onto Marrakech.
The tour also includes eight nights in hotels, one night camping and one night in shared accommodation plus taxi, train, minibus and camel transport, selected meals and an English speaking local guide. International flights not included, conditions apply.
- INDEPENDENT