Sue Farley visits a tiny historic miners' village in the depths of a frozen Central Otago winter.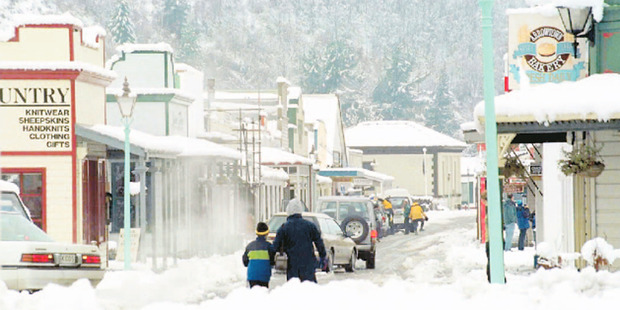 Central Otago, 1870-ish, deepest winter. Late afternoon, temperature below zero. The sun a distant memory. Pulling his coarse-spun jacket close to his body, a tiny Chinese miner picked his way carefully across the frozen ground. Long icicles hung from a moist bank, a hoar frost crept several metres up the scrubby bushes along the track, the grass crackled where he stepped and the puddles were sheets of mirror glass ice. His breath burst into a cloud of white vapour.
This small rugged man was glad to be back in the rough settlement by Bush Creek, just off the main street of Arrowtown. In the hills behind Coronet Creek, where he searched for gold through the summers of the late 1860s and early 70s, the ground was now locked under a foot of snow, his claim lying frozen in the icy shadow of a massive peak.
He had left the higher goldfields for Arrowtown, till the weather warmed. At least here he could spend the coldest days cooking hearty food over the fire, playing fantan and dominoes with his mates, and enjoying the occasional evening lost in a haze of opium.
We first stumbled across this stark, frozen settlement late on a bitterly cold July afternoon. The shadows were deep across the valley, our breath also bursting into clouds of vapour as we slid and tripped across the icy ground.
A jolt of reality hit as we saw where these men had lived, some for many years. Remains of their tiny stone huts still stand, several not much bigger than a double bed; others restored, with windows, doors and a roof. One is perched on a rocky cliff above the valley floor; one has a roof of flattened kerosene tins, another a covering of thatch.
In the depths of winter the settlement is an unbelievably sad place. Colours are frozen to a monochrome of white, grey and dirty black. The trees have no leaves and the grass is frozen to a dull crusty silver. The huts are empty, their stone slab floors as cold as the ground outside; the fireplaces bare, the pole fences covered in prickly ice. Once these minuscule rooms would have glowed in the orange light of a warming fire, melting the ice off the roof and warming the slab floor and small Chinese feet.
Exotic aromas would have wafted from the doorways as the men cooked their traditional dishes over the fire. Two tiny stores sold flour, rice and tea, as well as Chinese spices and imported dried foods, salted ginger and radish, pickled lemon and piquant sauces brought in through Dunedin. A large vegetable garden grew the basics.
The Arrowtown Chinese miners' settlement is protected as an historic property. It's a five-minute walk from central Arrowtown, along the banks of Bush Creek, and is a place of mystery and intrigue.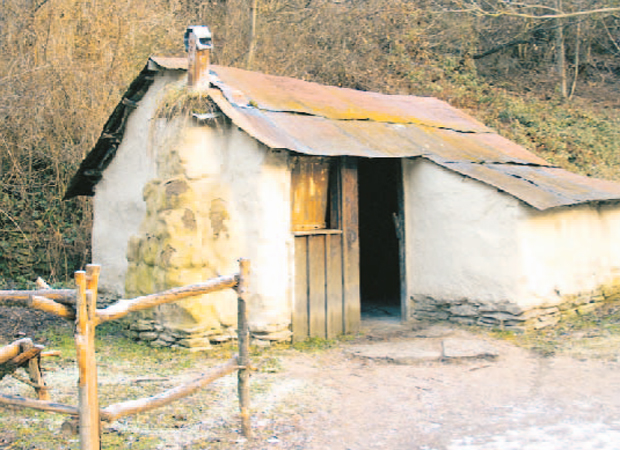 A restored miner's cottage at Bush Creek. Photo / Supplied
Why did these men (apparently no women ever lived in the settlement) choose to live on a deeply shaded riverbank through the harsh Central Otago winters? What brought them from Kwangtung province in southern China, often via the Australian goldfields, to this remote spot? How did they endure the isolation of a small group of no more than 20 other Chinese men, year after year, in a largely European settlement that was "bigoted and abusive" towards them? Mostly money, or lack of it.
Many of these men left China young and excited, off to earn money to bring back to the family, eager to see new lands and experience a new life. Some returned to China rich; others never left Otago. At least 100 Chinese miners were buried there over the years, never amassing enough money to return home.
They were said to be honourable men, law-abiding and hard-working. They kept to themselves, a tiny enclave in a foreign land, although at one time it is recorded that four per cent of the Otago population was Chinese. Most lived in tiny settlements like the one at Bush Creek, often not integrating.
But the mystique of this place is captivating. We returned again later the next day. It was still grey, frozen and crackling with the cold. A small crescent moon rose above the surrounding hills. The creek was lined with permanent ice, but running water trickled through it. Big boots, thick merino and heavy gloves did little against this piercing cold.
In summer the valley is leafy and green, with soft breezes. But this day it was as gaunt and frozen as when the Chinese miners spent their winters there, a respite from the frigid goldfields higher up. The search for riches has a lot to answer for.
CHECKLIST
Getting there: Arrowtown is a 25-minute drive northeast of Queenstown.
The restored Arrowtown Chinese Mining Settlement is a five-minute walk from the main street of Arrowtown, on the banks of Bush Creek, a tributary of the Arrow River. The settlement is open all year and admission is free. Getting around is fairly easy, and there is disabled access. In winter the area freezes for days at a time and the track can be slippery.
Further information: See arrowtown.org.nz.