Modern Russia is intensely protective of its history but happy to exploit that history for a few bucks on the side, writes Jim Eagles.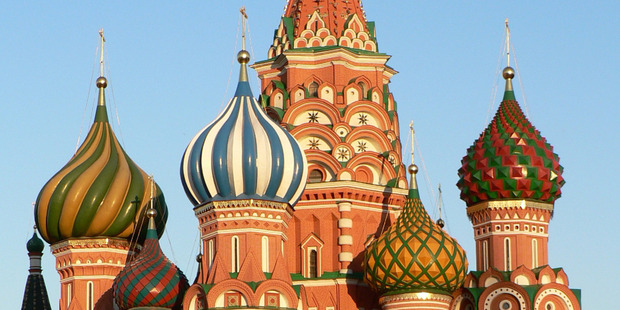 Going to see the embalmed remains of Lenin, the leader of Russia's communist revolution, would be surreal at any time. But the sense of unreality was heightened by the presence of Lenin himself, peaked cap, pointed beard and all, wandering with his sometime colleague and successor Stalin, in a uniform festooned with self-awarded medals, alongside where we were queuing in Red Square.
Apparently, you can have yourself photographed with the two titans of history, in front of the walls of the Kremlin where they once ruled, for R100 (about $6).
This is modern Russia. Intensely protective of its history, including the communist era, but in its new capitalist persona, happy to exploit that history for a few bucks on the side.
One positive aspect of the new regime is that the country is now very open to tourists - though you need a visa and must carry your passport at all times - so it is now easy to enjoy the sights and experiences that for decades were hidden behind the Iron Curtain.
For me, as a child of the Cold War era, it seems extraordinary to be able to wander freely around Red Square on a hot summer's day, licking an icecream and taking photos, at the very centre of the old Evil Empire.
Freely, that is, so long as you don't wander into any of parts of the square closed to the public to safeguard access to the Kremlin ... at which point a shrill blast of the whistle from one of the many armed guards will quickly bring a realisation that not everything has changed in the new Russia.
In every sense, the heart of the country is still the Kremlin, location of Russia's most familiar landmarks, home of its most magnificent treasures, and seat of power of the Tsars, the Soviets, and now President Vladimir Putin.
The presidential standard, with its double-headed eagle, was flying over the yellow Senate building, where Putin has his offices, adding a bit of piquancy to our speculation about who might be in the blacked-out limousines swooping in and out of the clocktower gate, across the square and into streets from which private traffic is barred.
But, despite the strict security, tourists can get into the Kremlin, too, or much of it.
This is where you come to see the Armoury museum, with its incredible collection of treasures collected over the centuries by tsars, patriarchs and party bosses.
So much wealth is on display that it is hard to take it all in. Among the treasures are silver armour, jewel-studded Bibles, robes of gold, fabulous Faberge eggs, an 800-diamond throne, golden coaches and bejewelled crowns.
The Kremlin's lofty red brick walls also contain three magnificent cathedrals and one church, three palaces, the Supreme Soviet building, the world's largest bell (which never rang) and the largest canon (which never fired), a collection of smaller canon captured from Napoleon (which presumably were fired) and, for anyone not jewelled-out after the Armoury, the Diamond Fund Exhibition, containing the tsar's jewel collection.
There's so much to see that you could, as we did, wander around for days without getting bored.
In Sobornaya Place, in the heart of the Kremlin, we happened across a trooping of the colours ceremony. A unit of sabre-wielding hussars on horseback and goose-stepping infantry with fixed bayonets provided an amazing display of flashing steel and precision marching.
You can also see goose-stepping during the changing of the guard ceremony which happens every hour at the Tomb of the Unknown Soldier in the restful Aleksandrovsky Gardens, just outside the Kremlin walls.
In fact unexpected entertainment is to be found around every corner. We were looking around the tombs of the early tsars in the Archangel Cathedral, one of those inside the Kremlin, when three men in black robes appeared from nowhere and sang a magnificent rendition of a traditional Russian hymn.
Even more marvellously, we were walking across Red Square when we heard singing from the resurrected Kazan Cathedral - demolished by Stalin and the site used as a toilet - and were able to watch the beautiful rituals of a Russian Orthodox service.
Also demolished by Stalin - to make way for a swimming pool, and since rebuilt at a cost of $1 billion - is the huge Cathedral of Christ the Saviour which overlooks the Kremlin across the Moscow River.
It is a magnificent building, with beautiful little chapels and a huge main church, all resplendent with icons, frescoes, mosaics and gilt.
But it was made even more resplendent to us by a special service, with glorious chanting and sumptuous rituals, being conducted by the Russian Patriarch Alexei II to farewell an important relic, the Hand of John the Baptist, on loan from the Fracanica Monastery in Kosovo.
I was reminded of an incident years before, when I visited St Paul's Cathedral in London during evensong and an atheist friend commented, "This is so beautiful it would almost make you religious".
Of course, the most spectacular church of them all is Pokrovsky Cathedral - St Basil's - whose extraordinary collection of multi-coloured domes sits at one end of Red Square.
It looks almost like a church by Walt Disney, but was built in 1555 as the culmination of a movement towards a unique Russian style of church architecture, and is certainly a contender for the title of most photogenic building in the world.
Intriguingly, for all its lofty shape, the interior is cramped. A succession of narrow staircases links several small chapels, one of which contains the grave of the eponymous St Basil, Basil the Blessed, a barefoot preacher, prophet and so-called holy fool, who foresaw that Tsar Ivan the Terrible would kill one of his sons.
But in Moscow it's not just the churches and museums which look magnificent. One side of Red Square, for instance, is occupied by the Gum building, which looks as though it should be home to a museum, a king or a president, but held a state department store during the communist era and these days is occupied by a collection of luxury goods shops.
The stations of the underground train system are famously elegant, an attempt by Stalin to take art to the ordinary people, allowing commuters to enter below frescoes of victorious Red Army soldiers and wait under mosaics of noble doctors healing.
The great dictator's wish to uplift the lives of the workers was also responsible for the construction of seven bizarre skyscrapers - two blocks of flats, two hotels, two government office buildings and a university - whose incredibly ornate, neo-classical style makes them look like giant wedding cakes.
Moscow's famous market street, Ulitsa Arbat, is also filled with art, not just the paintings on sale at the stalls, but statues of literary figures such as Princess Turandot - outside the Vakhtangov Theatre where Turandot is performed regularly - the writer Alexander Pushkin, and the city's favourite bard Bulat Okudzhava, plus several fountains and a wall of peace made up of hundreds of individually painted tiles.
Even the infamous Lubyanka, where the KGB extracted confessions from its victims, is built in an attractive baroque style - the outside, that is, there was an armed guard on the door so I didn't try to go in - and is well worth a visit. I was intrigued to see on the front of the building a plaque in memory of Yuri Andropov, for 15 years a hardline boss of the KGB, and from 1982-84 leader of the Soviet Union, which had been decorated with fresh flowers.
Not so lucky was Felix Dzerzhinsky, founder of the KGB's forerunner the Cheka, whose statue used to tower above the flower beds on the traffic island in front of the Lubyanka. Dzerzhinsky's was one of many statues toppled during the overthrow of communism and now resides in the Park of the Fallen Heroes with Stalin, Brezhnev and other great leaders.
A few statues of Lenin are there, too, but he appears to have survived the collapse of the state he founded rather better than most. Many of his statues are still standing and his embalmed body is still in the tomb by the Kremlin wall - unlike Stalin's which was tossed out years ago - and is still the subject of veneration.
"I think," said Rosa, our Moscow guide, "they don't blame him for what happened to communism. They think if he hadn't died so soon, the revolution would have gone better."
I've always been intrigued by Lenin's life - and I missed the opportunity to see Mao in Beijing and Ho Chi Minh in Hanoi because their mausoleums were closed when I was there - so I was happy to be up early and queuing at the edge of Red Square nearly an hour before opening time (the alternative, we were told, is to pay a bribe to the guards to jump the queue).
The Russians take this very seriously. For the four mornings a week Lenin's tomb is open for viewing, much of Red Square is closed to the public. And all visitors undergo a security search to ensure they have no cameras or explosives.
The queue can often stretch for kilometres but visitors are only allowed through a few at a time, marched under escort across the square to the mausoleum entrance, then ordered to make their way in a dignified silence down a long, dimly lit staircase to Lenin's gloomy tomb.
And it had better be dignified because every step is scrutinised by a phalanx of solemn guards who line the underground passages.
But suddenly there he is, looking surprisingly young and smooth-skinned in his glass case, Vladimir Ilyich Ulyanov, better known by his alias of Lenin, one of the people who changed the shape of the world.
When we emerge into the sunlight someone observes that he looks a bit like me - well, bald head, beard, dictatorial manner - which has been commented on before.
This inspires me to try to buy one of the trademark flat, peaked hats Lenin wore. But even though the Red Square is ringed with stalls selling every kind of hat you could think of - fur hats, cossack hats, Russian military hats, leather caps, woollen hats - a Lenin hat is not to be found.
The old revolutionary would probably approve. It shows that capitalism and market forces haven't completely taken over in Russia.
CHECKLIST
Moscow by air: Singapore Airlines flies 16 times a week from New Zealand direct to Singapore. From Singapore, passengers can choose from three weekly flights to Moscow.
Moscow by train: Perth-based Travel Directors runs regular tours from Beijing to Helsinki by train, entitled Beyond the Trans-Siberian, including time in China, Mongolia and Russia. Tours are almost fully inclusive and cost A$10,847 (just over $13,000).
Further information: Contact Travel Directors' New Zealand representatives, Go Holidays, on 0800 464646.
Jim Eagles' trip was assisted by Singapore Airlines and Travel Directors.