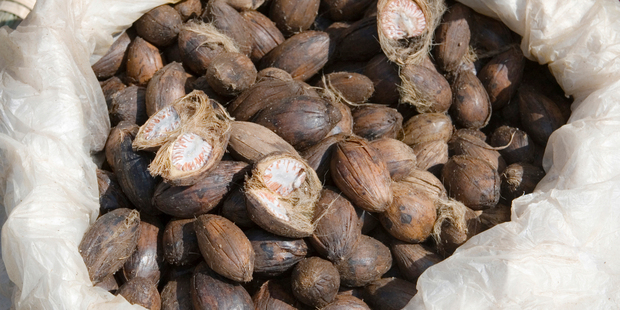 They sit scantily clad in glass-walled cubicles that line Taiwan's main arterial roads. Their presence is proclaimed by red, blue and green flashing lights.
"Aha," you think. "I know what they do."
You'd be wrong.
These are Taiwan's betel nut-girls, purveyors of betel nuts to truck and delivery van drivers, or anyone who drives long distances for a living or works long hours. The customers are almost exclusively men.
The betel-girls, as our Taiwanese guide, Beral, described them, have a dress code that includes crop tops and short skirts, sometimes little more than lingerie.
Spotting the betel-girls became a passion on this trip, with pseudo-horrified comments to match: "Did you see that one?" and "I wonder if her mother knows she's out".
The occupation of betel-girlhood can be unpleasant, especially during winter months.
Truck drivers do not enter the cubicles: the girls must go to them.
In one reported case, a bus pulled up to a betel-girl and the men requiring supplies sat at the back of the vehicle to get extra value from their chosen retailer as she walked the length of the bus.
Betel nuts are the seeds of the areca palm, a tall skinny tree that grows to 30 metres anywhere it can take hold.
For a while it was grown as a cash crop, but after storms when the shallow-rooting trees brought down whole hillsides, the Taiwanese Government discouraged deliberate planting, and only wild-sown trees remain, although in sufficient numbers to support a thriving industry.
The nut, when chewed with various herbs and a type of chalky paste, works as a mild stimulant. Its effects are slow-acting and help to keep the truck drivers, labourers and sundry early-morning or late-night workers awake and warm.
A conservative estimate of about 2 million, or one-quarter of Taiwan's adult male population, are thought to be betel nut aficionados.
The price of a bag of nuts varies according to the season. In summer a bag of 12 would cost you TW$50 ($2.40), in winter just four may cost TW$100.
Girls line up to wear the skimpy clothes and work for the nut wholesalers. It's a matter of supply and demand, and in a land of relatively high female unemployment, a job is a job.