Amy Petriello goes exploring in Russell and finds that behind the quiet facade it's quite a lively place.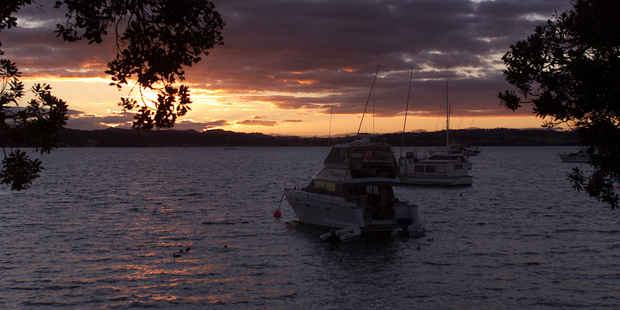 I arrived in Russell in a downpour and, having heard of its reputation as a sleepy small town, imagined a quiet few days inside with some good books. But my sense of exploration soon led me outside to see if there was anything for city folk to do - and I found plenty.
There is the history lesson, colonial meets Maori. Russell's treasure is Christ Church, New Zealand's oldest-surviving church - and a bullet hole-ridden one at that - complete with an overgrown graveyard and some of the oldest European graves in the country, such as that of Hannah Lethbridge, the first European woman born in New Zealand.
Russell also boasts New Zealand's oldest industrial building, Pompallier House, which was built to house a printery, tannery and storehouse for missionaries. It is also the country's oldest Catholic building.
And at the end of the main street you can find a gift store with a plaque that reads: On this site in 1822 nothing happened.
Well, at least this town doesn't take itself too seriously. How could it? It was once a place of debauchery with the nickname "hellhole of the Pacific".
These days it's a quiet place, but the residents of Russell are eager to share it with visitors. They wonder why more Aucklanders don't visit them for the winter rather than go to Fiji or Australia.
It certainly is the kind of place Americans of a certain age and lifestyle go in the winter, a place in the vein of Cape Cod, Massachusetts, a Victorian-era town with history and quiet seaside living, with an income from the water and tourists.
The population in Russell renews itself, just, and has been at a fairly constant 800 permanents for several generations. People who leave often return.
Peter Stuart, with five years in the Navy under his belt, tried the Auckland lifestyle before returning to Russell for the safety a small town offers a family.
His company, Kiwi Ecotours, now runs boat trips to the Hole in the Rock and to nearby bays.
Unfortunately, on the day I met Stuart nasty weather was brewing, and I could barely walk along the beach without being blown backwards.
Rather than risking awakening my seasickness, he linked me up with Fern Jobbitt, who runs tours to the area's kauri forests, oyster farm and even to her house in Jack's Bay for a cuppa.
The sun broke through while I was at Fern's. From her deck you can see several bays - Jack's Bay, Jill's Bay, Tethurihi Bay, or as they say in English, Dick's Bay - undisturbed except for a few boats, undeveloped land all around, and native bush thick below the house.
Basking in the midday sun on her deck there seemed to be no other place to go, nothing else to do.
But, for Fern's sake, I kept moving. She loves nothing more than to relate the history of the town and the area's forests.
On our half-day Coast and Kauri Tour, Fern told me about Russell's dark past, and the environmental damage from years of whaling, logging and chopping into kauri trees for their gum. But she also spoke of Russell's bright future.
Her neighbour, Trevor Farmer, is restoring the natural birdlife of the area, including kiwi, and has employed a fulltime "bird man" to do so.
Other signs of change are prevalent in Russell. Beth Strickland and Darryl Smith - who have lived in Melbourne and Holland, and are originally from Wellington - decided that Russell is the place to be and bought a 1912 villa and turned it into a high-end lodge, complete with a day spa.
I don't think I heard a single birdcall in my stay there, but that's because I was out like a light, content with my elegantly fitted room, which had a Victorian and native New Zealand feel, which seems paradoxical, but was perfect.
Eagle's Nest, another luxury lodge in Russell, is busy building a convention centre. And although the Duke of Marlborough Hotel still packs in people for dinner, a new restaurant is on the block - Kamakura. Its modern Asian-Pacific food is a fresh breeze in the quaint town that still has only one police officer on duty.
So after a day of history and a half-day intimate tour of Russell's coastal property and kauri forests I still had time to indulge my passion for food.
It turns out there's plenty to do here in the winter (besides sitting in front of a fire in between massages and gourmet dinners, which I would have been happy enough to do). Surprisingly, the area is a foodie's paradise.
A few minutes after you drive off the vehicle ferry towards Russell is Omata Estate, a vineyard and restaurant which offers a six-course "chef's bench" dinner.
And if that's not enough, requests for exotic ingredients can be made in advance. The restaurant was voted Northland's best two years in a row.
Kerikeri, just 25km north from Paihia, also has its gourmet treasures, including Cottle Hill Winery, which has won awards since its first vintage.
Just up the road from Cottle Hill is Makana Chocolates, which gives you a glimpse of the chocolate-making process and plies you with free samples.
Next door is the divine Rocket cafe (Northland's top cafe last year), and a minute down the road is Kerikeri Bakehouse Cafe and Deli, which brings Kiwi cafes into the 21st century. It offers scrumptious fruit pies and desserts, as well as lunches.
Kerikeri is also home to Shirley's Temple, which sells New Zealand-made liqueurs, and the Mahoe Cheese Factory and Shop. Award-winning Marsden Estate Winery is nearby on Wiroa Rd.
The three-hour drive north could well make Russell the next Taupo, or even a quieter (if you can imagine it) Waiheke.
Northland was the original home of New Zealand wine before Waiheke had a single planting, and the ferry trip makes you feel like you're on an island anyway.
Then there's the spa. Serenity Village, on the Flagstaff Lodge property, offers the expected list of treatments, plus two outdoor baths, deep-tubs really, where you can soak outside even in winter.
The pamphlet suggests soaking away your cares under the stars with a glass of wine. Perhaps from Omata Estate?
That's enough to keep any Aucklander happy.
CHECKLIST
Getting there: Russell is an easy 3-and-a-half hour drive north from Auckland. Take State Highway 1 to Kawakawa and turn right onto State Highway 11 to Opua/Paihia. Take the car ferry from Opua, which leaves every 10 minutes from 7am to 10pmThere are also passenger ferries from Paihia every 20-30 minutes.
The flight from Auckland to Kerikeri takes 40 minutes.
Rental cars are available at the airport and there is a transfer coach service from Kerikeri to Paihia.
Accommodation: Flagstaff Lodge.
Tours: Fernz Ecotours operates a half-day Coast and Kauri Tour, which includes a tour of Russell, oyster-farm tastings and a short bush walk, including morning tea. A full-day tour adds a visit to the Kawiti glowworm caves.
Food: Omata Estate, Aucks Rd, RD1, Russell.
Cottle Hill Winery, SH 10 Kerikeri, open 10-5, 7 days a week.
Kamakura, The Strand, Russell. Ph (09) 403 7771. Open Thursday to Sunday in winter.
Makana Chocolates, 504 Kerikeri Rd, Kerikeri. Open 9am-5.30pm, 7 days a week.