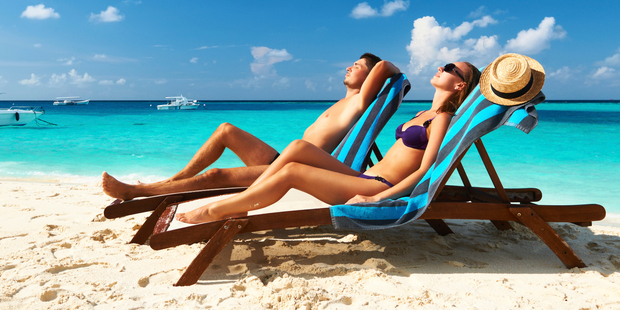 It seems we Kiwis are not as sunsmart as we'd like to think, and when it comes to loafing about on the beach we're more tight-fisted than our Aussie cousins.
Expedia has released to the Herald the results of their global Fly and Flop survey, a look at how people in Expedia's markets around the world take beach breaks - food for thought in this mucky weather.
The self-selecting survey found we spend less money than our transtasman neighbours, but are more likely to have, er, "intimate time with a partner" (57 per cent) than Aussies are with theirs (51 per cent).
I'd have thought we would be more beach-bound than other nations, but only 37 per cent of Kiwis have taken a beach vacation in the past 12 months, with the global average at 46 per cent.
But international beach breaks have a strong pull for Kiwis. Sixty-one per cent of Kiwis were planning a beach trip overseas (globally, it's 52 per cent). That's the Pacific Islands and the east coast of Oz calling.
The classic bach holiday influences our numbers, with "vacation/holiday houses" the most preferred accommodation while 54 per cent of nights booked were away from busy centres.