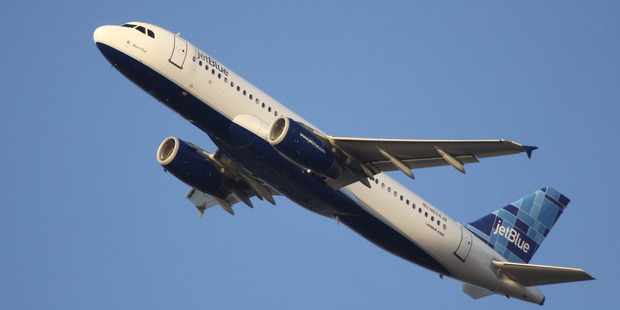 The perils of sitting next to smelly fellow passengers or arm-rest hogs have been well documented in this column in recent months. But last week's JetBlue Flight 194 from Las Vegas to New York highlighted an even greater menace to airline passengers: the puker.
And there wasn't just one puker aboard Flight 194. There was a plane full of 'em.
Shortly after take-off from McCarran Airport in Las Vegas, the A320 suffered hydraulic failure. Reportedly unable to dump the five hours' worth of fuel, the crew burned the gas by circling McCarran Airport before making a faultless landing.
But with the hydraulics gone, it was a rough, lurching ride for the passengers.
"People were getting sick. Some people were throwing up. There were a lot of people getting nauseous," Tom Mizer told the New York Post.
"We were bouncing around a lot."
Travis McGhie, another passenger on the flight, told the Daily Mail: "It was four hours of hell."
But Sarah Elizabeth Cupp's description of the flight ensured it made the international newswires.
"The plane turned into a vomitorium. For five hours."
A vomitorium, for those whose Goscinny and Uderzo is a little rusty, was a place where Romans would go to eat, drink and vomit, then eat, drink and vomit again. And again and again. (Well not really. It was actually the exit corridor from an amphitheatre. But the Asterix version is more likely to have been on the minds of the passengers aboard Flight 194.)
"If I didn't have to get home, I would never fly again," declared Cupp.
Short of a religious zealot with a Stanley knife, the vomiter is surely the passenger you least want to find yourself next to at 30,000ft. So a plane full of them? No thanks.
And there's a collective mentality in aeroplane vomiting. Industry stats show fewer than one percent of airline travellers will vomit. But when one passenger does vomit, the rate on that particular flight can jump to eight percent.
Unpleasant though it surely was, Flight 194's passengers were in good hands. JetBlue, naturally, pointed out that safety is their first priority.
"The actions the crew took in response to this event truly represent who we are and our core value - safety," the airline said in a statement.