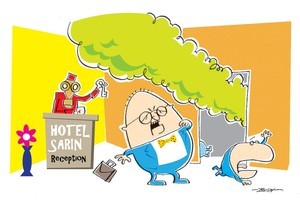 At first, I thought somebody had died and we'd stumbled into the place where the corpse was being embalmed. But it was just a hotel room.
Well, a "serviced apartment", actually. I'd found it on the internet, where the pictures made the lounge look the size of a tennis court. In reality, it was the kind of room where you could sit or inhale but not both at once.
As it turned out, inhaling was problematic, because part of the servicing of the serviced apartment included pumping deodorant spray into it in a concentration that would surely have killed all life forms within seconds.
To enter was to collide with a miasma so thick and fruity that it made breathing perilous. Even keeping one's eyes open was something of a challenge. The scent was unmistakable - not so much eau de toilette as eau de toilet cleaner.
The last time I gagged so violently was when some distant maiden aunt crushed my wincing four-year-old head into the cleavage of her ample bosom - there to be suffocated by a foul scent which should surely have been illegal under the Geneva Convention.
My wife, a mild asthmatic who sneezes for an hour if she puts on a coat she hasn't worn for a month, was turning green and sweating slightly as I thrust open the windows and admitted the stiff Wellington breeze.
"Perhaps it will clear," I said a few minutes later over coffee on Lambton Quay. But I wasn't kidding anyone. There was nothing for it but to book into another hotel and wave goodbye to one night's worth of the apartment's not-inconsiderable tariff.
"Oooh, I know!" the woman at reception said in a wide-eyed tone as I told her why we were leaving. "My mother won't even come in the building."
It occurred to me that she might do something about it, particularly since she used the proprietorial "we" to explain that she'd only recently taken over the place. But I resisted the urge to tell her she was a cretin, shouldered my bag and left.
Much is made of smoke-free hotel rooms these days. Leaving the olfactory evidence of a late-night cigar is virtually a criminal offence. But the whiff left by a nice Romeo y Julieta is as nothing compared with the noxious odour of something cooked up by industrial chemists and bottled by the gallon.
It's something the hospitality industry might like to bear in mind. If they can set aside some rooms as "non-smoking", perhaps they might like to take it one step further: "Would sir prefer a standard room, or one in which chemical warfare has recently been waged?"