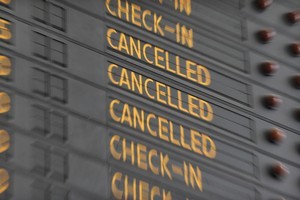 At the height of the aviation chaos caused by the ash cloud from Mt Puyehue Cordon Caulle in Chile I commented to my wife, "It's going to be interesting to see the outcome of this. If Air NZ is able to keep flying throughout then Qantas and Jetstar are going to look pretty stupid for cancelling flights. Of course if Air NZ has safety problems then it'll be the one looking stupid."
Well, the ash cloud has gone - for now at least - Air NZ did keep flying and there don't seem to have been any safety problems. The airline reckons it checked its aircraft constantly, including random borescoping of engines, and found no evidence of ash damage.
So how come the transtasman rivals took such different approaches?
It turns out that Air NZ was able to continue flying successfully because of the pro-active approach it took following the Ruapehu eruptions of 1995-96.
According to chief pilot Dave Morgan the disruption then prompted the airline to join with the Civil Aviation Authority to develop an operational plan for dealing with any future ash clouds.
As well as seeking advice from the global network of Volcanic Ash Advisory Centres set up under the auspices of the International Civil Aviation Organisation, they particularly talked to Alaskan Airlines, which constantly operates around active volcanoes, to see how it is able to cope.
As a result, when the Chilean cloud arrived, Air NZ and the CAA had protocols in place for dealing with it, as well as access to new optical sensing equipment which made it possible to detect the thickness of the ash clouds.
Hence Air NZ was able to maintain its schedules - apart from a brief period when the ash cloud across the South Island fell to 3000m - though it did face extra costs as a result of having to fly at lower altitudes and sometimes use longer routes to avoid the ash.
That rather begs the question as to why Qantas and its budget offshoot didn't copy that approach - as most other airlines quickly did - but instead dropped heavy hints that Air NZ was flying in unsafe conditions?
That only succeeded in making them look even sillier when the public could see that the likes of Emirates, Cathay Pacific, Singapore, Air Asia X, Air Pacific, Malaysia, Thai, Virgin and Korean were also flying and could hear official bodies such as the CAA and the Volcanic Ash Advisory Centres in Darwin and Wellington saying there was no reason to cancel flights.
And when it emerged that Qantas and Jetstar both booked thousands of their stranded passengers on to Air NZ flights they looked not only stupid, but hypocritical as well.
Let's hope for the sake of their passengers that they've learned a lesson. If not, well, at the height of the chaos several regular fliers I know said - in the words of one Aussie left stranded by repeated Qantas cancellations - "I won't be booking the red rat again after this."