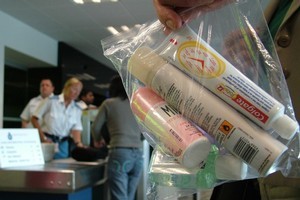 I took my younger daughter and family out to Auckland International Airport the other day to catch an early morning flight across the Tasman, and watched sympathetically as she wrestled with the dilemma of how to meet the needs of three young children within the limits of the aviation security rules.
Sure, she was able to carry medicines in clear plastic bags and buy drinks at airport prices in the departure area, but the restrictions are a nuisance and I increasingly wonder exactly what they achieve.
The more I think about it the sillier it seems that an aviation security officer only needs a cursory glance at a collection of tiny bottles inside a plastic bag to establish whether they're full of hand-sanitiser or nitro-glycerine, but can't possibly decide whether the contents of a large bottle are safe (in fact I have a friend who does travel with a bottle of nitro-glycerine and has never been challenged).
I'm also increasingly sceptical about the way the regulations are applied differently in different places. Buy a bottle of something duty free in Zurich to bring back to New Zealand and it can transit safely through Dubai but be confiscated in Sydney. Surely if it's safe enough for the Swiss it should be safe enough for the Australians?
The European Union is working on what sounds like a sensible plan to allow passengers transiting through European airports to take duty free wines, spirits and perfumes in their carry-on luggage. But the US authorities have indicated they don't like the idea and presumably the Aussies won't either. So the end result will be more confiscated bottles and more angry travellers.
These rules have been in place quite long enough for the security authorities to have developed a consistent approach. Their failure is not only a source of unnecessary inconvenience to travellers, it also undermines the public support essential for aviation security exercise to work.
I appreciate that if New Zealand wants to be part of the international aviation network it has little option but to go along with the global aviation security rules on its longhaul flights.
But surely it would be possible to negotiate reciprocal security arrangements for flights which only go to Australia and the Pacific islands.
If we were able to make it work we just might prompt the rest of the world to take a hard look at the security rules to see which ones actually serve a purpose and which are just bureaucratic nonsense.