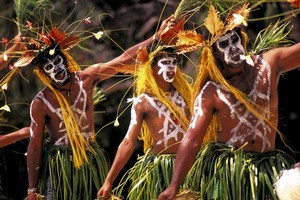 The shadow of earthquake and recession may still be hanging darkly over the land but that seems only to have spurred Kiwis to fly further and to more exotic locations when they go on holiday.
The latest travel figures, issued last week by Statistics NZ, show that in the 12 months to the end of January trips to Asia, Europe, the Americas, Africa and the Middle East increased twice as fast as those to our traditional holiday spots in Oceania.
During that 12-month period, for instance, the number of New Zealanders heading for Australia - by far our most popular destination - rose just 3.8 per cent.
But the number going to Asia jumped 8.6 per cent, to Europe 8.8 per cent, the Americas 8.7 per cent and Africa and the Middle East a whopping 15.8 per cent.
Most other countries in Oceania also recorded fairly modest increases. Fiji - which slipped to being the third most popular place for holidays - saw its New Zealand visitors increase just 3.4 per cent and most of the other islands also had modest rises.
The big exception was New Caledonia, usually the least popular of the main island groups, which saw visitor numbers soar by 26 per cent, the largest increase of any country. In fact in January alone, Kiwis heading for Noumea jumped from a mere 198 in 2010 to 986 this year.
Several Asian destinations proved nearly as attractive. The likes of the Philippines, Indonesia and Taiwan all saw their New Zealand visitor numbers jump by more than 20 per cent. China, these days our fifth most popular destination, had a healthy 15.9 per cent rise.
In Europe, the biggest increase was in numbers going to Italy, which saw a 21.9 per cent rise, closely followed by France, up 14.2 per cent. Britain, still the fourth most popular target for Kiwis heading abroad, pulled in 6.5 per cent extra.
The US, whose attractiveness had seemed to slip in recent years, recorded a 13 per cent increase, making it our second most popular place to visit, and by far the most attractive destination in the Americas.
In Africa and the Middle East, South Africa was the biggest attraction, its visitor numbers rising 16.3 per cent.
All of that seems to indicate that if things are looking a bit gloomy at home those who can afford it are seeking a bit of light relief by heading for places as far away in distance and culture as they can manage.