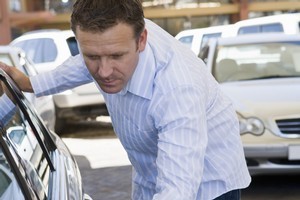 It's a situation many travellers will be familiar with. You arrive at a foreign airport, exhausted after a long and largely sleepless flight, and the rental car company promptly invites you to record every bump, scratch or scrape on the hire car or face the prospect of being charged for it at the end of your trip.
In my case this happened at Heathrow Airport and, with eyes glazed in exhaustion, a tired child and a wife itching to get on the road, I didn't rate my chances of spotting every blemish.
As I groped around for a pen in a backpack full of cables, chargers and bits of paper, my hand rested on a camera. Suddenly, a flash of inspiration: I could photograph the car in detail and record every blemish in a way that couldn't be argued about later.
Fast-forward a week to Gatwick Airport on a rainy morning and two hours before our flight to France.
This time, unlike when we arrived, Europcar can spare somebody to check the car in fine detail: a wheel arch scrape and corresponding slight dent is identified where none exists on my diagram.
I am positive this is not new damage, but my car checker is not convinced. He assures me that the company will contact me before any charges are made to my credit card.
Nearly a month later, back in Auckland, my wife checks the credit card statement online: nearly $700 of extra charges for the car appear but no contact from the hire company. I am a little upset.
When I contact the company to challenge the charge, I am connected to a friendly and efficient customer services voice who assigns me a case number, records my details and suggests I email them with my case.
I don't need to be told twice and my polite but firm missive is soon flowing through the ether, along with the relevant photos, to whomever it may concern. My initial optimism is dampened when, about a week, later I receive a reply stating the charges still stand.
I try again, pointing out that the photos show clearly that the damage was there when I collected the car. But this is a story with a happy ending.
An email arrives one morning from the hire car company: "I have investigated this and can see that there was various damage on the vehicle in the same areas prior to your rental, and along with the photos that you have provided, I have made the decision to process a refund for this damage charge."
It took a while but the money has now arrived. Success.