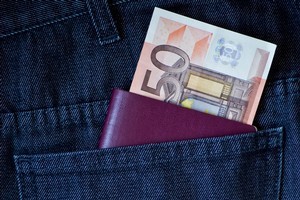 Touch wood, but I've never actually been robbed while travelling.
I've certainly lost a few things but it's always been my own fault for leaving them behind - in hotel rooms, cafes or bars - though someone had obviously nicked them by the time I rushed back.
During my most recent trip to Europe I was approached several times by characters claiming to have found a diamond ring I had dropped. But being forewarned about that old chestnut, I just kept walking.
Tourists have long been seen as a soft touch by thieves and, even if I haven't been a victim myself, I've got family members who have.
One son-in-law foolishly parked his car so he could enjoy a stroll on Ninety Mile Beach and returned to find it ransacked. A daughter had all her cash stolen by a character who pretended to befriend her on a long distance bus in the United States.
And it seems as though things have got worse, especially in Europe, in recent times.
For instance, an email from regular Travel reader Peter Macky reports that he nearly had his pocket picked in both Paris and Madrid during a visit to Europe and half-a-dozen friends and relations were actually robbed.
In one case, he says, a young traveller had her iPhone stolen in Paris in a variation of the old scam where some woebegone youngster approaches a tourist with a piece of paper purportedly carrying a message from his mother who is sick and starving and in desperate need of money. In this case the kid held the paper over the cafe table where the victim was sitting and used it as cover to steal the iPhone underneath.
On top of that a niece had a bag taken from beside her while travelling in Barcelona, a London-based friend had a bag stolen from a taxi in Istanbul and another friend had his laptop taken while he was travelling on the EuroStar.
Taken together with other stories I've heard, it does sound, as Macky puts it, "like an epidemic".
So what can you do about it? There are lots of anti-theft gadgets around these days, including clothes with pockets that are pretty much impossible to pick, tethers so you can fasten valuables, locks and tiny alarms, all of which can help.
The main thing is to be alert, don't leave valuables lying round where they may be exposed to thieves, put passports and wallets in safe pockets, avoid displaying money or valuables, hang on to your bag (or fasten it to your wrist if you're taking a nap), don't be too trusting of people who offer to help and be very cautious of the beggars, touts and scam artists who swarm around many European tourists spots.
But - most important of all - don't let it spoil your holiday... because the vast majority of people you meet will actually be honest folk who want you to enjoy their country.