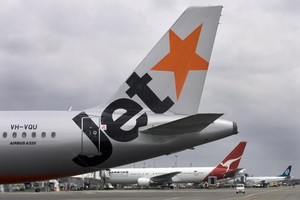 It's a pity Pacific Blue has decided to pull out of the New Zealand domestic market because there's no doubt it's competition that ensures consumers get the best possible deal. I got a dramatic demonstration of that some years ago when I lived in Napier and the arrival of Origin Pacific saw Air New Zealand's fares suddenly drop by about a third.
That said, Pacific Blue's departure is no great surprise, because the aviation market in this small, isolated corner of the world is incredibly competitive. The airline is merely the latest in a series of entrants that have been unable to make a buck out of offering a domestic air service here.
The reason for that is easy to identify. The latest Consumer Price Index from Statistics New Zealand shows that domestic airfares are now slightly cheaper than they were back in 2005. There's not many goods or services that cost the same as they did five years ago.
During that time the cost of living generally has risen by 14.4 per cent. Airlines clearly have to pay more for fuel, aircraft and pilots than they used to.
So pricing is obviously very, very competitive.
For instance, the cheapest fare I found on the web for the 1055km flight from Auckland to Dunedin is $110 (about what it costs for the 30km taxi ride from my home in Devonport to Auckland International Airport).
If we look across the Tasman, the cheapest one-way fare I could find for a flight of almost exactly the same distance from Sydney to Gladstone - a topic close to my heart because part of my family lived in Gladstone until recently - is more than double the price at A$228 ($289).
And, by the way, the international aviation market in this part of the world is even crazier. The latest CPI figure has our international airfares around the same level as they were back in 1982. When you consider that during that time inflation has risen by 218.9 per cent that's almost unbelievable.
So will the departure of Pacific Blue mean the good times are over on domestic routes? I doubt it.
Qantas' budget arm, Jetstar, is still here, offering a bigger network than Pacific Blue ever did, and intending to add two planes to its fleet and expand even further over the next 12 months.
I've no doubt both Air NZ and Jetstar would like to put their fares up to make a bit more profit. But they'll be very nervous about creating a gap which a competitor could exploit, so any increases are likely to be minimal.
If Jetstar was to pull out as well then we would have something to worry about. But so long as there is still competition around, travellers should continue to enjoy excellent value when it comes to airfares, even without Pacific Blue.