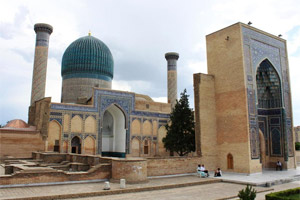 "First time in Uzbekistan?" asked the beefy customs officer at Tashkent Airport, as I queued to depart on the final leg of my journey down the Silk Road. "Come with me."
How friendly, I thought, then found myself sharing a tiny room with three large Uzbeks in uniform who wanted to see the colour of my money.
Uzbekistan is obsessed with currency control - goodness knows why, because their money is worthless outside the country - so on arrival you have to declare all your cash. And when you leave you have to produce a copy of the entry document plus a further form stating what you have left (not to mention chits from each hotel confirming you stayed there).
My Uzbek guide had warned that anyone ending up with more money than they started would be in trouble (though since the ATM machines seem permanently empty it would be hard to manage). Now it seemed I was suspected of doing just that.
After studying my papers the trio said they would have to check I was telling the truth. "Let me see your money" one demanded. I produced my billfold of US dollars and he held out his hand. I had read in Lonely Planet that this was often a shakedown exercise - they would palm a few notes while pretending to count - so I clung to my billfold and slowly counted the notes.
"I will look," the officer said, holding out his meaty paw again. I hung on to the billfold and counted even more slowly.
"Give it to me," he said for a third time. Once again I hung on and recounted. Finally he changed tack and asked, "You have no more money?" No. "I have to search." Fine. He patted my pockets and searched my backpack, chanting in a monotone, "No more money, no more money."
Suddenly he stopped searching, smiled and said, "Have a nice flight," and his colleagues chorused, "Come back again soon." "Oh, yes, fascinating country," I said with utter insincerity, "lots more to see."
But, though I didn't mean it at the time, it really is a fascinating place, with friendly people and astounding monuments and I would like to return.
However, I can't help wondering why countries like Uzbekistan, which want to attract more tourists, persist in making arrival unwelcoming (getting an entry visa was an expensive farce) and departure so annoying as to leave a bad taste. But, I guess a bit of bureacratic stupidity is a small price to pay for the chance to visit some of the greatest cities of the Silk Road, including storied Samarkand, and to see the tomb of the great conqueror Tamerlane ... and it does make for an amusing story afterwards.