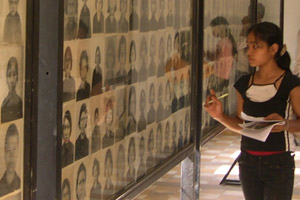 Five years on I still get a lump in my throat when I think about visiting the Khmer Rouge's main torture centre in Phnom Penh and the associated execution site where an estimated 17,000 victims were buried.
Evil on that scale is hard to comprehend, especially when set in such painfully ordinary surroundings as the cluster of high school buildings where so many innocent people were tortured, and the tranquil farmland where they had their heads smashed with bamboo poles before being dumped into mass graves.
I wandered round the genocide museums the Cambodian Government has created at both sites, gazing blankly at the small cells with their iron beds and crude torture implements, and the rough grassy mounds with bits of bone and clothing protruding from the soil, not really taking it in.
What brought the horror home was not the displays but the reaction of a couple of the Cambodians who were also there.
One was a girl, about the same age as my oldest granddaughter, part of a school group visiting the torture centre and making notes. As I watched her progress down the display of victims' photos, her face first grew perplexed, then shocked, as she realised how many there were, that the rows of photos went on and on and on, and that some were younger than herself. Before long she stopped making notes and just stood there, staring, perhaps realising that if she had been born 30 years earlier her photo might have been in the display.
The other was a young woman, probably in her 20s, who suddenly burst into tears, fled outside and sat sobbing on a bench, shoulders heaving. Perhaps she was the daughter of one of those whose tragic faces stare accusingly from the display boards inside. Or perhaps, of course, her father was one of the torturers.
At that point I left too, having trouble swallowing, and with watery eyes spent some time looking at the rough flower garden someone had started to create on what were once the school's playing fields.
I was reminded of that experience by the sentencing last week of the man who presided over that high school torture centre, former headmaster Kaing Guek Eav, better known as Comrade Duch.
The finding of the special court that he was guilty of murder, torture, rape, inhumane acts and crimes against humanity, and the sentence of 35 years' imprisonment, seemed unreal, otherworldly, far removed from our comfortable lives.
And yet this horror happened, not far off in Europe or Africa, but in our part of the world, in my lifetime, at the hands of a regime which had its origins in a war in which our country was a participant, and the victims included New Zealanders and Australians.
The genocide museums that are the legacy of Comrade Duch and his fellow fanatics are not comfortable places to visit. But tourists should steel themselves and go anyway, because they provide an important reminder of how seemingly ordinary people, apparently with the best of intentions, are capable of inflicting unspeakable cruelty on their fellow humans.