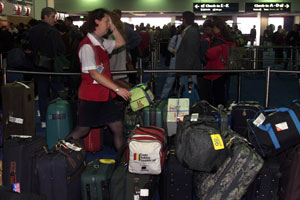 I know it's asking for trouble to even mention this but despite travelling fairly regularly I've never had much trouble with lost luggage (excuse me while I rap my knuckles on my desk's wooden surround).
About 40 years ago, on a journey from Athens to Dublin, via Paris and London, my suitcase didn't arrive with me, for the entirely understandable reason that one of the flights was late, as a result I missed a connection and the airline made heroic efforts to get me on to the next available plane. It didn't really matter because I was going home and, anyway, the bag turned up, safe and sound, the next day.
And that's the sum total of my problems... so far. But I have certainly heard a great many horror stories of bags going astray, often with disastrous consequences for holiday plans, sometimes never to be seen again.
The good news for us all is that the number of bags going astray is only a tiny fraction of the number carried and, better still, that number is going down.
The latest annual SITA Baggage Report, which looks at airline performance in luggage handling, says that the number of bags mishandled last year was 24 per cent fewer than the year before, and 40 per cent down on 2007.
To put things in perspective, the report says last year the aviation industry carried 2.2 billion passengers, which presumably means at least that many bags.
Out of that vast heap of luggage, just over 25 million bags went astray - not a lot considering the numbers handled, though that's small satisfaction if yours is one of the exceptions that do get lost. Back in 2007 the number of bags lost was more than 42 million so there has been a huge improvement.
The news is equally good from Air New Zealand. In the 2009 financial year the number of bags was 19 per cent fewer than the year before, and so far this year it's a further 24 per cent down, which is encouraging news for us passengers, especially as Air NZ says its baggage problems are 60 per cent better than the industry average in the first place.
According to SITA the biggest cause of bags going astray is difficulty transferring between flights.
"The single most important thing that passengers can do to avoid their bag being mishandled," it says, "is to leave sufficient time between connecting flights to ensure their bag is transferred correctly and on-time."
The report also says that "the vast majority of mishandled bags are restored to their owners within 48 hours or less", a mere 3.4 per cent staying unclaimed or "in rare instances" being stolen.
SITA, which operates a world-wide bag-tracing system, reckons the drop in losses is a result of improved baggage handling systems and it expects airlines and airports to do even better in the years ahead.
All of which is encouraging news for travellers. Maybe I'll be able to continue my run of good luck in spite of having tempted fate by boasting about it.