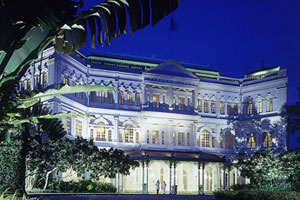 On the whole I tend to regard a hotel as somewhere to sleep, wash, change clothes and recharge the batteries in between exploring the world outside.
So, though I have at times stayed in some amazing places, in grand suites with wonderful facilities and stunning views, I have to admit they're a bit wasted on me.
But there are exceptions.
My all-time favourite would have to be Raffles in Singapore, for its fantastic mix of olde-world elegance, superb service and marvellous stories. I'd go there any time.
And there are many hotels which, like Raffles, are destinations in themselves.
In fact Hotels.com, which represents 110,000 hotels around the world on its website, has just come up with a list of hotels which have become famous for their literary connections.
I have to confess I've never heard of some of the authors and books on its list. But I was fascinated to learn that The Dukes Hotel in London is where Ian Fleming got the idea of having his James Bond character insist on a vodka martini "Shaken, not stirred".
I devoured those books as a young man and even toyed with the idea of calling myself James, instead of Jim, in the hope it might make me more like Sean Connery (the only real James Bond).
Apparently Fleming did some of his writing while drinking in the bar and you can still order the Vesper Martini which was created during one of his visits there.
Then there's the Pera Palace Hotel in Istanbul which gave Agatha Christie the idea for Murder on the Orient Express. The Queen of Crime is said to have written the story while staying in Room 411 and the hotel has preserved it in her honour.
If you're an Enid Blyton fan it's entertaining to learn that she apparently met a man at The Grosvenor in London who asked her to write him in as a character in one of her novels. Unfortunately, no one is sure who the chap was, but he was indeed included in The Island of Adventure as Bill Smuggs.
The Stanley Hotel at Estes Park, Colorado, is evidently where Stephen King had the nightmare which gave him the idea for The Shining.
The hotel now proclaims itself to be haunted, runs ghost tours which include a visit to Room 217 where the Kings were staying, and even runs a continuous loop of The Shining movie on its entertainment system.
The Roosevelt Hotel in New Orleans has entertained presidents, kings and queens and film stars over the years but, according to Hotels.com is best known for having inspired Arthur Hailey to write his novel, Hotel, which later became both a film and a television series.
Having occasionally seen episodes of the series I'm not sure that information would inspire me to stay there. But I do like the idea of going into Dukes Bar and asking for a Vesper Martini - shaken, not stirred.